WLS 262 – Intimate Domain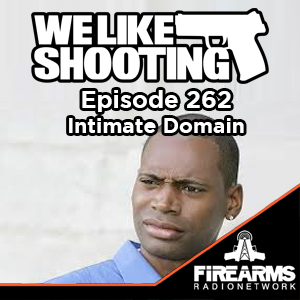 Listen to the show
LoveWLS.com
We need your help to keep the show going! Check out LoveWLS.com to find out how you can help!
This episode of the We Like Shooting show is brought to you by Second Call Defense, Manticore Arms, DEZ Tactical Arms, the Sonoran Desert Institute, Faxon Firearms, Patriot Patch Company and Brownells!
Check out our Shootout challenge! Targets, rules and swag available here!
Welcome to the We Like Shooting show, Episode 262 – tonight we'll talk about Command Arms stocks, semi auto bullpup shotguns, .224 valkyrie shooting, M&P 380 EZ, Benghazi and more!
Our Guest is John "TIG" Tiegen from Always Move Forward
The guy from Benghazi
You can find more about John "TIG" Tiegen here
Cast
Our cast for episode 262 is Shawn Herrin, Aaron Krieger, Savage1r, Jeremy Pozderac, Nick Lynch!
Second Call Defense
If you carry or use a gun to protect yourself an/or your family then you need Second Call Defense. They handle what comes after the trigger is pulled. Don't wait until it's too late. Get Second Call Defense today!
Get a free month and a free We Like Shooting mug when you sign up! Once you are signed up forward your email confirmation to [email protected] to get your mug!
Manticore Arms
Reality based accessories that solve problems! Manticore Arms makes parts for your fighting rifles, whether it's an AK, AR-15, AUG, Tavor, CZ Scorpion Evo or even something else!
Get 10% off at Manticore Arms with code WLS10!
Gear Chat
Brought to you by DEZ Tactical Arms
Where we talk about the stuff we have, the stuff that we want and the stuff that we need!
DEZ Tactical Arms
Rifles and accessories for the AR-15 lover! Whether you need a full rifle or just parts to build one DEZ has your back. High quality, match grade and most parts are made in house.
Get 10% off at DEZ Tactical Arms with code WLSPATRON!
WLS Lifestyle
Brought to you by Brownell's
Where we talk about the gun lifestyle!
Variations
Brownell's
Everything you could possibly need.
Support the show by buying from Brownell's! FRN get's a percentage.
Faxon Firearms
Quickly taking over. Barrels, slides, the ARAK and more!
Going Ballistic with Savage1r
Brought to you by Faxon Firearms
Savage1r goes over the news of the day relating to guns, rights and more!
SDI
Learn how to be a gunsmith in the comfort of your own home. Distance learning that gives you tools and a gun in a box to build as you learn! Whether you want to get more acquianted with your AR-15 or want an associates degree, SDI is the place for you.
iTunes Reviews
Please leave us reviews in iTunes! It makes all the difference!
Truck stop etiquette…. by americantruckerAF
by americanTruckerAF on Aug 23, 2018
RATING: ★★★★★
Look out for lot lizards especially ones with Adam's apples, if you'€™re in a stall and someone taps there foot under the door and slides it to the left slowly that means they want a BJ. If they tapped there feet six times that means they want to fuuuk. I carry a big black sharpie with me every time I go to the bathroom at the truck stops and I always tag We Like Shooting podcast and every stall I've ever been to in 46 states. Best show ever besides Joe Rogan Experience Podcast.
Giraffe Sneakers
by Adam Alexander on Aug 22, 2018
RATING: ★★★★★
Holy hell, will some federal agent please confiscate Aaron'€™s stuff already? This is my favorite show, but can we get a spin off that's hosted by Jeremy and Savage? Savage can discuss politics and middle eastern pot metal guns and Jeremy can just yell and call him a communist, maybe have Nick mediate. Great show and content, keep it up.
Hey Jeremy
by Dick West on Aug 22, 2018
RATING: ★★★★★
Jeremy, just because someone likes Aaron, does not me he wrote the review. Stop hating on my favorite cast member.. Ya homer.
Patriot Patch Company
The absolute best in patches and 2A shirts!
Giveaways!
We're here live every week on Monday nights and on demand every Thursday. Go to welikeshooting.com/show to subscribe!