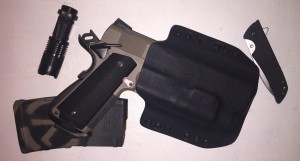 With so many companies offering kydex holsters these days, it can be tough to know what manufacturers offer a quality product, and what manufacturers do not. Warner Blake began playing with kydex as a hobby in 2013. He'd grown tired of the high costs, and long turnaround times of many holster companies. Mr. Blake set out to do what any good red blooded American would do: he honed his craft, developed a fantastic product line, and founded Talon Retention Systems. He offers custom and production handmade holsters, magazine carriers, light carriers, knife sheaths, and nearly any other carrier you can imagine. If it can be made out of Kydex, he's your man. And he does it all at a fair price.
The holster that Mr. Blake made for me was custom molded for my RIA 2011 with a Streamlight TLR-1. This isn't the easiest combination to find holsters for, so I was pleased that he was willing to make one for me. He used standard black .080 Kydex, and heavy duty injection molded belt loops. There are six rivets on either side of the holster. The belt loops are held on by Chicago type screws, allowing the wearer to adjust the loops up and down to the ride height of their choice. The attention to detail and the quality of the holster is incredible.  Everything fits snugly and cleanly as it should. There's a very positive click as the pistol locks into the holster. Once the gun is in, it stays put. Retention is excellent. The holster covers the trigger very well, a must for any holster, but it's still cut low enough to allow a proper grip on the pistol when drawing. This is a feature many holsters miss out on. The holster also features a full sweat guard. The bottom of the holster is left open, allowing for the use of an extended or threaded barrel. The holster is curved and molded to match the curve of the human hip, making it much more comfortable to wear. Even with the weight of a fully loaded 1911 and a light, the holster is easy to wear, and comfortable when paired with my Uncle Mike's reinforced instructor style belt. Attention to detail is fantastic with beautifully installed hardware and finely blended seams. The two pieces of Kydex that make up the front and rear halves of the holster nearly look like one piece.
When I first got home with the holster it was a very tight fit. So tight, in fact, that attempting to draw the pistol nearly embedded my jeans into the skin on that most sensitive part of the human anatomy. I removed the holster from my belt, and worked on drawing and holstering the pistol for an hour while I watched a couple episodes of Community. Despite my wife's annoyance (this is not a quiet process) I was able to loosen the holster enough to draw and reholster without giving myself a mega wedgy. In the time since, the holster has not noticeably loosened any further. The holster now provides an excellent smooth draw stroke, and an equally smooth reholster stroke.
Overall I'm incredibly impressed by this holster. The pistol fits tightly. Retention is excellent. I couldn't be happier with it the product. I love that he was able to make a holster for a fairly unique setup. Pricing is fair; $65 for a holster, $95 for a light bearing holster. Talon Retention stands by their product and offer a lifetime warranty, as well as a seven to ten day turnaround time. That's right. Between 7 and 10 days.