MDT TAC21 Chassis Initial Impressions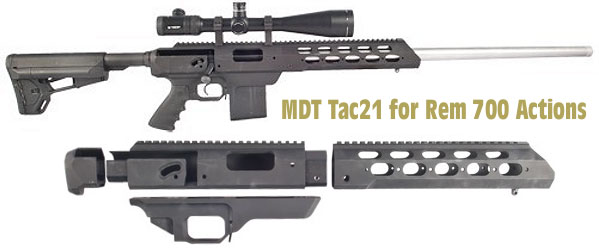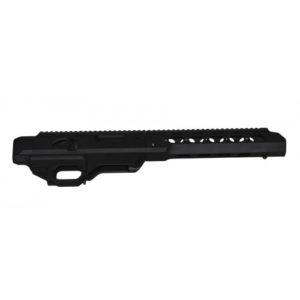 Recently Modular Driven Technologies sent us one of their TAC21 chassis for review. The project rifle is a Remington 700 in .300 Winchester Magnum, so the model they sent us was for the Remington 700 Long Action. The chassis is designed to be modular, enabling the shooter to install accessories as needed for the mission, hunting trip or range session. The chassis features a V-shaped bedding area, which with the recoil lug area is one of the only two places the receiver touches it. The barrel is completely free-floated. The chassis itself is milled from aluminum then hard Anodized for a durable finish. It weighs in at a hair over 3 pounds. It features 1913 type rails along the entire length of the top of the receiver. It is also designed to accept any AR-15 pistol grip and buttstock, so even with a price tag of over $700 you can install a basic grip and stock and upgrade as funds allow. For magazines it accepts AICS .300 Winchester Magnum  and .338 Lapua Magnum magazines.

We have not been able to fully put the TAC21 through its paces, but the initial impression shows it to be a keeper. After firing the Remington 700 for a baseline comparison we then installed the receiver in the chassis and a few rounds have been fired just to get a feel for it. For a grip we have an ERGO DLX Tactical with a palm shelf and the stock is a standard AR-15 buttstock. With this stock the pull is a little long so hopefully we can arrange to get a few different stocks to install to tweak the pull. For scope rings it currently wears some Weaver quick release 1" rings which may also change as we evaluate the chassis.
In addition to the Remington 700 long and short action models Modular Driven technologies also offers the tAC21 for Savage models 10, 11, 12 and 16. They have also come out with the LSS chassis for Remington 700 long and short actions, Savage short actions, the Tikka T3 and Mossberg MVP .223. We will continue to update on this project as we are able to acquire different parts and get to the range.
From mdttac.com:
Constructed of aluminum hard anodized to mil spec type III
Holes for bolt on 1913 rails
Hole spacing for Magpul L5(11slot) and L3(7slot)Rails
Lightweight, free-floating modular fore-end
Will accommodate barrels as thick as the action
AICS magazine well for 300WM or 338LM
Weight: 3 LBS 0.5 OZ