Garrett Container Systems Multi-Mission Pack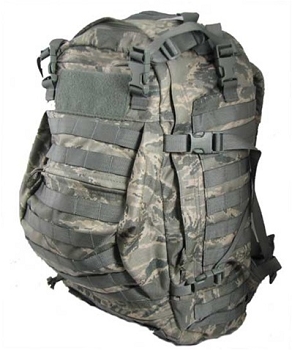 Being in the military has certain advantages, one being that I sometimes get some pretty good gear; on the other hand I also am limited in what gear I can use, such as backpacks. When I first joined in the early '90s we didn't have all of the "cool guy" stuff folks are issued now. I had a pair of field pants, a field jacket, and a couple of wool sweaters for the colder months. No Gore-Tex, no poly-pro, no super-comfy boots. To carry our gear we had the plain Large ALICE rucksack, a couple of duffel bags, and we were allowed to use a CVC (Combat Vehicle Crew) helmet bag.
Twenty years on, we have much better gear for the most part. Enter the Garrett Container Systems DF-LCS Multi-Mission Pack. I picked this up because I found myself in need of a pack large enough to carry what I need, but also one that was allowed to be carried when in uniform (it is an AF thing, go figure). I had been using a DBT Battlelab SOF pack (covered later), but because it was the wrong color, I had to get another pack.
The specs: This thing is big! With just over 2,500 cubes of space, it has enough room for everything I've needed it for: uniform/boots, books for the day, duty gear, etc. The main compartment is quite large at 6.5″ x 13″ x 22.5″ (actually more like 7" deep). There are small 6" x 9" packet on each side for smaller items, and a 9" x 9" pocket inside the front flap with MOLLE straps.  There is a removable spine plate with aluminum stays, so it is very rigid and capable of supporting quite a bit of weight. Outside, there are two side packets with buckles on top, a small flat pocket on top of the front; an odd triangle-shaped middle pocket, and a flat bottom pocket. The side and bottom are covered with MOLLE straps, and there are two straps with buckles on each side and the top to cinch loads down.
Dislikes: I do not like the layout and selection of outer pockets (the exterior layout can be enhanced by adding a couple of accessory pouches if desired). The middle pocket is roomy, but oddly shaped so that when full it sticks out about five inches. The bottom pocket is, well, on the bottom, and not many people would put anything of value in a pocket on the bottom of a heavy pack, so its use is limited. The side pockets are open at the top, and if packed full would intrude into the interior space. The underside of the shoulder straps is the same material as the rest of the pack (1000 Denier Cordura in AF Digital Tiger Stripe Pattern), which isn't the best for staying put or being comfortable. Lastly, while undoubtedly rugged, the exposed taped seams and overall appearance of the bag give it a cheap look.
Comparison/contrast: Until I received this pack I had been using the Diamondback Tactical Battlelab SOF three-day assault pack for six years. Dimensions are about the same, but the DBT bag is laid out much better. The main compartment is approximately the same volume, but has a slight hourglass shape that is a little narrower at the top. The back is covered with MOLLE straps, and there are two removable pockets on the front flap. The front is also lined with a softer interior nylon material. There is a top front pocket that measures 2.5″ x 9″ x 13″, with a slot pocket. The lower pocket is 2.5″ x 10″ x 8″. Each side has a 7″ x 18″ x 1″ slot pocket, as well as a full-length zippered pocket with the same dimensions.
Final shot: Anyone who knows about Garrett Container Systems knows they have the gear market for the Air Force cornered. They would not be my personal first choice from which to buy equipment, but when it comes to issue items we have little choice in the matter. This pack is functional, though, and if you have $200 budgeted for a durable bug-out bag, this will certainly fit the bill.
Features of each:
Treated for Near Infrared spectral Reflectance (NIR)
1000 Denier Cordura (Air Force ABU for the GCS,  Ranger Green for DBT)
Three (3) outer zippered pockets (GCS); five (5) outer zippered pockets (DBT)
Two (2) external side slide pockets with webbing
Two (2) internal  removable pockets (DBT)
Padded shoulder straps and waist belt
Side retention straps
Internal hydration pouch
Drag strap
Antenna ports
Internal spine plate (contoured on the DBT)
Grommet for drainage
Overall Cubes: GCS: 2,572.69″     DBT: 3,012"
Main compartment: GCS: 6.5″ x 13″ x 22.5″, 1,901.25″     DBT: 9" x 12″ x 21″, 2,268"
Front top compartment: GCS: 1.5″ x 8″ x 3″, 36″     DBT: 2.5″ x 9″ x 13″, 292"
Front middle compartment: GCS: 4.5″ x 10.25″ x 11.5″, 105″     DBT: 2.5″ x 10″ x 8″, 200"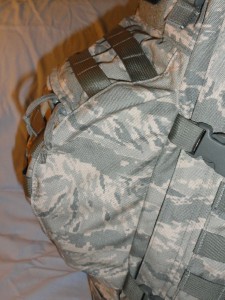 Front bottom compartment (GCS): 1.5″ x 10″ x 7″, 105"
Side compartments (DBT): 1"x 7″ x 18″, 126" x 2