Blackhawk Holster The Omega VI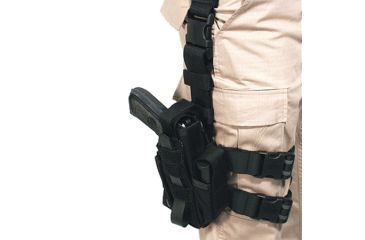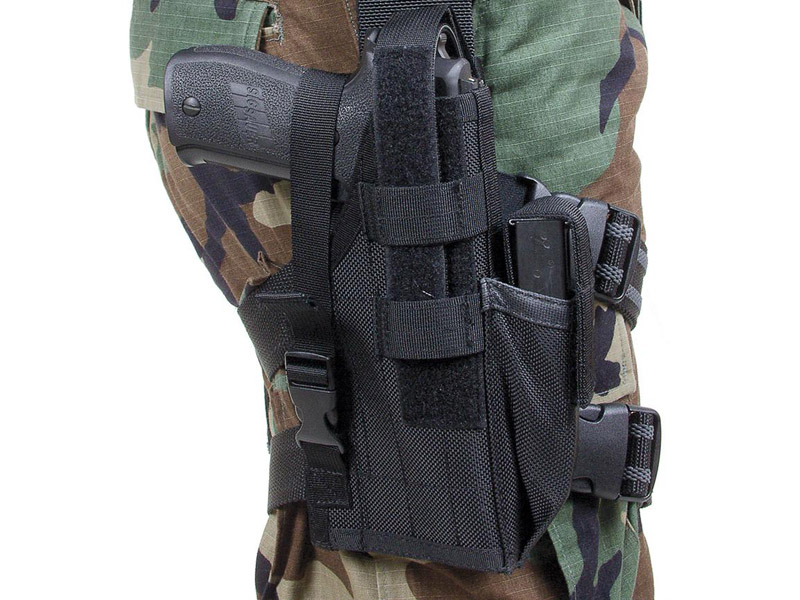 Blackhawk Holster – Omega VI
[displayproduct]
This is my open carry/tactical rig that, yes, I do walk around town with this Blackhack holster. It is also the holster that I will wear everyday when my store opens up.
This is the upgrade to the original cheap holster that I had given to me one Christmas.I love it so much more.
I like holsters like this more than the traditional hip holster like belt or paddles. The high ride just doesn't make for a comfortable draw for me. Though this style is obviously not for conceal carry.
The holster attaches with a belt loop and two thigh straps. The belt loop has a velcro enclosure that allows you to take the whole thing off with out having to take your belt off. It also has a clip that allows you to pull snap it off and on quickly.Say if you needed to "take care of business", and didn't want to remove it all just needed to take it off for 5-30 minutes depending on what you had for dinner last night. The plastic clip seems pretty sturdy and I've had mine for about a year and a half now and through 3 gun courses and hunting and just carrying its still in tact.
The thigh straps are fully adjustable and once you find out where you like it to sit, they're there. They don't move. If properly adjusted you don't have any uncomfortable wobble or shake. In the strap itself is some rubber threads. Makes it really stick to your trousers and doesn't allow it to slide or turn on you when you're running or jumping.
It also has a built in pouch on the front of the holster that can be used for a flashlight, knife, magazine, etc. I know for a fact it will fit 2 1911 7 rd magazines. I've not once had it pop open and lose a mag.
It also has 3 levels of retention. It has a thumb break. A velcro strap that holds the thumb break closed. Plus a strap that goes around the handle itself and clips down on the side of the holster. So if you're going to be jumping out of a helicopter or running down a 3 gun course. You won't lose it all all.
They're supposed to be universal for all large frame pistols. I only ever keep a 1911 in it and it fits snug but not too tight.
Sits at the right height for a smooth draw and easy re-holstering.
If you want a tactical drop rig, that's good for multiple guns, take a look at this baby.