5.11 Tactical Pants TacLite Pro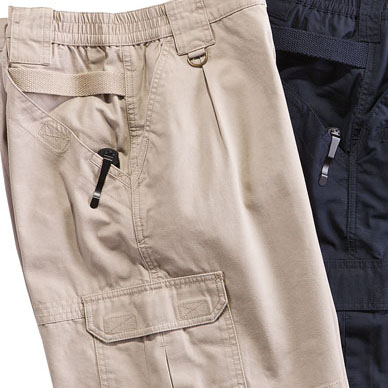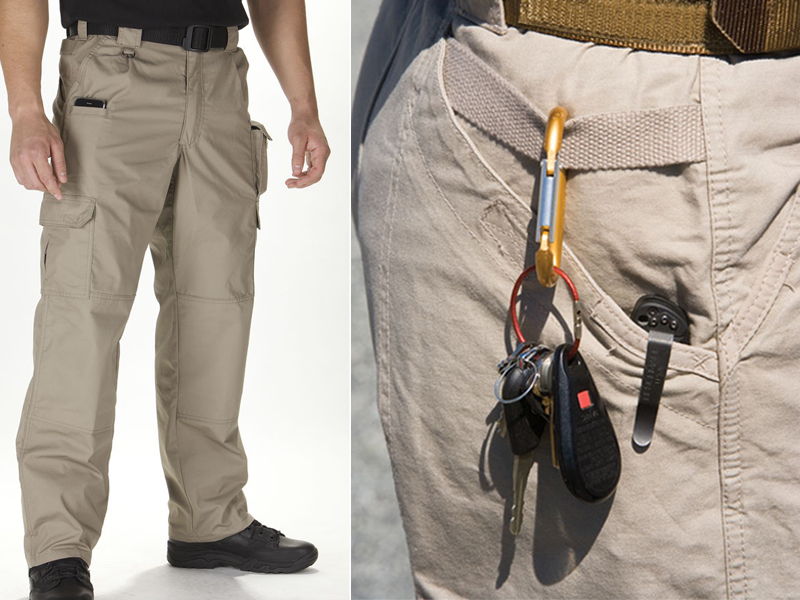 5.11 Tactical Pants – TacLite Pro
[displayproduct]
I have several pairs of what one might call "tactical" pants. For the longest time, the ones I purchased were basically the style that I was issued when I first got to MCRD PI. Then I saw a deal on a website that if I spent X amount of dollars I would get a free flashlight. At $50 a pair I had always passed them up because I'm cheap when it comes to clothes (except socks — I recommend Thorlos). But with the added incentive (I needed the flashlight anyways), I bought two pairs, one in khaki and one in green. After wearing them for a few months now, I am going to buy these from here on out.
As far as pants go, these things are awesome. Talk about versatility. They have two cargo pockets, two back pockets, two front pockets, plus a cell-phone pocket on the front of the left leg big enough for my smartphone, and a smaller pocket on the front of the right leg that for all intents and purposes is a knife pocket.
Yes, that's right, it has a dedicated knife pocket. How sweet is that?
The quality seems top-notch. They are rip-stop, but I haven't worn through them yet to test out how well that works. The cargo pockets aren't as big as military-style pants, but they're big enough, and with the Velcro flap on top they hold in what you put in there. The only thing I don't like about these things is that the back pockets are very deep, which in itself isn't a bad thing. But it makes me sit square on my wallet, which is uncomfortable to say the least.
The cut of the pants seems to fit a little better than other styles of tactical pants.  The gusset in the crotch offers a little more room for those sensitive areas. Definitely makes moving around, squatting, kneeling, and other movements easier and more comfortable.
Buy these pants if you can afford them. I know that $30 over most other pants can be hard for many people, but I promise you will like them as much as I do.