APEX Gun Parts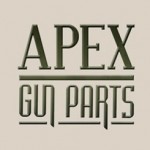 For the collector of classic military firearms, parts are often difficult to source. Of course you have Numrich Gun Parts and Sarco Inc., but what if they do not have what you need, or you want another source for unique or one of a kind parts and militaria? In comes the Armory Parts Exchange, Inc., also known as APEX Gun Parts.
APEX got its start over a decade ago in owner Jeff Selvig's basement. Jeff had previously worked for Century International Arms and was able to acquire parts taken from surplus firearms during the 922R compliance process. He and his wife began selling those small, hard to find parts on EBay, and the armory Parts Exchange was born. Recently I had the opportunity to tour their facility and talk with Grant Garvin, APEX' sales manager, about the mission, market and future of APEX.
WLS: What is the mission of APEX?
GG: APEX would like to be the premier supplier of hard to find military surplus parts and accessories, and provide a world-class customer experience.
Our end goal is to be as big as somebody like Brownell's or Numrich, but our niche or our thing would be just the small parts, the accessories, the hard-to-find things. We don't ever plan on selling complete guns or anything like that or getting directly into the doomsday extra food stuff like that.
WLS: What is the APEX market?
GG: I would say that our target demographic or who were going after is  the hobbyist, the everyday guy who enjoys building, who enjoys the military surplus world if you will; that's definitely our target demographic; the hobbyist and the enthusiast.
WLS: APEX sells primarily surplus parts, but you also offer various parts kits. What are some of the parts kits that you offer?
GG: That obviously changes over time because with surplus what you've got is what you've got and when you're out you're out, and hopefully more comes in, but not right now we carry (Czech) Sa. 24, Sa. 26, Goryunov, RPK,  AK-47, PSL, Sten, UZI.  We have SIG (Stgw. 57) kits.  We have right now about 24 different parts kits up on our website right and like I said that changes regularly.
WLS: I understand you guys take a company visit to NRA Whittington Center each year. What is that like?
GG: It is a blast! We try to do it every year you know; we consider it more like a team building type thing. Usually throughout the year every employee has built at least one gun and they get it out and shoot it and test it. Jeff will bring down his .50's. We'll bring down the belt feds, the Goryunovs, AKs, Uzis; everything that we want to shoot, and we make a weekend out of it, go down there, stay in the cabins and just spend the two days down there on all the different ranges trying to outshoot one another, but it's a great place and if you've never been you definitely have to go.  They've got 1000 yard ranges, pistol ranges, silhouette ranges. It is something we try to do every year but it doesn't always happen, but it is something we do as a team build type thing and get out there and be enthusiasts ourselves and get to shoot what we made.
WLS: Can we come?
GG: Huh?
WLS: Can one of us from welikeshooting.com  go sometime just to check it out?
GG: It's open to the public anyway but if you ever want to come down with us we usually try to do it in the springtime and go down and stay in the cabins and shoot, but yeah bring whatever you want to bring, too.
WLS: Where do you guys see apex going in the future? What is the direction for apex; where do you want to be in a year two years five years ten years? Where's it going?
GG: Our goal and our mindset is always on growth. We constantly see ourselves becoming a larger company, more of a presence in the market. We get people that call and say "Oh man, I just randomly found you, you're a great source for products," so we're still working on getting our name out there, but yeah our constant motivation is there to become larger and still keep that small business feel, that one on one contact with our customers. I think the end goal, like I said before, we'd love to be as big as the Brownell's and the Numrich's , Cabela's,  all those really large sporting goods companies. Now, we won't sell all that they sell but that's where we would like to be one day. We want to be a nationally known, recognized, quality company where when you say "APEX" they know which APEX you're talking about.
(End of interview)
Next I had the opportunity to walk around the warehouse. As some of the pictures show, these guys are stuffed to the gills with parts for almost every 20th century military firearm.
In addition to surplus parts for nearly every classic military firearm, APEX recently began selling new manufacture parts and furniture by CAA, Hogue, TAPCO and MAKO. APEX offers a large line of 922R compliance parts for SKSs, AKs and variants as well as Saiga shotguns. If you are on the lookout for another parts source, visit apexgunparts.com or check their listings on gunbroker.com