WLS SPECIAL Spike Cohen Interview Libertarian Party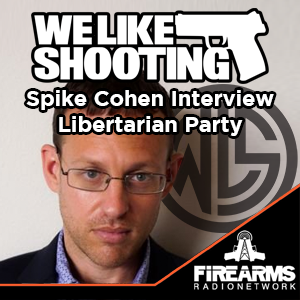 LISTEN TO THE SHOW
LoveWLS.com
We need your help to keep the show going! Check out LoveWLS.com to find out how you can help!
JOIN THE GUN CULT
Check out The Gun Cult to find out how you can help!
Our Guest is Spike Cohen from Libertarian Party
Jeremy "Spike" Cohen is the Libertarian Party's 2020 Vice-presidential nominee, running with Dr. Jo Jorgensen, the LP's presidential nominee. He promotes a vision of common-sense Libertarian solutions that will make us all more free, safe, and prosperous. Cohen started a web design company in 1999. He retired from that 3 years ago to promote libertarian ideas fulltime. His great aim is to make people more familiar with voluntary solutions and property rights. He is the host of My Fellow Americans, the co-host of The Muddied Waters of Freedom, and the co-owner of Muddied Waters Media, a podcast platform that reaches millions. Cohen hosts two live programs every week, interacting with countless people across the political spectrum. This experience has convinced him more than ever that the Democrats and Republicans have both failed us. He believes Dr. Jo Jorgensen is the right person to counter Trump and Biden. He hopes to work with her to end wars, free the innocent, and end the infringements that impede voluntary problem-solving. He brings over 20 years of experience in leadership positions to complement Dr. Jorgensen's knowledge and talents.
You can find more about Spike Cohen here
Cast
Our cast is Shawn Herrin, Aaron Krieger, Savage1r, Jeremy Pozderac, Nick Lynch!
Support Our Sponsors! Discounts codes below!

Company

Code

Benefit

Link

Faxon Firearms

WLS10 / WLSGUN

10% off parts, deals on guns

Swampfox Optics

WLSISLIFE

21% off

Brownells

Varies

Deals every day! Check slider

Second Call Defense

Click link

Free month

Black Rhino Concealment

WLSMOFO

10% off

Bowers Group

WLS

$15 off

Polymer80

WLSISLIFE

15% off

Hackett Equipment

WLSISLIFE

21% off

Franklin Armory

WLS10

10% off

Sonoran Desert Institute

Varies

Check site

Patriot Patch Co.

WLS10

10% off

Noisefighters

Click link

10% off

Medical Gear Outfitters

welikeshooting

11% off
We're here live every week on Monday / Wednesday nights and on demand every Thursday / Saturday. Go to welikeshooting.com/show to subscribe!