WLS 134 – Savage shares a gif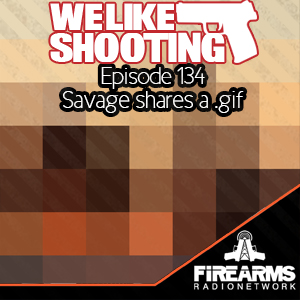 Welcome to the We Like Shooting show, Episode 134 – tonight we'll talk about ASP, Bartlein Precision Barrels, Kinetic Concealment Red dots, gat cranks, tulster holster, KRISS and more!
Our cast as always starts with
A Do it yourself YouTuber who has a clean browser history and we all know what that means –  Savage1r

Retired Navy, advocate for women's shooting, blogger at heelsandhandguns.com a woman who's deployment on a Navy Carrier taught her that Walruseses are acutally Sabre Toothed seals. – Lil Chantilly

Former Marine and owner of River's Edge Tactical. He just got his new Department of the Navy Holster and loves it. – Jeremy Pozderac

A precision rifle builder that realized that the beating of his heart is actually just the timer of his life slowly counting down.   – Nick Lynch

Next up, the self proclaimed Machine Gun Moses, a man who has lost all his situational awareness because kids. – Aaron Krieger.

Our Rhode Island Godfather and a man who drives a cement truck with a sign that says we make shoes,  Rhody.

My name is Shawn,and when people ask me Boxers or Briefs I respond depends.
28 years old, born and raised in California.  Guns and shooting have always been of interest to me but I didn't really acquire many of them until I started working at KRISS USA.  Outside of shooting I spend my free time playing sports like basketball or golf or driving my cars, either on the track or in the canyons. Please welcome Tim Seargeant!
Second Call Defense
GIVEAWAY – http://welikeshooting.com/selfdefense
Everyone who signs up gets a free We Like Shooting pint glass, just send your email confirmation to [email protected]
Don't wait until it's too late. http://welikeshooting.com/scd –
Lil's Livefire Lounge:
Lady Gaga's Oscar Performance Last Night

:

Goal: Bring awareness to the Sexual Assault problem on our college campuses.

Vice President Biden introduced Lada Gaga and said: "Tonight, I'm asking you to join millions of Americans … to take the pledge. A pledge that says, 'I will intervene in a situation where consent has not or cannot be given.'"

Also a problem in the Military – much focus in the past few years to bring awareness and educate everyone.

If you are a bystander and see something happening, if someone alters a drink, if someone is being too aggressive, if someone is too drunk – take action!

Lil's spin:  As women, we must learn to defend ourselves, PLAN to defend ourselves.  Put safety measures in place before you go out. (Men also – women are NOT the only victims.)
Manticore Arms
Go to http://manticorearms.com/Transformer-Rail-for-AR-15-PRE-ORDER-MA-14300.htm?productId=75
Coupon code WLS10  for 10% off any day, every day (not combinable with WLS30, only one coupon code at a time) for WLS listeners.   Don't share with people who don't listen, they don't deserve it!   Or, better yet, just tell your friends they should listen!
and now it's time for… Gear Chat
where we talk about stuff that we have, want and need!  
JC ARMS AND AMMUNITION PROMO –
Other writers and content creators are seeing it now. On Youtube the Justin Opinion channel bought some and I'm looking forward to hearing his thoughts!
New promo code. $5 off any order of $50 or more WLS5OFF
XSteel
OR buy a range pack and get $5 off your first order. Use code WLS5OFFRP
Brought to you by JC Arms and Ammunition is Going Ballistic with Savage1r (News/Politics/Etc.)
DEZ promo and SDI promo
DEZ code: WLSPatron
iTunes Review
I'm back
by Marauder1234 on Feb 27, 2016
RATING: ★★★★★
This IS the best podcast. I'm a patreon and catching up on episodes while working midnights on semi trailers. Lil you are beautiful and I love you. Jeremy, we get it. U r big and wanna purge the earth of morons. Move on. 🙂Keep up the great work guys.
great podcast
by mike94yj on Feb 27, 2016
RATING: ★★★★★
One of the best firearms related podcasts. The show is informative and equally entertaining.
Wrap up
How can you help the show? We have two great ways! First we have our patreon program. If you think the show has value and have a couple of bucks to spare join over 200 other listeners in an exclusive group! By joining our patreon program you get rewards based on the level you support us at. From stickers to patches to great gear and swag! Please become a patreon. Just visit http://welikeshooting.com/pledge to learn more.
Next, we introduced a groundbreaking new rewards program. If you can't afford a couple of bucks a month, you can help us by becoming a rooftopper. You sign up, get a unique link to share with your friends, share the link and every time someone clicks on it, you earn points. The more points you earn the more rewards and badges you earn. Go to http://wlsshow.com/register to get started.
congrats to Chrisgill
You can do one or both, either way your contributions are greatly appreciated!
Thanks
Thank Guest!
Find us on all the social media and our website.
Just a reminder to join a gun related advocacy group and we always give out the Suicide prevention line, that number is 1 (800) 273-8255
HI DAN!
We're here live every week on Wednesday nights and on demand every Thursday. Go to welikeshooting.com/show to subscribe!
Thanks for listening, and shoot straight.
You can download or subscribe to our weekly show every Thursday at http://welikeshooting.com/show
If you'd like to watch live, our show broadcasts live every Wednesday night at 7:30PM (MT), watch it and chat with us at http://gunchannels.com/WeLikeShooting
Please support our advertisers, DEZ Tactical Arms, Manticore Arms, Second Call Defense and the Sonoran Desert Institute.
Also check out our syndication partners ModernArms.net, GunsSaveLives.net, AR-15 Gun Owners of America and Guns America.