WLS 132 – Self Defense Month – Combatives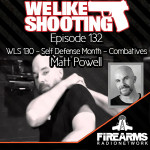 Welcome to the We Like Shooting show, Episode 131 – this week is part three of a 4 part series discussing self defense, our guest is Matt Powell from Pramek, let's get started!
Our cast as always starts with
A Do it yourself YouTuber and formerly a do it yourself redtuber-  Savage1r
Former Marine and owner of River's Edge Tactical. A man who likes his women like he likes his house, dirty with a touch of fecal matter on everything – Jeremy Pozderac
A precision rifle builder that had so much fun on his valentine's date, he had her in bed before 9pm, because she fell asleep on the date.   – Nick Lynch
Next up, the self proclaimed Machine Gun Moses, He loves valentine's day as it is the only time of year where no one judges him for eating a giant human shaped chocolate heart. – Aaron Krieger.
The guest panelist tonight has made us all care about the history of firearms, Othais from C&Rsenal
Our guest panelist tonight is the spokesman of Illinois gigolos, you may know him from such videos as "Transform your love" and "When your lust transforms into love", the proprietor of Manticore Arms, Sven Jonnson
My name is Shawn, happy post V-day and I get the privilege of introducing our guest, he is the Creator of Pramek, an organization studying science and combatives.  With hundreds of videos, DVD's and 6 books, they teach the science of martial art learning and training, please welcome Matt Powell from Pramek!
Questions for guest. (Unarmed combatives, knives, etc.)
First tell us about yourself.
Shawn – Most of us are shooters. Some of us spend time training with guns. Why is it important that we spend time training without guns?
Shawn – What are the fundamentals of unarmed combat?
Sven – can a smaller person (i..e  5'6" me or my 4'11" wife) prevail against a larger person (i..e 6'7" jeremy)  and are the odds stacked in the favor of the larger person, all things being equal?
Savage1r – What to look for in an instructor/what to avoid?
Shawn – What is your recommended defense for fat people and defense against fat people.
Nick: thoughts on kubatons and self defense pens (for chris)
nick: thoughts on otf knives?
Savage1r – Can you explain to the audience the difference between traditional martial arts and MMA or practical martial arts?
Keys to defending against a knife?
Keys to defending with a knife?
Aaron: +If you are in combat with someone and notice they have an erection, how does one respond to that? (I'm asking for a friend)
Speak with and introduce guests:
Second Call Defense
Sean Maloney
Everyone who signs up gets a free We Like Shooting pint glass, just send your email confirmation to feedback@welikeshootingpodcast.com
Don't wait until it's too late. https://welikeshooting.com/scd
Manticore Arms
Transformer rails on the way. Follow them on facebook to see the cool stuff they are doing.
Go to http://manticorearms.com/Transformer-Rail-for-AR-15-PRE-ORDER-MA-14300.htm?productId=75
Coupon code WLS10  for 10% off any day, every day (not combinable with WLS30, only one coupon code at a time) for WLS listeners.   Don't share with people who don't listen, they don't deserve it!   Or, better yet, just tell your friends they should listen!
and now it's time for… Gear Chat
where we talk about stuff that we have, want and need!
THIS WEEK (131) WE ARE ONLY DISCUSSING OUR NON FIREARM SELF DEFENSE CARRY
savage1r: Ozark Trail Knife and Multitool
Aaron – Gerber 06 Fast Tanto Blade

Lanyard hole
glass break
assist opening with sliding lock
G-10 handle scales
3.8 inch blade
weight 5.7 oz
88.00 retail

Jeremy – SOG Trident, also being a giant
Shawn – Kershaw scrambler $69 – moving over to some ZT for a while. Right now carrying:

ZT 0909
Flipper on KVT bearings – Designed by Les George
Very comfortable in the hand
4" blade
G-10 handle scales
Deep carry pocket clip
Lanyard holes
Comfortable in both overhand and underhand grips
$229 retail

Nick – Kershaw Skyline
Rhody- SOG Flash 1
JC ARMS AND AMMUNITION PROMO –
Went shooting again and loaded 5 JCAA 9mm then 5 of Blazer brass (30) every person that tried it shot tighter groups instantly. More believers? Have you done the challenge yet?
New promo code. $5 off any order of $50 or more WLS5OFF
XSteel
OR buy a range pack and get $5 off your first order. Use code WLS5OFFRP
Brought to you by JC Arms and Ammunition is Going Ballistic with Savage1r (News/Politics/Etc.)
DEZ promo and SDI promo
DEZ WLS Patron
What do you think of our theme months?
iTunes Review
My favorite podcast
by Treekanay on Feb 01, 2016
RATING: ★★★★★
I am another mailman that loves to listen to this podcast as soon as it comes out. You guys help get me through the day and I enjoy all the sophomoric humor. The best is when Lil sounds astounded that you say something offensive or crude. Keep up the great work.
Like sitting in with friends you've never met
by Justin Opinion on Jan 29, 2016
RATING: ★★★★★
The gang at WLS has accomplished what few can – an ensemble of personalities that mesh together like the gears of a fine Swiss watch. They provide current and relevant information and industry news, along with humor and a tad of the absurd. Info-tainment at its most-bestest! It's like the Howard Stern Show (back when it was good) for guns!
Fun and Gun
by Omni3vil on Jan 26, 2016
RATING: ★★★★★
I've been listening to this podcast for about 6 months now. Gear reviews, political information, everything gun mixed with a good deal of ball breaking. These guys convinced me to secure my family's future by purchasing a Second Call Defence policy. It's much needed here in the UnConstitution State of Connecticut. Hoping to join the ranks of the patri"guns" soon. Thanks guys and gal, keep up the good work.
Wrap up
How can you help the show? We have two great ways! First we have our patreon program. If you think the show has value and have a couple of bucks to spare join over 200 other listeners in an exclusive group! By joining our patreon program you get rewards based on the level you support us at. From stickers to patches to great gear and swag! Please become a patreon. Just visit https://welikeshooting.com/pledge to learn more.
Next, we introduced a groundbreaking new rewards program. If you can't afford a couple of bucks a month, you can help us by becoming a rooftopper. You sign up, get a unique link to share with your friends, share the link and every time someone clicks on it, you earn points. The more points you earn the more rewards and badges you earn. Go to http://wlsshow.com/register to get started.
congrats to Chrisgill
You can do one or both, either way your contributions are greatly appreciated!
Thanks
Thank Guest!
Find us on all the social media and our website.
Just a reminder to join a gun related advocacy group and we always give out the Suicide prevention line, that number is 1 (800) 273-8255
HI DAN!
We're here live every week on Wednesday nights and on demand every Thursday. Go to welikeshooting.com/show to subscribe!
Thanks for listening, and shoot straight.
You can download or subscribe to our weekly show every Thursday at https://welikeshooting.com/show
If you'd like to watch live, our show broadcasts live every Wednesday night at 7:30PM (MT), watch it and chat with us at http://gunchannels.com/WeLikeShooting
Please support our advertisers, DEZ Tactical Arms, Manticore Arms, Second Call Defense and the Sonoran Desert Institute.
Also check out our syndication partners ModernArms.net, GunsSaveLives.net, AR-15 Gun Owners of America and Guns America.