WLS 397 – Woobie Widge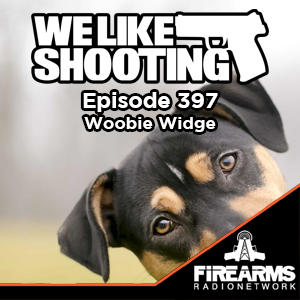 LISTEN TO THE SHOW
LoveWLS.com
We need your help to keep the show going! Check out LoveWLS.com to find out how you can help!
JOIN THE GUN CULT
Our Patreon replacement! Check out The Gun Cult to find out how you can help!
Check out our sponsors at the bottom, links to their sites and coupon codes!
Check out our Shootout challenge! Targets, rules and swag available here!
Welcome to the We Like Shooting show, Episode 397 – tonight we'll talk about Medical Gear Outfitters, Polymer 80, Brownells, Second Call Defense, Swampfox Optics, Bowers Group, arrow Tech, Jeremy's MP-PTR, Smart Slide Glock, Robocop's Auto 9, Accidental DigiTrigger leak, Glen Tate and more!
Our Guest is Glen Tate from 299 Days
Glen Tate wrote the best-selling 10-book prepper novel series 299 Days. He co-hosts the Prepping 2.0 podcast with his wife, Shelby Gallagher. He recently developed PAM Radio, which are electronic flashcards to teach preppers and gun guys the practical stuff about comms and ham radio – but without the geeky technical stuff. Just the practical stuff.
You can find more about Glen Tate here
Cast
Our cast for episode 397 is Shawn Herrin, Aaron Krieger, Savage1r, Jeremy Pozderac, Nick Lynch!
Gear Chat
Where we talk about the stuff we have, the stuff that we want and the stuff that we need!
Jerambe – MP-PTR

Aaron – 

smart slide glock

Savage1r – 

Robocop's Auto 9

Guest – 

DigiTrigger oops

Lever guns and revolvers
WLS Lifestyle
Where we talk about the gun lifestyle!
Battle beards
Going Ballistic with Savage1r
Savage1r goes over the news of the day relating to guns, rights and more!
iTunes Reviews
Please leave us reviews in iTunes! It makes all the difference!
Be nice to Erin
Blammet21
She's married to someone who doesn't know what roller delay blowback is (Aaron) and that's a punishment in itself. Besides that greatest firearm entertainment podcast out there. The smorgasbord that are the host makes every episode a great source of information mixed with comedy. Look forward to every episode.
1 square
Not a Poor
They won't read my review I left on Facebook like 3 weeks ago and now I am butthurt.
Giveaways!
Support Our Sponsors! Discounts codes below!

Company

Code

Benefit

Link

Faxon Firearms

WLS10 / WLSGUN

10% off parts, deals on guns

Swampfox Optics

WLSISLIFE

21% off

Brownells

Varies

Deals every day! Check slider

Second Call Defense

Click link

Free month

Black Rhino Concealment

WLSMOFO

10% off

Bowers Group

WLS

$15 off

Polymer80

WLSISLIFE

15% off

Hackett Equipment

WLSISLIFE

21% off

Franklin Armory

WLS10

10% off

Sonoran Desert Institute

Varies

Check site

Patriot Patch Co.

WLS10

10% off

Noisefighters

Click link

10% off

Medical Gear Outfitters

welikeshooting

11% off
We're here live every week on Monday / Wednesday nights and on demand every Thursday / Saturday. Go to welikeshooting.com/show to subscribe!