WLS 396 – Reeses Feces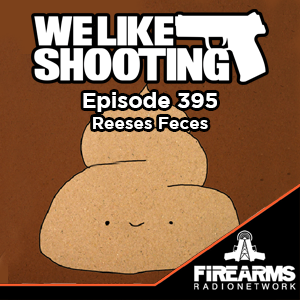 LISTEN TO THE SHOW
LoveWLS.com
We need your help to keep the show going! Check out LoveWLS.com to find out how you can help!
Welcome to We Like Shooting, Episode 395 Where we answer your questions, talk about new tech in the gun world, and touch base on gun industry news.
Cast
Our cast for tonight is Shawn Herrin, Nick Lunch, Aaron Krieger, Savage 1R and Jermey
Gear Chat 
Nick –

Molotov Cocktails

–

Here's a Demo



Shawn –

6mm arc Faxon Barrel



Jerambe – BRN-180

Savage1r –

GunGuysLLC



#WLSisLife-Style




Should we get mad at cancel culture



Going Ballistic  
it actually DOES burn when i pee now
⭐️⭐️⭐️⭐️⭐️
Pew-Tang Clan
it shows five squares on my screen, idiots. lay off savage, bullying isn't cool anymore. marry me, nick.
Just a reminder to join a gun related advocacy group (ask the guest about their state) and we always give out the Suicide prevention line, that number is 1 (800) 273-8255 or text a message to 741741
We're here live every week on Monday and Weds. and on demand every damn day. Go to welikeshooting.com/show to subscribe!
Support Our Sponsors! Discounts codes below!

Company

Code

Benefit

Link

Faxon Firearms

WLS10 / WLSGUN

10% off parts, deals on guns

Swampfox Optics

WLS15

25% off

Brownells

Varies

Deals every day! Check slider

Second Call Defense

Click link

Free month

Black Rhino Concealment

WLSMOFO

10% off

Bowers Group

WLS

$15 off

Polymer80

WLSISLIFE

15% off

Manticore Arms

WLS10

10% off

NeoMag

WLS

10% off

Sonoran Desert Institute

Varies

Check site

Patriot Patch Co.

WLS10

10% off

Noisefighters

Click link

10% off
We're here live every week on Monday / Wednesday nights and on demand every Thursday / Saturday. Go to welikeshooting.com/show to subscribe!