WLS 392 – Fire Cow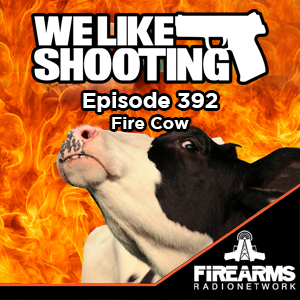 LISTEN TO THE SHOW
LoveWLS.com
We need your help to keep the show going! Check out LoveWLS.com to find out how you can help!
JOIN THE GUN CULT
Our Patreon replacement! Check out The Gun Cult to find out how you can help!
Check out our sponsors at the bottom, links to their sites and coupon codes!
Check out our Shootout challenge! Targets, rules and swag available here!
Welcome to the We Like Shooting show, Episode 392 – tonight we'll talk about Mantis, Desert Tech Recall, MDT lightweight, Hatchets, American Insurgent, Matter of Facts podcast, Franklin Armory, Black Rhino Concealment, Bowers Group, Swampfox Optics, Brownells, and Faxon Firearms! and more!
Our Guest is Phil Rabalais from Matter of Facts Podcast
Veteran, 2nd Amendment advocate, professional rabble rouser, author of American Insurgent, and host of the Matter of Facts Podcast.
You can find more about Phil Rabalais here
Cast
Our cast for episode 392 is Shawn Herrin, Aaron Krieger, Savage1r, Jeremy Pozderac, Nick Lynch!
Gear Chat
Where we talk about the stuff we have, the stuff that we want and the stuff that we need!
Nick – 

Desert Tech Recall

Shawn – 

MDT Lightweight Chassis

Aaron – 

High Impact Hatchet
WLS Lifestyle
Where we talk about the gun lifestyle!
Spring is around the corner, and if you have a lot of guns, do you prep them for the season?
Going Ballistic with Savage1r
Savage1r goes over the news of the day relating to guns, rights and more!
iTunes Reviews
Please leave us reviews in iTunes! It makes all the difference!
Square Square Square
Agent Entropy
▯▯▯▯▯ ▯▯▯▯ ▯▯ ▯▯▯▯▯▯▯. ▯▯▯▯▯▯▯▯▯▯ ▯▯▯▯▯▯,▯▯▯ ▯▯▯▯▯▯! Wouldn't change a thing, three out of five squares. #postedMarch5th2021
Credit where due
509 NOT commie-attle
Ok episode 391 can we alll admit your van life desires are a blatant rip off of Talon Sai? Good show well done.
Giveaways!
Support Our Sponsors! Discounts codes below!

Company

Code

Benefit

Link

Faxon Firearms

WLS10 / WLSGUN

10% off parts, deals on guns

Swampfox Optics

WLSISLIFE

21% off

Brownells

Varies

Deals every day! Check slider

Second Call Defense

Click link

Free month

Black Rhino Concealment

WLSMOFO

10% off

Bowers Group

WLS

$15 off

Polymer80

WLSISLIFE

15% off

Hackett Equipment

WLSISLIFE

21% off

Franklin Armory

WLS10

10% off

Sonoran Desert Institute

Varies

Check site

Patriot Patch Co.

WLS10

10% off

Noisefighters

Click link

10% off

Medical Gear Outfitters

welikeshooting

11% off
We're here live every week on Monday / Wednesday nights and on demand every Thursday / Saturday. Go to welikeshooting.com/show to subscribe!