WLS 383 – Honky Dory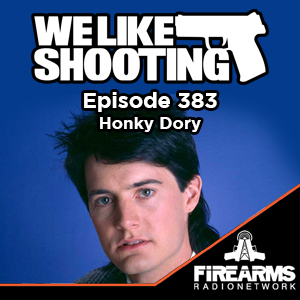 LISTEN TO THE SHOW
LoveWLS.com
We need your help to keep the show going! Check out LoveWLS.com to find out how you can help!
JOIN THE GUN CULT
Our Patreon replacement! Check out The Gun Cult to find out how you can help!
Check out our sponsors at the bottom, links to their sites and coupon codes!
Check out our Shootout challenge! Targets, rules and swag available here!
Welcome to the We Like Shooting show, Episode 383 – tonight we'll talk about Bowers Group, Second Call Defense, Black Rhino Concealment, Patriot Patch Co, Polymer 80, and Swampfox Optics, bump triggers, new knife, Dillon 750XL mods, the other black guy who likes guns and more!
Our Guest is Marcus Matthews from The Other Black guy who likes guns
I am here to promote the natural born Liberty of all Americans and mankind alike.
You can find more about Marcus Matthews here
Cast
Our cast for episode 383 is Shawn Herrin, Aaron Krieger, Savage1r, Jeremy Pozderac!
Gear Chat
Where we talk about the stuff we have, the stuff that we want and the stuff that we need!
Shawn – Dillon 750XL mods and add-ons

Aaron – 

New Knife

Savage1r – 

Bump triggers?
WLS Lifestyle
Where we talk about the gun lifestyle!
It's not just FB, youtube its almost all forms of media
Going Ballistic with Savage1r
Savage1r goes over the news of the day relating to guns, rights and more!
iTunes Reviews
Please leave us reviews in iTunes! It makes all the difference!
ZPETTIT
*****
Best Gun Podcast featuring disfunctional friends
Shawn does his best to keep his minions in line but dealing with meat eater/ tobacco chewing giant and a postal worker liberal who have an underlying love story is too much at times.
Stone rm57
*****
Why the hate!
Great show! Glad to see Aaron is back, I missed that guy. I completely disagree with most of what he says though. To many people wanting to live in an echo chamber. Keep up the great work. PS I have a Shawn's number from 171 so I apologize in advance for any drunk texts that might come in the future.
Giveaways!
Support Our Sponsors! Discounts codes below!

Company

Code

Benefit

Link

Faxon Firearms

WLS10 / WLSGUN

10% off parts, deals on guns

Swampfox Optics

WLSISLIFE

21% off

Brownells

Varies

Deals every day! Check slider

Second Call Defense

Click link

Free month

Black Rhino Concealment

WLSMOFO

10% off

Bowers Group

WLS

$15 off

Polymer80

WLSISLIFE

15% off

Hackett Equipment

WLSISLIFE

21% off

Franklin Armory

WLS10

10% off

Sonoran Desert Institute

Varies

Check site

Patriot Patch Co.

WLS10

10% off

Noisefighters

Click link

10% off

Medical Gear Outfitters

welikeshooting

11% off
We're here live every week on Monday / Wednesday nights and on demand every Thursday / Saturday. Go to welikeshooting.com/show to subscribe!