WLS 351 – A Phucing good time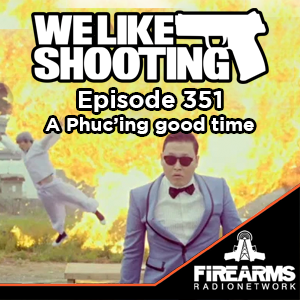 LISTEN TO THE SHOW
LoveWLS.com
We need your help to keep the show going! Check out LoveWLS.com to find out how you can help!
JOIN THE GUN CULT
Our Patreon replacement! Check out The Gun Cult to find out how you can help!
This episode of the We Like Shooting show is brought to you by Second Call Defense, Manticore Arms, DEZ Tactical Arms, the Sonoran Desert Institute, Faxon Firearms, Patriot Patch Company and Brownells!
Check out our Shootout challenge! Targets, rules and swag available here!
Welcome to the We Like Shooting show, Episode 351 – tonight we'll talk about SKS, 224 Valkyrie Update, Glock48, Shield Arms Mags, Drone Defender, Firepower United and more!
Our Guest is Calvin Truong from firepower united
Gun nerd; collector and shooter. – Shot 3-position air rifle in high school. – Discovered action shooting (USPSA/IDPA/3-gun) in college and got hooked. – Created videos on YouTube that provided firearms knowledge in an entertaining manner.
You can find more about Calvin Truong here
Cast
Our cast for episode 351 is Shawn Herrin, Aaron Krieger, Savage1r, Jeremy Pozderac, Nick Lynch!
Gear Chat
Where we talk about the stuff we have, the stuff that we want and the stuff that we need!
Shawn – SKS 

Savage1r – 

Drone Defender
WLS Lifestyle
Where we talk about the gun lifestyle!
Going Ballistic with Savage1r
Savage1r goes over the news of the day relating to guns, rights and more!
iTunes Reviews
Please leave us reviews in iTunes! It makes all the difference!
WLS
s_lux
★★★★★
Always a great time and sometimes even helpful haha
Great show
67turbo
★★★★★
Great info and humor
WLS
Coyneyea
★★★★★
Great show!! Funny and informative!
Fun and informative
C Hebdon
★★★★★
Love the show! The Firearms Radio Network is by far my favorite group of gun enthusiasts to listen to. It's like having your friends over to talk about guns!! Except you don't have to worry about them trashing your house.
Giveaways!
Support Our Sponsors! Discounts codes below!

Company

Code

Benefit

Link

Faxon Firearms

WLS10 / WLSGUN

10% off parts, deals on guns

Swampfox Optics

WLSISLIFE

25% off

Brownells

Varies

Deals every day! Check slider

Second Call Defense

Click link

Free month

Black Rhino Concealment

WLSMOFO

10% off

Bowers Group

WLS

$15 off

Polymer80

WLSISLIFE

15% off

Manticore Arms

WLS10

10% off

Sonoran Desert Institute

Varies

Check site

Patriot Patch Co.

WLS10

10% off

Noisefighters

Click link

10% off
We're here live every week on Monday / Wednesday nights and on demand every Thursday / Saturday. Go to welikeshooting.com/show to subscribe!