WLS 348 – Pink Suit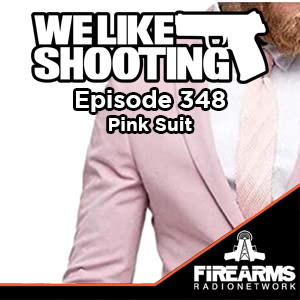 LISTEN TO THE SHOW
LoveWLS.com
We need your help to keep the show going! Check out LoveWLS.com to find out how you can help!
JOIN THE GUN CULT
Our Patreon replacement! Check out The Gun Cult to find out how you can help!
This episode of the We Like Shooting show is brought to you by Second Call Defense, Manticore Arms, DEZ Tactical Arms, the Sonoran Desert Institute, Faxon Firearms, Patriot Patch Company and Brownells!
Check out our Shootout challenge! Targets, rules and swag available here!
Welcome to the We Like Shooting show, Episode 348 – tonight we'll talk about Grey Ghost Precision, Black Rhino Concealment FCS, BRN-180, American Suppressor Association and more!
Our Guest is Knox Williams from American Suppressor Association
President and Executive Director of the American Suppressor Association
You can find more about Knox Williams here
Cast
Our cast for episode 348 is Shawn Herrin, Aaron Krieger, Jeremy Pozderac, Nick Lynch!
Gear Chat
Where we talk about the stuff we have, the stuff that we want and the stuff that we need!
Shawn – Grey Ghost Precision Combat Pistol

Aaron – Poly80 P320

Nick – 

Black Rhino FCS

 w/ Safariland and Zulu Nylon enhancements

Jerambe – BRN 180
WLS Lifestyle
Where we talk about the gun lifestyle!
No meat at the stores… wtf.
Going Ballistic with Savage1r
Savage1r goes over the news of the day relating to guns, rights and more!
iTunes Reviews
Please leave us reviews in iTunes! It makes all the difference!
Jeremy
Terterbois
★★★★★
Jeremy, you are my spirit animal I too am on the DL, and yes I am down for some tickle time with you. Shhhhh dont tell my wife and I wont tell yours. 
Five stars. The best part of any day is listening to Shawn, Jeremy, A-a-Ron, Nick and savage. Like a circus but with guns and whiskey.
March 31 · 
Been a listener for a few years and listened to every episode back into the 100s, WLS is easily the best podcast out there….okay the best firearms related podcast out there. Well, except maybe Cleckner's stuff. Wait, does Mrgunsngear have a podcast?
Anyway, just saw what you guys look like for the first time in your Team Building video. How weird is it that, even before seeing him, I somehow knew Jeremy wore his keys clipped to his belt loop like a janitor?
Just messing with you guys. WLS is, hands down, my favorite podcast. Funny, informational, entertaining, and pro 2A. Thank you.
Giveaways!
Support Our Sponsors! Discounts codes below!

Company

Code

Benefit

Link

Faxon Firearms

WLS10 / WLSGUN

10% off parts, deals on guns

Swampfox Optics

WLSISLIFE

25% off

Brownells

Varies

Deals every day! Check slider

Second Call Defense

Click link

Free month

Black Rhino Concealment

WLSMOFO

10% off

Bowers Group

WLS

$15 off

Polymer80

WLSISLIFE

15% off

Manticore Arms

WLS10

10% off

Sonoran Desert Institute

Varies

Check site

Patriot Patch Co.

WLS10

10% off

Noisefighters

Click link

10% off
We're here live every week on Monday / Wednesday nights and on demand every Thursday / Saturday. Go to welikeshooting.com/show to subscribe!