WLS 339 – Corn Chip Dust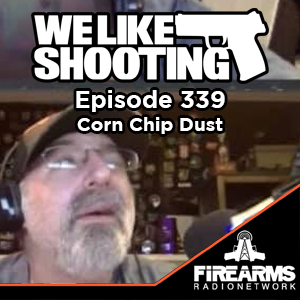 Listen to the show
LoveWLS.com
We need your help to keep the show going! Check out LoveWLS.com to find out how you can help!
JOIN THE GUN CULT
Our Patreon replacement! Check out The Gun Cult to find out how you can help!
This episode of the We Like Shooting show is brought to you by Second Call Defense, Manticore Arms, DEZ Tactical Arms, the Sonoran Desert Institute, Faxon Firearms, Patriot Patch Company and Brownells!
Check out our Shootout challenge! Targets, rules and swag available here!
Welcome to the We Like Shooting show, Episode 339 – tonight we'll talk about Faxon Firearms, Rubber Dummies, Second Call Defense, Patriot Patch Co, Bowers Group, Brownells, Streamlight TLR-7A, Rex Zero1, B&T, Century Arms and more!
Our Guest is Ken Ross from Century arms
Creative with a passion for firearms. Currently the creative director for Century Arms
You can find more about Ken Ross here
Cast
Our cast for episode 339 is Shawn Herrin, Aaron Krieger, Savage1r, Jeremy Pozderac, Nick Lynch!
Gear Chat
Where we talk about the stuff we have, the stuff that we want and the stuff that we need!
Shawn – TLR-7A

Aaron – 

Rex Zero1

Savage1r – 

B&T CZ pistol chassy
WLS Lifestyle
Where we talk about the gun lifestyle!
Bugout bag
Going Ballistic with Savage1r
Savage1r goes over the news of the day relating to guns, rights and more!
iTunes Reviews
Please leave us reviews in iTunes! It makes all the difference!
SSB>savage
Jab1010
★★★★★
I'm no gay boy but 20 bucks is 20 bucks, much rather take the SSB then be stuck in Communishington with that commie Savage. Most listened to podcast, two dirty thumbs up. Even if I don't value all of the Herons opinions, it is still worth the listen week in and week out. Hashtag WLSislife pound sign SSB Octothorpe Savageisacommie
Show Host is Amazing
Muck tee
★★★★★
I cant get enough of this show, I love how the host keeps it real, no matter what the opinions are of his panel. He is such a powerful voice, amazing, and I just love it! Also a huge fan that he is From Washington State.
Giveaways!
Support Our Sponsors! Discounts codes below!

Company

Code

Benefit

Link

Faxon Firearms

WLS10 / WLSGUN

10% off parts, deals on guns

Swampfox Optics

WLSISLIFE

25% off

Brownells

Varies

Deals every day! Check slider

Second Call Defense

Click link

Free month

Black Rhino Concealment

WLSMOFO

10% off

Bowers Group

WLS

$15 off

Polymer80

WLSISLIFE

15% off

Manticore Arms

WLS10

10% off

Sonoran Desert Institute

Varies

Check site

Patriot Patch Co.

WLS10

10% off

Noisefighters

Click link

10% off
We're here live every week on Monday / Wednesday nights and on demand every Thursday / Saturday. Go to welikeshooting.com/show to subscribe!