WLS 337 – Black Around the Edges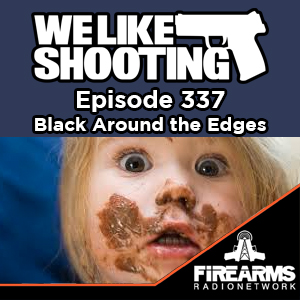 LISTEN TO THE SHOW
LoveWLS.com
We need your help to keep the show going! Check out LoveWLS.com to find out how you can help!
JOIN THE GUN CULT
Our Patreon replacement! Check out The Gun Cult to find out how you can help!
This episode of the We Like Shooting show is brought to you by Second Call Defense, Manticore Arms, DEZ Tactical Arms, the Sonoran Desert Institute, Faxon Firearms, Patriot Patch Company and Brownells!
Check out our Shootout challenge! Targets, rules and swag available here!
Welcome to the We Like Shooting show, Episode 337 – tonight we'll talk about X-Tech Tactical, the Masada, Springfield Armory Saint Edge Evac, the Insas, the Pew Pew Jew and more!
Our Guest is Pew Pew Jew from The Pew Pew Jew
Yehuda is an award-winning Second Amendment Advocate, author, and public speaker living with his wife and kids in Texas.
You can find more about Pew Pew Jew here
Cast
Our cast for episode 337 is Shawn Herrin, Aaron Krieger, Savage1r, Jeremy Pozderac, Nick Lynch!
Gear Chat
Where we talk about the stuff we have, the stuff that we want and the stuff that we need!
WLS Lifestyle
Where we talk about the gun lifestyle!
Going Ballistic with Savage1r
Savage1r goes over the news of the day relating to guns, rights and more!
iTunes Reviews
Please leave us reviews in iTunes! It makes all the difference!
Rainier is for Lovers
SquattyBob
★★★★★
Listening to the Rainier interview and Shawn mentioned that he might like to come to Wichita to visit the open house. This would be a dream come true. We could spend the weekend frolicking in the sunflowers and play like the deer and the antelope. Being spring time in Kansas, the chance of a tornado is high. Never fear, I'll cuddle those moobies until the sky clears. If you feel the need to workout, we could go to the gym with the mirrored floors and do squats while we spot each other. With any luck, I'll get a glimpse of the winking SSB. All angry and sweaty. Bring Aaron, cause I've never seen a kosher starfish, and this is also a dream of mind. #donthashtagmebro #igottapoop #illbuythesteakdinnerthistime
Giveaways!
Support Our Sponsors! Discounts codes below!

Company

Code

Benefit

Link

Faxon Firearms

WLS10 / WLSGUN

10% off parts, deals on guns

Swampfox Optics

WLSISLIFE

25% off

Brownells

Varies

Deals every day! Check slider

Second Call Defense

Click link

Free month

Black Rhino Concealment

WLSMOFO

10% off

Bowers Group

WLS

$15 off

Polymer80

WLSISLIFE

15% off

Manticore Arms

WLS10

10% off

Sonoran Desert Institute

Varies

Check site

Patriot Patch Co.

WLS10

10% off

Noisefighters

Click link

10% off
We're here live every week on Monday / Wednesday nights and on demand every Thursday / Saturday. Go to welikeshooting.com/show to subscribe!