WLS 265 – Pumpkin Spice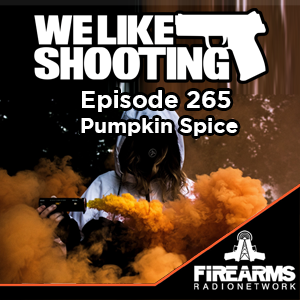 Listen to the show
LoveWLS.com
We need your help to keep the show going! Check out LoveWLS.com to find out how you can help!
This episode of the We Like Shooting show is brought to you by Second Call Defense, Manticore Arms, DEZ Tactical Arms, the Sonoran Desert Institute, Faxon Firearms, Patriot Patch Company and Brownells!
Check out our Shootout challenge! Targets, rules and swag available here!
Welcome to the We Like Shooting show, Episode 265 – tonight we'll talk about Canik, Caniks, CZ USA, Bullpup Shoot, Scorpion Evo Bullpup, Trident Concepts and more!
Our Guest is Jeff Gonzales from Trident Concepts
US Navy SEAL, Nationally recognized weapons & tactics trainer, meat eater and bourbon connoisseur
You can find more about Jeff Gonzales here
Cast
Our cast for episode 265 is Shawn Herrin, Aaron Krieger, Savage1r, Jeremy Pozderac, Nick Lynch!
Second Call Defense
If you carry or use a gun to protect yourself an/or your family then you need Second Call Defense. They handle what comes after the trigger is pulled. Don't wait until it's too late. Get Second Call Defense today!
Get a free month and a free We Like Shooting mug when you sign up! Once you are signed up forward your email confirmation to automated@welikeshooting.com to get your mug!
Manticore Arms
Reality based accessories that solve problems! Manticore Arms makes parts for your fighting rifles, whether it's an AK, AR-15, AUG, Tavor, CZ Scorpion Evo or even something else!
Get 10% off at Manticore Arms with code WLS10!
Gear Chat
Brought to you by DEZ Tactical Arms
Where we talk about the stuff we have, the stuff that we want and the stuff that we need!
NickLynch – 

Canik TP9 Elite Combat

Aaron –   recap bullpup shoot

Savage1r – canik/century arms customer service

.

 

Shawn – Scorpion Evo Bullpup
DEZ Tactical Arms
Rifles and accessories for the AR-15 lover! Whether you need a full rifle or just parts to build one DEZ has your back. High quality, match grade and most parts are made in house.
Get 10% off at DEZ Tactical Arms with code WLSPATRON!
WLS Lifestyle
Brought to you by Brownell's
Where we talk about the gun lifestyle!
Flying Cars
Brownell's
Everything you could possibly need.
Support the show by buying from Brownell's! FRN get's a percentage.
Faxon Firearms
Quickly taking over. Barrels, slides, the ARAK and more!
Going Ballistic with Savage1r
Brought to you by Faxon Firearms
Savage1r goes over the news of the day relating to guns, rights and more!
SDI
Learn how to be a gunsmith in the comfort of your own home. Distance learning that gives you tools and a gun in a box to build as you learn! Whether you want to get more acquianted with your AR-15 or want an associates degree, SDI is the place for you.
iTunes Reviews
Please leave us reviews in iTunes! It makes all the difference!
Very easy to get lost listening
by asgardd974 on Sep 17, 2018
RATING: ★★★★★
Jeremy, not being the smartest man but one possessing a strong curiosity on various topics makes him easy to listen to and very relatable, the rest of the gang, meh not so much, Jeremy should host the show once to see what happens.
I
by Dustin1188 on Sep 15, 2018
RATING: ★★★★★
Interesting people, introspective topics, ideologic hosts, idiopathic conversations, ingenious ideas, illuminating news impressive cast, instantaneous entertainment, incredible podcast.
America
by Ahmed I Mohammed on Sep 15, 2018
RATING: ★★★★★
I think you should have a draw Mohammed contest at Jeremys range when they have the grand opening
Best Podcast out there.
by Osheeeezy on Sep 14, 2018
RATING: ★★★★★
Shawn is such a positive and open human being, brings lots of beautiful people on the show who share their stories and work and its amazing. Lots of eye-opening conversations that i believe we can all learn from. One of the best Podcasts ever. Also when will you guys do a cooking segment, I really want to learn all the ways Jeremy eats meat out of a can. Ÿ'™
Aaron for President
by Dickford Bluffs on Sep 14, 2018
RATING: ★★★★★
I'€™ve never laughed so much at the same time thought to myself oh that guy is totally me! Aaron has cemented himself as a key member of this panel, possibly the one of my favorites. Please keep doing what you do for as long as possible, I mean you don't need feet to be heard!
You Da Man
by Kevin McCreery on Sep 13, 2018
RATING: ★★★★★
Such an interesting podcast with great guests and even better conversations. Keep it up WLS love what your doing here! Except Savage, you can die in a fire
Awesome podcast!
by Kiwifroot1212 on Apr 04, 2018
RATING: ★★★★★
This is a fun and high-energy podcast! Definitely a must-listen, #BUILD THE WALL #MAGA #WHITEPOWERCAKE, #FROMTHEROOFTOPS #NAMBLA #POUND.
Love it!!
by Isabel Richard on Mar 14, 2017
RATING: ★★★★★
I am very impressed by the intelligent questions the host asks. Not the run of the mill questions you hear all the time. Makes for some fun and surprisingly interesting conversations. Great job.
Patriot Patch Company
The absolute best in patches and 2A shirts!
Giveaways!
We're here live every week on Monday nights and on demand every Thursday. Go to welikeshooting.com/show to subscribe!