WLS 248 – Hapster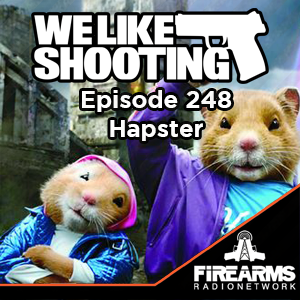 Listen to the show
LoveWLS.com
We need your help to keep the show going! Check out LoveWLS.com to find out how you can help!
This episode of the We Like Shooting show is brought to you by Second Call Defense, Manticore Arms, DEZ Tactical Arms, the Sonoran Desert Institute, JC Arms and Ammunition and Patriot Patch Company!
Check out our Shootout challenge! Targets, rules and swag available here!
Welcome to the We Like Shooting show, Episode 248 – tonight we'll talk about Takedown Rifle, Polymer80 magwell, flash hider, tru-glo sights, concealedcarry.com and more!
Our Guest is Jacob Paulsen from Concealed Carry
Founder and President of ConcealedCarry.com
You can find more about Jacob Paulsen here
Cast
Our cast for episode 248 is Shawn Herrin, Aaron Krieger, Savage1r, Jeremy Pozderac, Nick Lynch!
Second Call Defense
If you carry or use a gun to protect yourself an/or your family then you need Second Call Defense. They handle what comes after the trigger is pulled. Don't wait until it's too late. Get Second Call Defense today!
Get a free month and a free We Like Shooting mug when you sign up! Once you are signed up forward your email confirmation to automated@welikeshooting.com to get your mug!
Manticore Arms
Reality based accessories that solve problems! Manticore Arms makes parts for your fighting rifles, whether it's an AK, AR-15, AUG, Tavor, CZ Scorpion Evo or even something else!
Get 10% off at Manticore Arms with code WLS10!
Gear Chat
Brought to you by DEZ Tactical Arms
Where we talk about the stuff we have, the stuff that we want and the stuff that we need!
DEZ Tactical Arms
Rifles and accessories for the AR-15 lover! Whether you need a full rifle or just parts to build one DEZ has your back. High quality, match grade and most parts are made in house.
Get 10% off at DEZ Tactical Arms with code WLSPATRON!
WLS Lifestyle
Brought to you by Brownell's
Where we talk about the gun lifestyle!
ways you can turn a love of shooting into income.
Brownell's
Everything you could possibly need.
Support the show by buying from Brownell's! FRN get's a percentage.
JC Arms and Ammunition
The absolute best ammo we've shot! Match grade primers, match grade powder, virgin brass and top quality projectiles, at range ammo prices. You have got to see it to believe it!
Get $5 off at JC Arms and Ammunition with code WLS5OFF!
Going Ballistic with Savage1r
Brought to you by JC Arms & Ammunition
Savage1r goes over the news of the day relating to guns, rights and more!
SDI
Learn how to be a gunsmith in the comfort of your own home. Distance learning that gives you tools and a gun in a box to build as you learn! Whether you want to get more acquianted with your AR-15 or want an associates degree, SDI is the place for you.
iTunes Reviews
Please leave us reviews in iTunes! It makes all the difference!
Great group of guys
by Sl2 duke on May 20, 2018
RATING: ★★★★★
As a new gun owner I can't get enough of this pod cast. Learn something new every show also love the review part. Keep it up. Ps Some one that donates to Patreon isn't a €œPatreon€ they're a €œ"patron"€
The most fun gun podcast I've seen
by Help_Stuck_in_New_Jersey_Help on May 17, 2018
RATING: ★★★★★
This is the best podcast I've found. It embraces the younger shooters gun culture, busting the stereotype of the older white dude with a revolver. It's the tidepod of podcasts, it tastes so good going down, but tears you up inside, and you might end up in the hospital. Except instead of from massive 3rd degree chemical burns, it's from laughing.
Busta Cap
by Sancosys on May 14, 2018
RATING: ★★★★★
When I step up in the podcast I step correct Woo-Hah! Got you all in check I got that head spacing that make you break your neck Busta Savage AF up in the place, true indeed Yes I catch wreck and that's word on my seed I'm guaranteed to give you what you need Everybody like Junior Nick Lunch or D? Wake up every morning, yo… I… must…stipple Nationwide ruckus make the world grip stipple! Yo MG Moses we roll some hand loads Mad charged "€˜my guy"€™ now I must proceed Yo we 'bout to make moves, set velocity Peace to Baby Nick, Herring and voda too! Wait who?? Watch me knock you out like swollen sheets Need more information homeboy then just read Ay! Do the bogle dance, man, do the pepperseed
Great stuff
by Shawn Pozderac  on May 14, 2018
RATING: ★★★★★
This show makes me laugh, if I had to list them in order of people I like It would be the following, Aaron, Shawn, Savage, Nick, Lil, Kelly, Ava, Voda, Jeremy.      
Jeremy is gay
by Aaron Krieger  on May 14, 2018
RATING: ★★★★★
Jeremy is gay.      
Patriot Patch Company
The absolute best in patches and 2A shirts!
Giveaways
Winners!
Didn't win? Enter here!
We're here live every week on Monday nights and on demand every Thursday. Go to welikeshooting.com/show to subscribe!