WLS 243 – Gliterally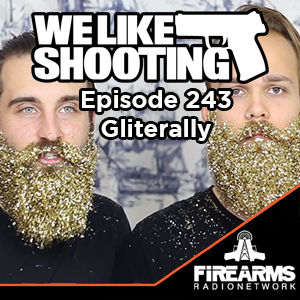 Listen to the show
LoveWLS.com
We need your help to keep the show going! Check out LoveWLS.com to find out how you can help!
This episode of the We Like Shooting show is brought to you by Second Call Defense, Manticore Arms, DEZ Tactical Arms, the Sonoran Desert Institute, JC Arms and Ammunition and Patriot Patch Company!
Check out our Shootout challenge! Targets, rules and swag available here!
Welcome to the We Like Shooting show, Episode 243 – tonight we'll talk about Short barrels and rifle length gas, Sharps rifle sights, inexpensive targets, Slamfire Radio and more! and more!
Our Guest is Trevor and Adriel from
IPSC and 3Gun shooters from Canada who podcast and stuff. If you don't love Jameson you're a Commie bastard
You can find more about Trevor and Adriel here
Cast
Our cast for episode 243 is Shawn Herrin, Aaron Krieger, Savage1r, Lil Chantilly, Jeremy Pozderac, Nick Lynch!
Second Call Defense
If you carry or use a gun to protect yourself an/or your family then you need Second Call Defense. They handle what comes after the trigger is pulled. Don't wait until it's too late. Get Second Call Defense today!
Get a free month and a free We Like Shooting mug when you sign up! Once you are signed up forward your email confirmation to automated@welikeshooting.com to get your mug!
Manticore Arms
Reality based accessories that solve problems! Manticore Arms makes parts for your fighting rifles, whether it's an AK, AR-15, AUG, Tavor, CZ Scorpion Evo or even something else!
Get 10% off at Manticore Arms with code WLS10!
Gear Chat
Brought to you by DEZ Tactical Arms
Where we talk about the stuff we have, the stuff that we want and the stuff that we need!
Jerambe –  Pedersoli Creedmore tang sight for Sharps rifle

Aaron –

 inexpensive targets

Guest – -Optic and mount for my 3Gun pistol

-Tricked out Glock 34 for 3 gun or Shadow 2?
DEZ Tactical Arms
Rifles and accessories for the AR-15 lover! Whether you need a full rifle or just parts to build one DEZ has your back. High quality, match grade and most parts are made in house.
Get 10% off at DEZ Tactical Arms with code WLSPATRON!
WLS Lifestyle
Brought to you by Brownell's
Where we talk about the gun lifestyle!
Brownell's
Everything you could possibly need.
Support the show by buying from Brownell's! FRN get's a percentage.
JC Arms and Ammunition
The absolute best ammo we've shot! Match grade primers, match grade powder, virgin brass and top quality projectiles, at range ammo prices. You have got to see it to believe it!
Get $5 off at JC Arms and Ammunition with code WLS5OFF!
Going Ballistic with Savage1r
Brought to you by JC Arms & Ammunition
Savage1r goes over the news of the day relating to guns, rights and more!
SDI
Learn how to be a gunsmith in the comfort of your own home. Distance learning that gives you tools and a gun in a box to build as you learn! Whether you want to get more acquianted with your AR-15 or want an associates degree, SDI is the place for you.
iTunes Reviews
Please leave us reviews in iTunes! It makes all the difference!
iTunes Review Brought to us by SDI
Jeremy reads
Undocumented review by Juan Source
by Hockey 24 on Apr 14, 2018
RATING: ★★★★★
I look forward to the very informative and often hilarious We Like Shooting and Double Tap episodes every week. It should be required listening for all freedom loving Americans. Question for all cast members: If you were selected to participate in an episode of "Naked and Afraid†, but had to choose a cast member as your partner, which cast member would you select? Also, which one item would you bring and which one item would you recommend your "life partner†bring?
You down with cccp
by Jim's mad on Apr 13, 2018
RATING: ★★★★★
THIS SHOW IS BEST, THEY HAVE MUCH KNOWLEDGE OF THE FIREARMS AND THINGS. I LISTEN TO ALL SHOWS OF THEM AND AM ONLY DISAPPOINTED WHEN I HEAR THIS TERRIBLE SOUNDING WORK ITS IS SPELLED AVA AND I THINK THE SHAUN GUY IS PUTTING IT TO HER IF YOU KNOW WHAT I SAY, YOU KNOW WHAT I SAY HA HA. ALSO THEY GIVE HARD TIME TO MY FAVORITE PERSON STALIN1R THIS I DO NOT LIKE, YOU MESS WITH COMRADE STALIN1R I BREAK YOU. AND SOME ONE MAKE THE BIG MAN PUT HAIR BACK ON FACE IT HELPS ME FIND HOLE!!
Jeo Hova, Wit Less
by Richard Melon on Apr 03, 2018
RATING: ★★★★★
Love the show, wanted to take the time to compare the cast to apostles, Shawn would be Peter, because everyone knows who Peter is, plus every guy is like look at my Peter it is amazing, but women are like gross stop sending me peter pictures. Jeremy is like Simon, because he was a zealot, and would do anything to forward his ideals, including killing someone. Aaron is the Judas, not because he is a backstabbing Jew, but because he is the only one who seems to be in it for the money. Nick is Bartholomew, because, who the hell is Bartholomew? And Savage, he is Matthias, because he is the replacement for Judas, and one day Aaron is going to ascend to heaven (because he cant die) and we will need a new Aaron.    
Bathroom
By Showtime on Apr 03, 2018
RATING: ★★★★★
I listen to the show while pooping… I need to eat some fiber because I can listen to the show in one sitting.    
Patriot Patch Company
The absolute best in patches and 2A shirts!
Giveaways
We're here live every week on Monday nights and on demand every Thursday. Go to welikeshooting.com/show to subscribe!