WLS 234 – Can I get Stangers at Best Buy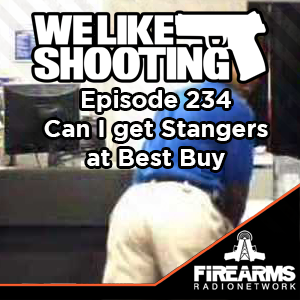 Listen to the show
LoveWLS.com
We need your help to keep the show going! Check out LoveWLS.com to find out how you can help!
This episode of the We Like Shooting show is brought to you by Second Call Defense, Manticore Arms, DEZ Tactical Arms, the Sonoran Desert Institute, JC Arms and Ammunition and Patriot Patch Company!
Check out our Shootout challenge! Targets, rules and swag available here!
Welcome to the We Like Shooting show, Episode 234 – tonight we'll talk about Welcome to the We Like Shooting Show, episode 234. Tonight we will talk about Buckeye Targets, Muzzle Breaks, SOG Spirit, 22Plinkster and more! and more!
Our Guest is Dave Nash, 22plinkster from @22plinkster
22Plinkster shoots guns and stuff on the Internet. The Youtube channel consists of trick shots, gun reviews, and a little bit of redneck science.
You can find more about Dave Nash, 22plinkster here
Cast
Our cast for episode 234 is Shawn Herrin, Aaron Krieger, Savage1r, Jeremy Pozderac!
Second Call Defense
If you carry or use a gun to protect yourself an/or your family then you need Second Call Defense. They handle what comes after the trigger is pulled. Don't wait until it's too late. Get Second Call Defense today!
Get a free month and a free We Like Shooting mug when you sign up! Once you are signed up forward your email confirmation to automated@welikeshooting.com to get your mug!
Manticore Arms
Reality based accessories that solve problems! Manticore Arms makes parts for your fighting rifles, whether it's an AK, AR-15, AUG, Tavor, CZ Scorpion Evo or even something else!
Get 10% off at Manticore Arms with code WLS10!
Gear Chat
Brought to you by DEZ Tactical Arms
Where we talk about the stuff we have, the stuff that we want and the stuff that we need!
A-A-RONS Tactically Practical  
Lifetime Guarantee
DEZ Tactical Arms
Rifles and accessories for the AR-15 lover! Whether you need a full rifle or just parts to build one DEZ has your back. High quality, match grade and most parts are made in house.
Get 10% off at DEZ Tactical Arms with code WLSPATRON!
JC Arms and Ammunition
The absolute best ammo we've shot! Match grade primers, match grade powder, virgin brass and top quality projectiles, at range ammo prices. You have got to see it to believe it!
Get $5 off at JC Arms and Ammunition with code WLS5OFF!
Going Ballistic with Savage1r
Brought to you by JC Arms & Ammunition
Savage1r goes over the news of the day relating to guns, rights and more!
SDI
Learn how to be a gunsmith in the comfort of your own home. Distance learning that gives you tools and a gun in a box to build as you learn! Whether you want to get more acquianted with your AR-15 or want an associates degree, SDI is the place for you.
iTunes Reviews
Please leave us reviews in iTunes! It makes all the difference!
Deez Gun Nuts!
by Festus_Hagen on Feb 12, 2018
RATING: ★★★★★
What a fun show! These guys somehow manage to inform and entertain while carrying on the most hilarious (and borderline insane) conversations! Keep it up, fellas, because limp is not an option!
Hola
by Pedro on Feb 12, 2018
RATING: ★★★★★
Enorme fan del espectáculo. Amo la cancion. Jeremy chupa bolas. Sin pared, por favor.
A-Aron
by I Wonder on Feb 11, 2018
RATING: ★★★★★
I heard you guys say A-aron married up. Let's be honest, anything that walks upright is up for him, and some things that dont. Anyhow, where do I find pictures of said misses Moses, for Science….
Patriot Patch Company
The absolute best in patches and 2A shirts!
Giveaways
We're here live every week on Monday nights and on demand every Thursday. Go to welikeshooting.com/show to subscribe!