WLS 216 – Pillars II Society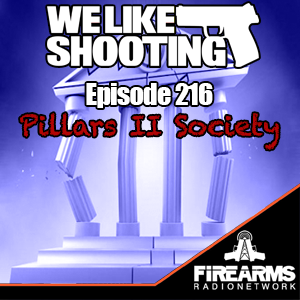 Listen to the show!

Welcome to the We Like Shooting show, Episode 216 – tonight we'll talk about ETS Cam Rifle mag loader Glocks, Cash Cannon, and Rubber Dummies and more!
Our Guest is from 
You can find more about  here
Cast
Our cast for episode 216 is Aaron Krieger, Savage1r, Jeremy Pozderac, Nick Lynch!
Gear Chat
Where we talk about the stuff we have, the stuff that we want and the stuff that we need!
Going Ballistic with Savage1r
Savage1r goes over the news of the day relating to guns, rights and more!
Take turns between political / gun industry news
iTunes Reviews
Please leave us reviews in iTunes! It makes all the difference!
Totally not Jeremy pozderac
by dirty river fruit loop on Sep 23, 2017
RATING: ★★★★★
My name is Jeremy Pos… uhh Mozderac. WLS is the best podcast out there. What's the best part you ask? Well that's easy… it's all dudes!!! They did have a chick named Ava but that didn't count because it turned out she was actually the actor who played that freakin nerd Paul from the wonder years. The one guy nick is hideous, it looks like a coyote gave birth and then died on his face. Listening to savage is slightly worse than watching grass grow… while a lawn mower slowly rolls over your head. Looking for advice from MG Moses? Forget it, you'd might as well get you firearms info from the 75 year old oriental lady at the Walmart jewelry counter, seriously where'd they find that troll? The host Shawn has aids. You can find me… oops… I mean that guy Jeremy lying facedown at you local Ohio truck stop mens room trying to see how many dudes it takes to completely cover up my punisher skull tramp stamp with their gravy. Also I think Illinois listeners are the best.#wlsislife #illinoissyndicate
Not voda
by Jim's mad on Sep 22, 2017
RATING: ★★★★★
These bruddas have no idea of what they are talking about when it come to getting convicts under your gone. And this Nick Dungstank is a racist who don't like him some Caribbean's. These honkies are racist and don't know noting about gones and self defense. I'll challenge anyone of you to a challenge of skill against my gone and knife and we see how the baddest brudda is pound for pound we know is aaron until he loses his legs.
Best F#*@in' podcast
by Maximum penatration on Sep 19, 2017
RATING: ★★★★★
LOOK AT MY DOGS, THERE ON THE COUCH!!!
Giveaways
Winners!
Blown Deadline: David Benson
Didn't win? Enter here!
We're here live every week on Monday nights and on demand every Thursday. Go to welikeshooting.com/show to subscribe!