WLS 214 – We Like Shooteristing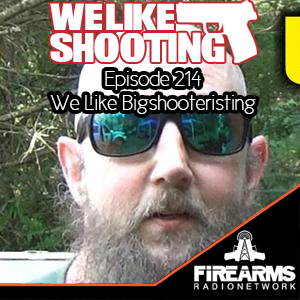 Listen to the show
Admin Stuff
Short title: WLS 214 – We Like Shooteristing
Long title: We Like Shooting 214 – We Like Shooteristing
Tags: Rand CLP, Bullpup shoot roundup, Vortex Strikefire, Bigshooterist
Libsyn: [900]
Amazon: [901]
Embed: [904]
WLS Episode Art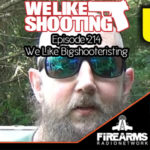 WLS Explicit Episode Art 
WLS Album Art 
We need your help to keep the show going! Check out LoveWLS.com to find out how you can help!
This episode of the We Like Shooting show is brought to you by Second Call Defense, Manticore Arms, DEZ Tactical Arms, the Sonoran Desert Institute, JC Arms and Ammunition and Patriot Patch Company!
Check out our Shootout challenge! Targets, rules and swag available here!
Welcome to the We Like Shooting show, Episode 214 – tonight we'll talk about Rand CLP, Bullpup shoot roundup, Vortex Strikefire, Bigshooterist and more!
Costar of Reality Shooting Show "Freedom Fighters", Author of "The Evolution of the Black Rifle" and Host of Bigshooterist Channel on YouTube.
You can find more about Jeff Zimba here
Cast
Our cast for episode 214 is Shawn Herrin, Aaron Krieger, Savage1r, Jeremy Pozderac, Nick Lynch!
Manticore Arms
Reality based accessories that solve problems! Manticore Arms makes parts for your fighting rifles, whether it's an AK, AR-15, AUG, Tavor, CZ Scorpion Evo or even something else!
Gear Chat
Where we talk about the stuff we have, the stuff that we want and the stuff that we need!
DEZ Tactical Arms
DEZ WLSPatron gets you 10% off!
DEZ is featured in a full episode of History of the Gun on The Hunt Channel.
A-A-RONS DEBUNKING GUN MYTHS Brought to you by Brownells? 1 Cent Shipping
The gun show loophole arms all the baddies.
Lifetime Guarantee
DEZ Tactical Arms
Rifles and accessories for the AR-15 lover! Whether you need a full rifle or just parts to build one DEZ has your back. High quality, match grade and most parts are made in house.
JC Arms and Ammunition
The absolute best ammo we've shot! Match grade primers, match grade powder, virgin brass and top quality projectiles, at range ammo prices. You have got to see it to believe it!
Going Ballistic with Savage1r
Savage1r goes over the news of the day relating to guns, rights and more!
JCAA Ammunition ALSO SLIDE CUTS FOR ALL Starting at 125 dollars.
Coke vs. Pepsi Challenge!
new JCAA calibers, 10mm 357 and 6.5CM.
WLS5OFF
SDI
Learn how to be a gunsmith in the comfort of your own home. Distance learning that gives you tools and a gun in a box to build as you learn! Whether you want to get more acquianted with your AR-15 or want an associates degree, SDI is the place for you.
iTunes Reviews
Please leave us reviews in iTunes! It makes all the difference!
Jeremy reads
5 stars
Wilford Brimley
With a name like Wilford Brimley I bet you were thinking I was going to talk about diabetes, but in fact I wanted to talk about Brims… if you wear a sticker on the brim of your hat, it is called a Brimley, I have trademarked that term, please do not use it.
5 stars
Another Friend of Bill W
I remember the time I saw Shawn fall on the ground and pass out in Illinois and thought to myself this has to be the funniest thing I have ever seen, that was last year, when I saw it happen again this year I thought this has to be the saddest thing I have ever seen. Next year will not be a bull pup shoot but an intervention.
5 stars
NotShawnHerrinreally
I heard that a bullpup is a when a bull and a dog have a baby, that baby then has sex with Jeremy. No idea where I am going with this review, just wanted to point out that Jeremy fucks dogs.
5 stars
The Trace
My name is Kristie Wooldridge I am the Public Relations Associate Manager, Communications for the Buffalo Trace Distillery in Frankfort, KY I want you to call me up and tell me to sponsor the we like shooting show, at 502-783-5652 or email me at kwooldridge@buffalotrace.com again that is 502-783-5652 or email at kwooldridge@buffalotrace.com
Patriot Patch Company
The absolute best in patches and 2A shirts!
Giveaways
Winners!
Blown Deadline: Jacob Milburn
Didn't win? Enter here!
We're here live every week on Monday nights and on demand every Thursday. Go to welikeshooting.com/show to subscribe!