WLS 209 – Shooting the moon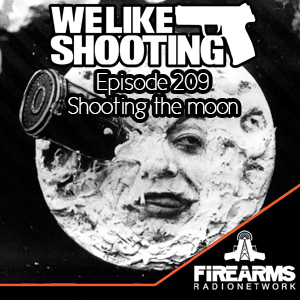 Welcome to the We Like Shooting show, Episode 209 – tonight we'll talk about Glock chops, ETS mag loader, Sonicboom, Gun Candy and more!
Gun youtuber that loves to have fun!
You can find more about Edwin Sarkissian here
Listen to the show
Cast
Our cast for episode 209 is Shawn Herrin, Aaron Krieger, Savage1r, Jeremy Pozderac, Nick Lynch!
Gear Chat
Where we talk about the stuff we have, the stuff that we want and the stuff that we need!
NickLynch – Glock 19 Chop
Savage1r – ETS mag loader revisited
Aaron –  Sonicboom
Shawn – Gun Candy
Going Ballistic with Savage1r
Savage1r goes over the news of the day relating to guns, rights and more!
iTunes Reviews
Please leave us reviews in iTunes! It makes all the difference!
5 stars
Hot4Aaron
Okay I am not going to lie, Aaron is kind of hot. I mean not like fire hot, but like I just had a cup of tea and it has been sitting next to my crochet work and cats.
5 stars
shhhhhooootingthemoon
I heard there is a picture of Shawn touching Jeremys naked butt. Can you confirm?
5 stars
Cleaning up
I tired the #wlscleans as well and oh my god… my husband is still cleaning the bathroom.
Giveaways
Winners!
Didn't win? Enter here!
We're here live every week on Monday nights and on demand every Thursday. Go to welikeshooting.com/show to subscribe!