WLS 205 – Pterodactyl Porn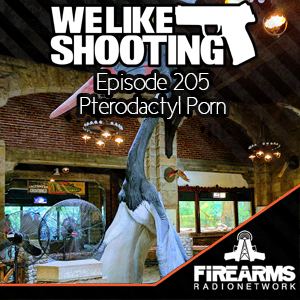 Welcome to the We Like Shooting show, Episode 205 – tonight we'll talk about 460 rowland, SAR Arms CM9 gen 2, Trident defense and more!
Grew up in the automotive industry and chased his passion for firearms!
You can find more about Ty Cobb here
Listen to the show
Cast
Our cast for episode 205 is Shawn Herrin, Aaron Krieger, Savage1r, Jeremy Pozderac, Nick Lynch!
Gear Chat
Where we talk about the stuff we have, the stuff that we want and the stuff that we need!
Going Ballistic with Savage1r
Savage1r goes over the news of the day relating to guns, rights and more!
iTunes Reviews
Please leave us reviews in iTunes! It makes all the difference!
John J
5 star
Awesome group of people very knowledgeable on all aspects of the firearm industry
Jared P
5 star
Love this shit' I drive an 18 wheeler so I listen to old episodes all day and never stop laughing
Tari H
5 star
Love the information and camaraderie of the cast. Jeremy, you need to get in the conversation more.
Ron C
5 star
I love them.I love them very much. You, too, will love them. You will love them very much.
Jeramy O
5 star
Epicly funny and hilarious cant get enuff! Totally made me not want to be them, my life is better then theirs
Brian W
5 star
Fuck! This is the best fucking group of dudes and girl. Fuck. Funny and informative. Can't wait to move from California. Fuck. So I can use some of the knowledge I have accumulated from this show. Fuck.
Andy M
5 star
This is a great show, by even greater people. If you have a sense of humor and a love of guns, then this show is for you. If not, then go support Voda and kiss off!
Donny G
5 star
Best podcast on the internets. This group of guys is awesome to listen to. It's like hanging out with a group great friends. They're very knowledgeable and willing to extend that knowledge to everyone. You gotta listen to them.
Will P
5 star
Besides that time I was listening while waiting (I mean pack a lunch kind of wait) at the VA, & everyone overheard & thought it was some kind of grinder truck stop porn, it's a good show.
Tyler F
5 star·
Other than savage1R having a vagina and being a bitch half of the time; and ava with her stupid ass, running her god damn mouth about every little thing every 5 minutes, this is the best podcast out there. I love that ava hasn't been on too much recently it has saved me on my headache meds. Ok all joking aside she's ok sometimes (even has good questions (rarely )). Jeremy and Shawn when you come to Michigan next come to the not run down side aka the west side and I'll buy yall a couple beers (Aarons invited to come across from the dark side too).
MG Moses
5 star
They give me a murder boner that can last up to four hours
Giveaways
Winners!
Didn't win? Enter here!
We're here live every week on Monday nights and on demand every Thursday. Go to welikeshooting.com/show to subscribe!