WLS 203 – Rod & Lube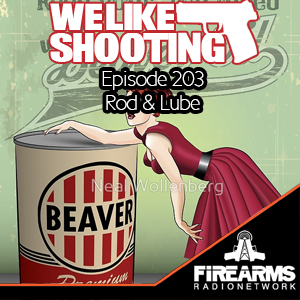 Welcome to the We Like Shooting show, Episode 203 – tonight we'll talk about rand clp, manticore arms, faxon firearms and more!
All kinds of guest from some great companies!
Listen to the show

You can find more about Chris Bardugone, Nathan Schueth, Sven Jonnson here
Cast
Our cast for episode 203 is Shawn Herrin, Aaron Krieger, Savage1r, Jeremy Pozderac, Nick Lynch!
Gear Chat
Where we talk about the stuff we have, the stuff that we want and the stuff that we need!
Going Ballistic with Savage1r
Savage1r goes over the news of the day relating to guns, rights and more!
iTunes Reviews
Please leave us reviews in iTunes! It makes all the difference!
RATING: ★★★★★
sean cooper 401
the real me
Hello my name is Jeremy Pozderac. I sell firearms and firearm accessories. My friends call me j-poz and my cousin calls me his cuddle-bear, when we finish playing baseball (wink wink) he usally will turn to me and tell me "i can always close with him". When he can't join me, u will often find me stroking my ak, and fingering my glock, while i fantasize about Chris Kyle. Theres only one thing i enjoy more then choking strange men, and thats watchin my favorite show Duck Dynasty. i love all the cast members of we like shooting, but Ava is the only women that will ever have my heart. I will miss her Fran Drescher voice and her Big Bird face. Well thats all i have to say for now, i just wanted everyone to know my true feelings.
RATING: ★★★★★
S.Bob S.Pants
SHRIMP TOWN
I recently heard on your show someone talking about going to shrimp town. I live in Bikini Bottom, about 3 leagues south of Shrimp town. And Jezus H. Christ, that place is a hole. I am pretty sure you will encounter plenty of crabs there. And if you think seawater smells fishy, shrimp town smells like a pirates special treasure, that has sank to the bottom of the sea, and rotted (aka Jeremy's butthole)
Sheldon J. Plankton
RATING: ★★★★★
Blob Fish
Two things, one, can anyone tell me the recipe to the crabby patty, and two, Jeremys butthole smells like a dead bloated blob fish rotting in the sun.
RATING: ★★★★★
Sheldon Cooper
Jeremy is gay. I have not heard this for a while on the show, so I am bringing it back.
Giveaways
Winners!
Didn't win? Enter here!
We're here live every week on Monday nights and on demand every Thursday. Go to welikeshooting.com/show to subscribe!