WLS 200 – Looks like we made it!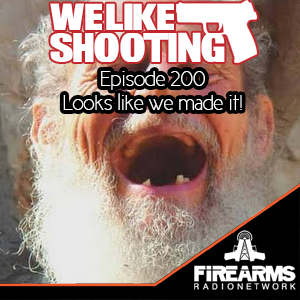 Welcome to the We Like Shooting show, Episode 200 – tonight we'll talk about the last 200 and more!
Cast
Our cast for episode 200 is Shawn Herrin, Aaron Krieger, Savage1r, Lil Chantilly, Jeremy Pozderac, Nick Lynch!
Gear Chat
Where we talk about the stuff we have, the stuff that we want and the stuff that we need!
Going Ballistic with Savage1r
Savage1r goes over the news of the day relating to guns, rights and more!
iTunes Reviews
Please leave us reviews in iTunes! It makes all the difference!
Giveaways
Winners!
Didn't win? Enter here!
We're here live every week on Monday nights and on demand every Thursday. Go to welikeshooting.com/show to subscribe!