WLS 190 – Pony Up Daddy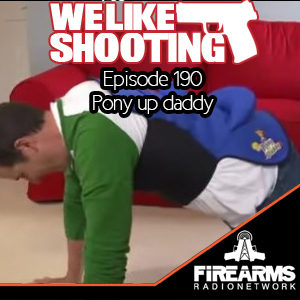 Welcome to the We Like Shooting show, Episode 190 – tonight we'll talk about MA Loader, Transformer Rails, Suppressed SBR's, Polymer80, Brigand Arms and more!
26 years old; born and raised in Alabama (Roll Tide!); founded Brigand Arms in 2014 along with partner Austin Gurley.
You can find more about Ross Wesson here
Listen to the show
Segments
Gear Chat
Going Ballistic
iTunes Reviews
Cast
Our cast for episode 190 is Shawn Herrin, Aaron Krieger, Jeremy Pozderac, Nick Lynch!
Gear Chat
Where we talk about the stuff we have, the stuff that we want and the stuff that we need!
NickLynch – Polymer80 PF940C
Savage1r –
Jerambe –  Suppresed 9mm SBR
Aaron – MA loader
Shawn – Transformer Rails – Manticore Arms
Going Ballistic with Savage1r
Savage1r goes over the news of the day relating to guns, rights and more!
iTunes Reviews
Please leave us reviews in iTunes! It makes all the difference!
hang on
by I patreon long time.. on Mar 22, 2017
RATING: ★★★★★
If you went to a lemon party with 2 girls and 1 cup would you eat the blue waffles? This show will help you to make an informed decision….Lots of fun and if you are not careful you might learn something. P.S. the ususal goes for Jeremy and Aaron, you know "into dudes" and "necrotic feet"
Best show ever!
by Tactical Texan on Mar 20, 2017
RATING: ★★★★★
WLS is a great show featuring inarticulate hitchhiker Nick Lynch, Shawn, who is that rich uncle who's will you hope you're in, and of course there's gay Paul Bunyan aka Jeremy P-O-Zderac. He has a gunshop that's always open (because he can't close). And then there's Savage (he's the uncle you don't let your kids around). That's everybody except two hairy Jewish guys.
Giveaways
Winners!
Didn't win? Enter here!
We're here live every week on Monday nights and on demand every Thursday. Go to welikeshooting.com/show to subscribe!