WLS 188 – Minimizing the future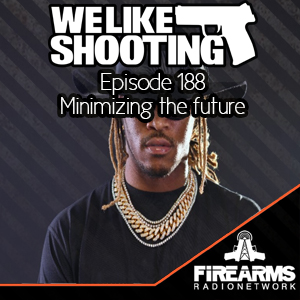 Welcome to the We Like Shooting show, Episode 188 – tonight we'll talk about Fisher Development, 9mm SBR's, the Grand Power X-Calibur, Falcon 37 and more!
Owners of Falcon37
You can find more about Steve Parker and Eric Battles here
Listen to the show
Segments
Gear Chat
Going Ballistic
iTunes Reviews
Cast
Our cast for episode 188 is Shawn Herrin, Aaron Krieger, Savage1r, Jeremy Pozderac, Nick Lynch! We are also joined by Ava Flanell from Elite Firearms & Training
Gear Chat
Where we talk about the stuff we have, the stuff that we want and the stuff that we need!
Going Ballistic with Savage1r
Savage1r goes over the news of the day relating to guns, rights and more!
iTunes Reviews
Please leave us reviews in iTunes! It makes all the difference!
Jeremy's not gay
Nick is in a box somewhere RATING: ★★★★★
When I think of we like shooting think okay Rock Hudson we know you like guns and showing your junk .Savage I'm in we know you like the marijuana. If the diabetes AIDS cancer maybe the next time you shoot a chronogra oh hell we know the diabetes AIDS cancer will kill you first with a side of maple glaze one question Erin is there like no AAA meetings near you is that why you won't get help where's Nick! And ever I would support single mother of tickles with ones
I Have seen wings
Terrible wings RATING: ★★★★★
Is Aaron available to come to my house and say merry christmas to my kids? I will pay in sheckels.
Just once.
Rolling Stone RATING: ★★★★★
So I figured it out, Shawn is 100 years old, but Aaron is his portrait, kind of like dorian gray
Did I miss a show?
Shawns Shadow RATING: ★★★★★
When did Shawn become the hot skinny one and Ava became the fat unattractive one. I feel like I am living in bizarro world. Next you will tell me that Jeremy is straight, Savage is clean, Nick has mastered the ability of elocution, and Aaron is the young one.
Giveaways
Winners!
Didn't win? Enter here!
We're here live every week on Monday nights and on demand every Thursday. Go to welikeshooting.com/show to subscribe!