WLS 187 – Anarchy!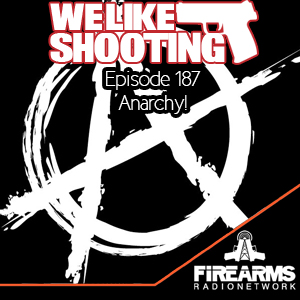 Welcome to the We Like Shooting show, Episode 187 – tonight we'll talk about Trinity Force Atlas, Hi-point, Iberia Xtras, Mission First Tactical, Brownell's and more!
Ex-cop turned PR guy who somehow wound up in marketing at Brownell's
You can find more about Ryan Repp here\
Listen to the show
Segments
Gear Chat
Going Ballistic
Positively Pozderac
Cast
Our cast for episode 187 is Shawn Herrin, Aaron Krieger, Savage1r, Jeremy Pozderac, Nick Lynch! We are also joined by Ava Flanell from Elite Firearms & Training
Gear Chat
Where we talk about the stuff we have, the stuff that we want and the stuff that we need!
Savage1r – MFT Minimalist Stock
Jerambe –
Aaron – Trinity Force Atlas
Shawn – Hi-point update (Shawn Special)
Ava –
Guest – Zenith Firearms
Going Ballistic with Savage1r
Savage1r goes over the news of the day relating to guns, rights and more!
iTunes Reviews
Please leave us reviews in iTunes! It makes all the difference!
Aaron! Aaron! Aaron!
Sreksuhn RATING: ★★★★★
All Aaron all the time! Wall to wall Aaron please! If Aaron goes, I go! I'm starting my own podcast. "I Like it When Aaron Shoots!"
Philosophical giants
Mikhail Mars RATING: ★★★★★
Thoughtful Hegelian discourse on the dialectic between tactical reloads and shooting the gun dry. 2/10 would not bang. Honestly, I'm pretty sure they're white supremacists.
Diabeetus and firearm hijinks
That James K guy RATING: ★★★★★
If only Jeremy would go on his trademark tirades more often this would be the greatest gun-related show on earth. Keep up the good work.
Almost better than the farming simulater game
That O'McDonald RATING: ★★★★★
I listen to the show after I listen to the farm report,  Ee i ee i oh! Do I enjoy the show. And on this show they have an Ava, Ee i ee i oh my! With a "moo-moo" here and a "moo-moo" there Here a "moo" there a "moo" Everywhere a "moo-moo". Corn bred and corn fed, that is how I like my girls.
Giveaways
Winners!
Didn't win? Enter here!
We're here live every week on Monday nights and on demand every Thursday. Go to welikeshooting.com/show to subscribe!