Welcome to the We Like Shooting show, Episode 140 – tonight we'll talk about Laser tag, nikon p308, JP's 308 Cazador, Alien Gear, Gunfighters Inc., ZK-22 and more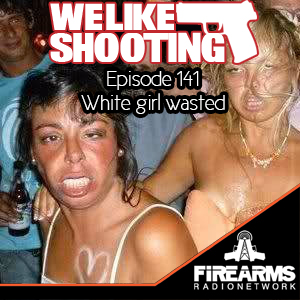 !
Our team of do it yourself'ers tonight, starts with
A Do it yourself YouTuber that is also known for his tremendous feats of strength, like living another day as Savage1r –  Savage1r

Advocate for women's shooting, blogger at heelsandhandguns.com and retired navy officer, the recent dust up between Nick Cage and Vince Neil was about her – Lil Chantilly

Former Marine and owner of River's Edge Tactical. His genetic flaws make him 2 inches short of being in a carnival freak show. . – Jeremy Pozderac

A precision rifle builder who if he had a theme song it would be from that show "Good Times"  – Nick Lynch

3 gun shooter and super famous shooting personality that feels no summer is complete without catching herpes from a garden hose. – Kelli Sampsel.

We are also joined by the self proclaimed Machine Gun Moses, a man who lives in the dark, only because he is so fat gravity will not allow light to escape – Aaron Krieger.

The guest panelist tonight has made us all care about the history of firearms, Othais from C&Rsenal he was once given a glock to shoot but the modern tech confused him

Our Rhode Island Godfather,  Rhody.

My name is Shawn, and I will be taking a couple months off to do my Mission work as a Mormon, can I interest any of you in a copy of the watch tower? Our guest tonight is…
The janitor, president, fluffer, head of HR and lead tech support for the Gun Collective. Please welcome, Jon Patton.
Drinking game
Shooting
gun
After 30 minutes read ad! Remind me guys!
Second Call Defense
GET SECOND CALL DEFENSE TODAY!
Everyone who signs up gets a free We Like Shooting coffee mug, just send your email confirmation to feedback@welikeshootingpodcast.com
Don't wait until it's too late. https://massive-trucks.flywheelsites.com/scd –
After the guest
WLS AUDIO
Giveaways!
Grizzly Brass Winner
4/4 – Mark Todd
4-11 Jabari Hunt
4-18 Adam Bigge
JC Arms and Ammunition winner
4-11 Chris Schrecengost
4-18 Joshua Engelbrecht
Redleg Tactical Winner
4-11 Matt Brewer 
4-18 Greg Lollis
JC Arms & Ammunition – https://massive-trucks.flywheelsites.com/jc – 5 Boxes of ammunition!
Grizzly – https://massive-trucks.flywheelsites.com/grizzly – Weekly brass sampler packs!
Redleg Tactical Holster giveaway! https://massive-trucks.flywheelsites.com/redleg – 5 custom kydex holsters
Brought to you by
! Daisies
After 60 minutes  read ad! Remind me guys!
Lil's Livefire Lounge:
Cosmopolitan and Everytown for Gun safety share goofy video about "Gunsplainers".  Watch it here.
NRA Commentator Dana Loesch provided a fantastic response.  Watch it here or read a transcript.
Dana's best quote: "Newsflash to the gun-control brigade: Women had the right to carry long before we had the right to vote, and no amount of airheaded, proxy lecturing through vapid women's glossies, is gonna change that."
What do you think?
GET TO KNOW WLS
4-18 – Aaron q1
Jeremy rant brought to you by fu cup coffee:
Not filling out show notes
Manticore Arms
IWI X95
CZ Bren
Scorpion EVO Slider stock – 6 weeks
Go to http://manticorearms.com/Transformer-Rail-for-AR-15-PRE-ORDER-MA-14300.htm?productId=75
Coupon code WLS10  for 10% off any day, every day (not combinable with WLS30, only one coupon code at a time) for WLS listeners.   Don't share with people who don't listen, they don't deserve it!   Or, better yet, just tell your friends they should listen!
and now it's time for… Gear Chat
where we talk about stuff that we have, want and need!   
Shawn –

Alien Gear Holsters, Cloak MOD OWB Holster (

link

)

Nick – ZK-22 Stock

White People Like Ice Cream Cake nope
NRA Annual Meeting Meetup!
FRN listener meetup at the NRA Show in Louisville! meet us at the Cardinal Hall of Fame Cafe on Saturday May 21st at 7pm. Wear your We Like Shooting swag!
Troy has reserved us a respectable location at Cardinal Hall of Fame Cafe! We have the Freedom Hall Room reserved. It holds 40 people. http://www.cardinalhalloffamecafe.com it is just outside the north gates of the parking lot to the fairgrounds where the NRA is being held.
Please start plugging the meetup on all the shows until the week of NRA. Tell people to meet us at the Cardinal Hall of Fame Cafe on Saturday May 21st at 7pm. If they can say "Ambidextrous" as well as I can I'll buy them a drink!
JC ARMS AND AMMUNITION PROMO –
New promo code. $5 off any order of $50 or more WLS5OFF
XSteel
OR buy a range pack and get $5 off your first order. Use code WLS5OFFRP
Brought to you by JC Arms and Ammunition is Going Ballistic with Savage1r (News/Politics/Etc.)
DEZ promo and SDI promo
DEZ WLSPatron
iTunes Review
Aaron, I'm sorry!
by alpinewiz on Apr 18, 2016
RATING: ★★★★★
The We Like Shooting team puts together the most entertaining show on my commute to and from work. I've learned so may life lessons like, make sure to take care of your clean up rag when you're done with it and make sure you know what you're talking about, meemees o_O. Oh, and Aaron, I hope the toffee I sent you last year didn't push you to the 'Beetus. How are your feet man? Great show guys. Can't wait to meet you all.
Ode to Shawn
by Maijason on Apr 18, 2016
RATING: ★★★★★
Shawn…Thank you for putting together this show and all the hard work that you put in every week….I understand that everyone else that you work with is f****** incompetant….you do so much on your own and I just appreciate all the work you put in to take up this two and a half hours a week that I listen to every week…..aaaaannnnddd I just want to let you know how handsome, amazing, and attractive you are!…..eeerrrrr …..compared to Aaron….compared to Aaron it's like being the slimmest guy at a Weight Watchers convention…or like being the smartest guy at the Special Olympics….Jeremy you're very offensive and cost the show a lot of money (Patreons), with your horrible mouth. Savage you're awesome & a wise man, Lil'……You're awesome…Nick….Go f*** yourself!….LISTEN TO THE SHOW!!!!! #TEAMSCHICK
lol
by Tactical Texan on Apr 17, 2016
RATING: ★★★★★
Jeremy for President! (yes, I am that crazy).
Oh Jesus…
by Mindless Focus on Apr 15, 2016
RATING: ★★★★★
The diabetes.
Wrap up
http://lovewls.com
You can do one or both, either way your contributions are greatly appreciated!
Thanks
Thank Guest!
Find us on all the social media and our website.
Just a reminder to join a gun related advocacy group (ask the guest about their state) and we always give out the Suicide prevention line, that number is 1 (800) 273-8255
"If you think there's a chance, no matter how small, that there might be just ONE more happy day out there for you, call that number"
HI DAN!
We're here live every week on Monday nights and on demand every Thursday. Go to welikeshooting.com/show to subscribe!
Thanks for listening, and shoot straight.
You can download or subscribe to our weekly show every Thursday at https://massive-trucks.flywheelsites.com/show
If you'd like to watch live, our show broadcasts live every Wednesday night at 7:30PM (MT), watch it and chat with us at http://gunchannels.com/WeLikeShooting
Please support our advertisers, DEZ Tactical Arms, Manticore Arms, Second Call Defense and the Sonoran Desert Institute.
Also check out our syndication partners ModernArms.net, GunsSaveLives.net, AR-15 Gun Owners of America and Guns America.