Vortex Razor HD Spotting Scope Review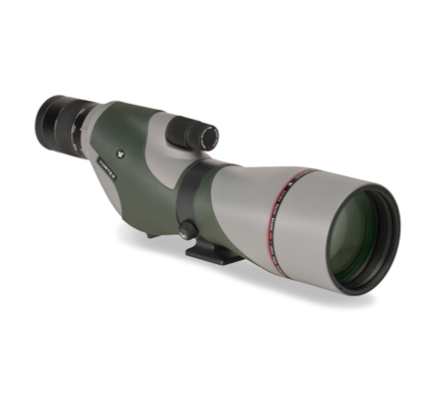 A spotting scope, including the Vortex Razor HD, is a critical piece of gear when shooting long-range targets or hunting. Bird-watchers are actually some of the biggest users of these spotting scopes because of their clarity and depth of detail. The difference between spotting with a riflescope and spotting with an actual spotting scope is remarkable. If you shoot in pairs, you might consider using the scope on your own rifle to spot for your buddy. It will be adequate, but you will not get the level of detail you do from a spotting scope. A good-quality spotting scope will allow your partner to provide you with detailed tactical corrections. The field of view is greatly increased; you will see everything more vividly (including the vapor trails). Compared with an equal-quality riflescope, a spotting scope also has an increased objective, increased resolution and allows for more light to enter (due to a wider lens).
Today I am going to tell you about the Vortex Razor HD 20-60×85 Spotting Scope. Some of the very high-end scopes, often considered the best, are brands like Zeiss and Swarovski, among others. Those are very expensive; I thought someday I would be able to afford one of those. Many scopes exist, in a category selling for half the price of the high-end scopes, but still very high quality – probably everything you will ever need. This Vortex Razor HD spotting scope fits in that category. Now that I have seen the world through its lens, I am not sure why I would need to spend twice as much for the premier scopes.
The Vortex Razor HD comes with a variable 20-60 power lens and a protective zip-up carrying bag. You can choose between an angled or straight eyepiece.  Accessories are also available for this scope. For example: attachable camera adapters for digiscoping, and a slim-fitting carrying case. One accessory we were excited about, and purchased, was a milling reticle lens. This lens is a fixed 30x power optic, we have a mil reticle on ours, but it is available in MOA as well. With this lens, the spotter can range targets more accurately than using the same calculations with a riflescope (assuming you can take advantage of the increased magnification).
One gaze downrange through this scope will tell you all you need to know. The focus knobs and magnification rings are solid, firm and smooth. This scope has both coarse and fine focus knobs (not all spotting scopes have both). The casing is rugged, although this scope is treated with more care than a newborn baby. The lens caps fit so snugly that I almost can't get them off. The good news is: once they are on, they are on! Oh, and it doesn't hurt that Vortex has a Lifetime Warranty on its scopes, that is as good as it gets!
The optics in the Vortex Razor HD are crystal clear, truly superb. I am sure there are true optics fanatics out there who could differentiate between the Vortex and the high-end options, but are those differences worth the price difference?  The price is exponentially increased with comparatively little increase in the clarity.
The real question is: How does it perform in the field? What will a long-range tactical shooter gain from using this scope? I can give you an example while using it out at the range (with a couple of gentlemen far superior to me in long-range marksmanship). What we found was, when using a clean white paper target, we are able to resolve 6 mm bullet holes at 500 yards.  Off-target hits were difficult to see unless they were larger than 6 mm.  Keep in mind, this was a clear day, around 60 degrees so there was no heat mirage, and we were able to take full advantage of the scope.  At 1,000 yards you can easily resolve impacts and misses on an MOA-size target.
In the video below, you will see us testing it out at the range. This video was shot holding an iPhone to the eyepiece. We do not have the camera adapter and it is really hard to hold still enough to make a video worthy of reality. With the naked eye, it is much better. (Maybe I should invest in some of that camera equipment I was talking about above!) This video demonstrates hitting an 8″x 5″ metal target at 576 yards.
This photo gives you an example of what the same targets at 576 yards look like with the naked eye.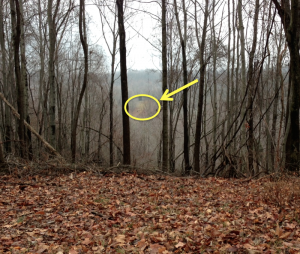 No tripod is included, but you will want to get a good, adjustable tripod, it made a huge difference.  Ours is able to go down to the 18" level to sit low behind the shooter, or it adjusts to allow for a standing position.  I have used tripods that only allow for the low position, but there are some instances you would want to stand to spot, and there is no need to get two tripods if you choose wisely.
This is a fantastic spotting scope, especially for the price. We have had it for about two years and have had zero problems with it.  If you are in the market, this is a great choice!