Tuff Writer Tactical Pen: As Mighty as a Sword!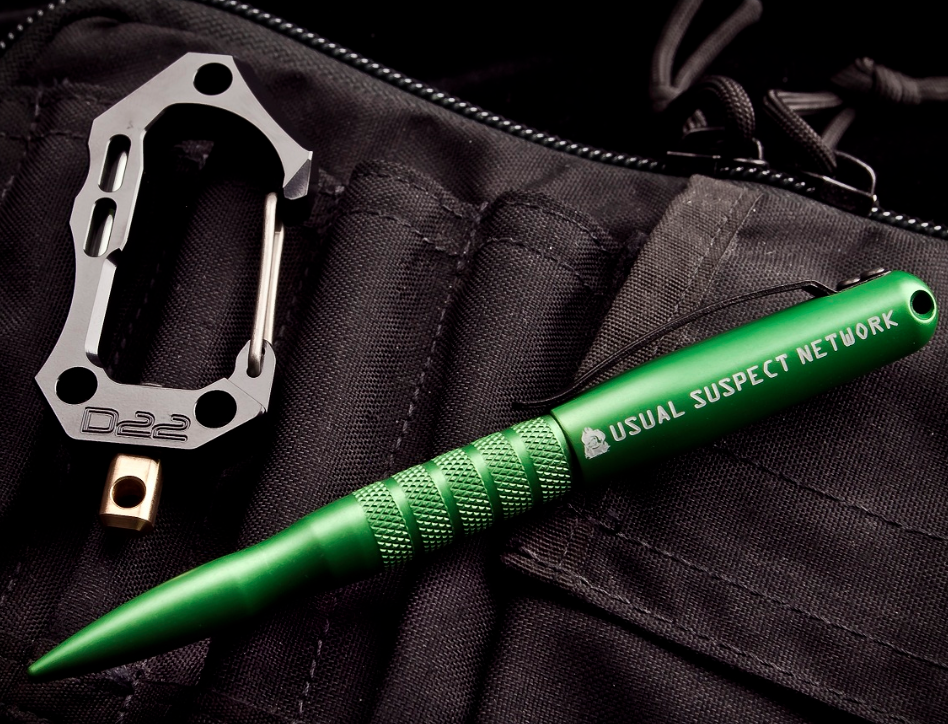 We have all heard the quote, "The pen is mightier than the sword," well, imagine what you could do when combined!  The "Tuff Writer" tactical Pen is not only a great pen, but also a suitable tool for self-defense. This toxic green version was specially designed for the "Usual Suspects Network" – a group of serious knife enthusiasts.  Tuff Writer impresses me because their products are made right here in the USA!  The Tuff Writer Tactical Pen is an excellent writing instrument, and is designed to be the strongest pen available.  I can tell you – this as rugged a pen as I have seen. Tuff Writer Tactical pens are strengthened with increased wall thickness, made to withstand up to 750 Pounds of force per square inch before deforming. Watch the below video to see if it survives me striking it with a hammer several times!
The Tuff-Writer was also designed to withstand the harshest environments, from temperatures as low as -35 degrees Fahrenheit to extremely intense heat to 250 degrees Fahrenheit. This is far more extreme than locations where most humans would find themselves.  The ink cartridge has been hermetically sealed and pressurized up to 35psi.  Tuff Writer says it will last three times longer than a standard ballpoint pen.   You can order replacement cartridges for under $5.00 on the Tuff Writer website or you can go to the Fisher Space Pen website where they have replacement cartridges in a wide range of colored ink, as well as fine, medium or bold point options.
This ink cartridge has a shelf life of up to 100 years, it will write at altitudes up to 12,500 feet – unlike most pens. It utilizes waterproof ink, and for a military operator, that could be critical due to the extreme environments in which they find themselves. Because the cartridge is pressurized, this pen will write upside down, or in any other odd fashion required. I participated in a long-range competition last spring in Ohio, and on the second day, it poured rain all day.  We were trying to keep score and write our come-ups for the ranges announced at each stage, and most of our pens were not working very well on wet paper. This pen would have made life a lot easier that day.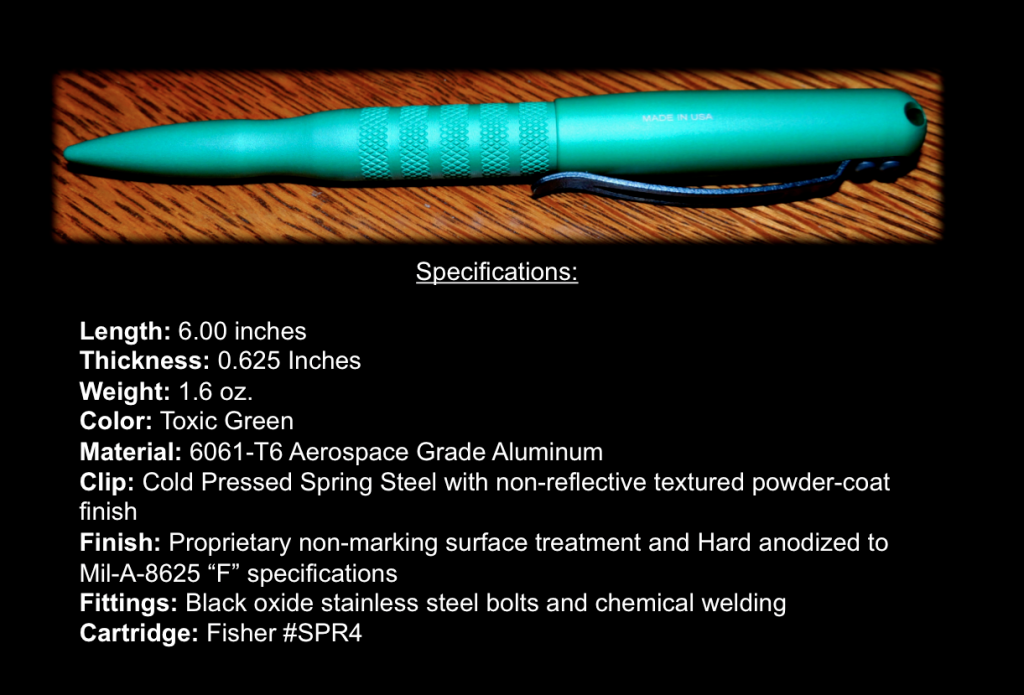 The Tuff Writer Tactical Pen could effectively be used as a defensive implement, and would be allowed in many places that a concealed firearm is not.  One end of this tactical pen is sharply pointed and the other is rounded, and when held properly, the rounded end allows for perfect placement of the thumb to provide leverage and strength should the pen be used to strike an attacker. As a woman living in California, such a pen gives me another self-defense option, since it is almost impossible to get Conceal Carry permits in my county. I have done some reading on tactical pens, and a few cases where TSA agents knew what it was and would not allow it through security, I think I would not risk in situations where even small knives were not allowed.
Tuff Writer has utilized Mil-Spec anodizing over a non-marking, non-reflective satin finish, which provides a surface hard as stone. This treatment helps minimize fingerprint marks and unintended reflection off the pen.  When holding this pen as a weapon, it is clear that Tuff Writer wanted to ensure a comfortable sure grip. Both this eternal knurling and the shape of the spring steel clip (made to fit a human hand perfectly) allow exceptionally low-slip grip, while not snagging during deployment or holstering. The cap also has a synthetic insert to allow it to attach securly on the back of the pen while writing .  The clip is strong, and no doubt will ensure the pen stays just where it is place.  Tuff Writer has made some modifications to this pen, to make it slightly shorter and more stocky and as a result, it will fit in most shirt pockets.
I know there is debate about a tactical pen's utility, but if you were going to carry a pen anyway, then you could simply consider it a pen.  Many of you have concealed carry permits and will have a firearm and/or a knife on you – and this item would be just one more quick go-to option if needed.  I like the idea that it is practically indestructible and will write so much longer than other pens, and in extreme conditions.  Most days if I have a pen that doesn't work – I throw it in the trash and then grab a different one.  In a SHTF scenario, this would be a great tool to have, as the availability of writing instruments and the increased chance of extreme conditions would change dramatically.  Not to mention, if you are a school teacher or a student in a school where there is no other form of protection is allowed – this does provide an option.  I am not saying that a tactical pen would help in a situation like Sandy Hook Elementary, but if an opening did present itself in a different scenario – it would not hurt to have something.
Tuff Writer does sell training DVDs for tactical pens on their site, click here (an example video is below).
Truly, I have nothing bad to say about this pen, I believe it will live up to all claims made by the manufacturer.  It is a quality pen that you can depend on and potential self-defense weapon!