NEMO Arms Omen .300 Winchester Magnum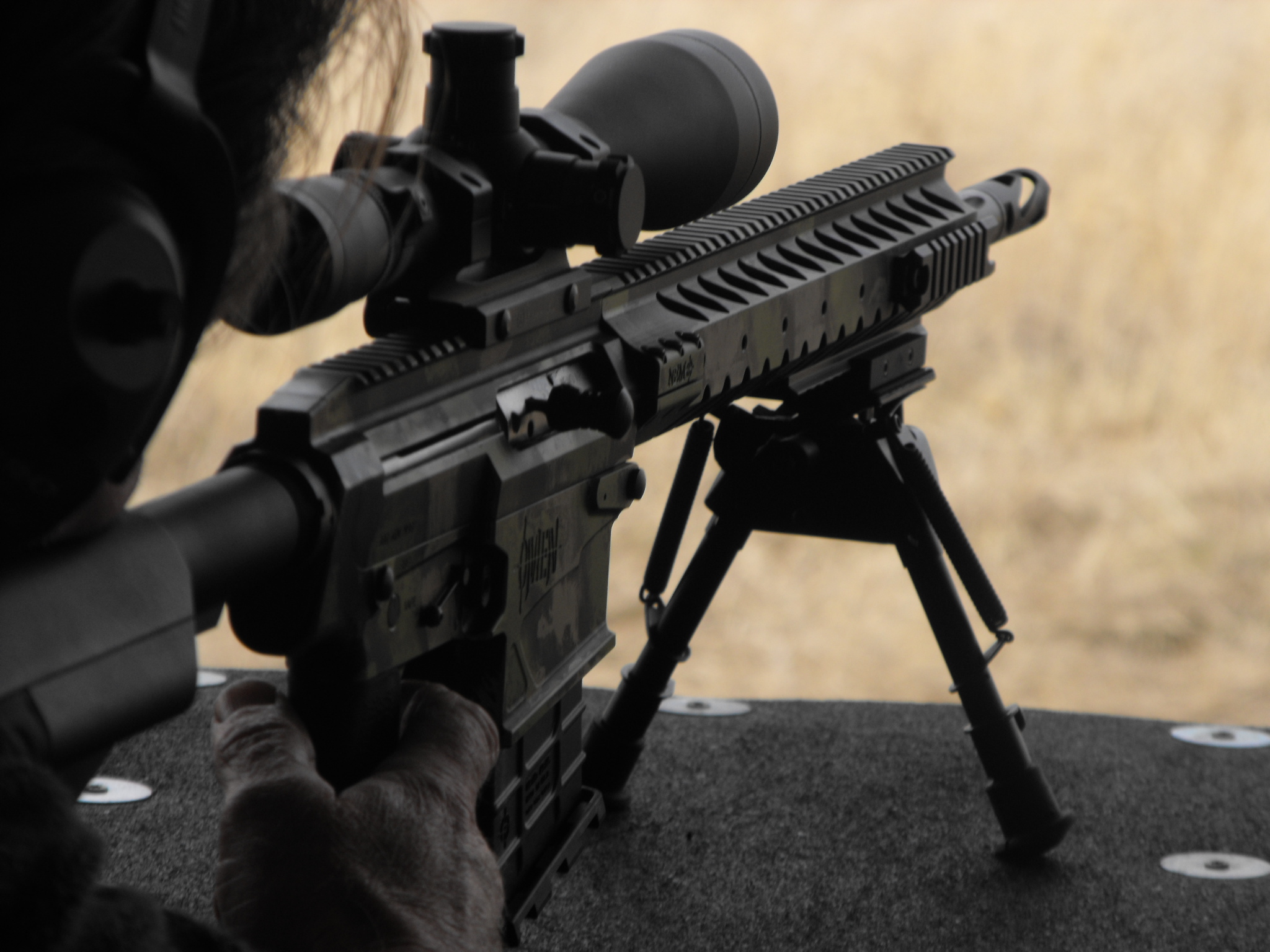 Nemo Omen Review

The Omen is a new rifle from NEMO Arms of Kalispell, Mt. While based on the AR platform; this is not just another "poodle shooter". What sets this rifle apart is that it's not chambered for the typical slew of intermediate cartridges that have become common in the AR world. This rifle is chambered in the ever impressive .300WM cartridge. The rifle features a twenty two inch barrel, a Geisel 2 stage trigger, nickel boron coated bolt carrier and barrel extension, a right side reciprocating charging handle, and a patent pending recoil reduction system. The weapon feeds from a proprietary polymer magazine that is available with either a 10 or 15 round capacity. The rifle sports a free-floated handguard with many rail attachment points. The handguard bolts directly to the upper receiver, making it very rigid and simple to remove. Each rifle is hand anodized, resulting in the unique tiger-stripe pattern. Because each rifle is finished by hand, no two rifles will look the same. The Omen weighs less than 12 pounds, and NEMO guarantees that each rifle will shoot sub-MOA groups. Development of the Omen began with the intention to create a rifle that could cover targets from 600-1200 meters, and they have definitely achieved success. MSRP starts around the $5,700 mark, putting the rifle out of reach for most consumers. However, after handling and shooting the gun, it's easy to see that the rifles are well worth the price tag.
One of the concerns when developing the Omen was recoil. The .300WM is not a cartridge that most associate with comfort. It is a potent cartridge to say the least. The folks at NEMO wanted to make the Omen a shootable rifle. They wanted users to be able to sit down behind the rifle and squeeze off round after round without ending up with a bruised shoulder. They achieved this through a brilliant patent pending recoil reduction system. A robust spring loaded button protrudes from the rear of the bolt carrier. The carrier moves back against the buffer, compressing the spring, and soaking up some of the gun's recoil. Each rifle ships with a flash hider, and none of the examples I fired were fitted with a brake of any kind. Even so, it was not a problem to fire of a string of 10 shots. The system is so simple and well built, that I can't see it breaking or failing under normal use. Testing has shown that spring life is about 5,000 cycles, which mirrors the life of the barrel. This would make a relatively straightforward maintenance routine for an armorer. NEMO made a prototype carbine version available for me to shoot. It sports an 18" barrel, and comes in at almost a full pound lighter than the standard 22" variant. The lighter carbine version was still pleasant to shoot, but had noticeably more recoil and a far greater muzzle blast.
Accuracy was fantastic. After dialing scopes in, each rifle was able to print an impressively tight group at 100 yards. After checking the zero on the scopes, we moved out to gongs at 440, and 1000 yards. I am not a long range shooter. Prior to my experience with the Omen, I have never seriously shot more than a couple hundred yards. As a long range rookie I was able to hit both gongs within a couple of shots and, once on target, I was able to keep landing hits with relative ease. To me, that highlights the ease of use and extreme accuracy these rifles are capable of.
Since the Omen is based on the AR platform, the manual of arms should be familiar for most people. The only major difference is in the bolt and charging handle. Rather than the T-shaped handle at the rear of the upper receiver, the Omen has a more conventional reciprocating charging handle. The exposed reciprocating handle does away with the need for a forward assist. What really makes the charging handle unique, is that it can actually be pulled out, and used as a take-down tool. It was also pointed out that if the user preferred to have a non-reciprocating charging handle, he or she could simply pop it out of the bolt and stow it in a pocket. I'm curious to see how repeated insertion and removal of the charging handle effects fit and function. A charging handle that becomes lose and falls or flies out on recoil could cause a dangerous problem for someone relying on the rifle to preserve their health. Personally, I'd be interested to see the removable charging handle worked into a swappable ambidextrous design. However, this would need some modification to the bolt release.
NEMO Arms has really produced a jewel with the Omen. Its stout chambering, brilliant recoil reduction system, and ease of use make it a pleasure to shoot. NEMO takes pride in its product, and produces nearly everything in house. This means that every part, start to finish, is made by the same people, with the same eye for detail, and the same end product in mind. If you've got the cash, there is no reason for this rifle to be missing from your collection.
For video of the Omen, keep an eye on Tom Opre's video blog. I had the pleasure of meeting Tom while shooting with NEMO, and was impressed with his quality work, as well as his shooting ability.