Marlin Model 60 Review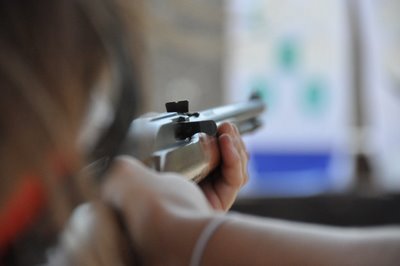 There are three things I plan on leaving my son when I pass from this earth: my baseball mitt, my collection of National Geographics, and my father's Marlin Model 60.
While the mitt and the magazines are nice, the Marlin is amazing. I can see why it has been referred to as the "most popular 22 in the world."
A few reasons why I like the Model 60: It's small, light, holds a fair amount of rounds, and is super cheap to shoot.
This is a perfect gun for kids to start out on. At just over 3 feet long, the size allows for children of most sizes to learn how to hold a rifle correctly. But the gun is not so small that as an adult I feel it is like shooting a Daisy BB gun. I still enjoy taking this out and putting a few hundred rounds into a target.
Its weight comes in at under 6 pounds. If you want to sling it and walk deep into the woods you may forget it's even there.
The cost is pretty amazing to, for $200 or less (much less) you can find one of these and you have just created a legacy that can be passed on from generation to generation.
As many of you know the cost of 22LR rounds is pretty inexpensive. This is another reason why I like this gun. I can blow off a brick of bullets and not feel like I need to remortgage my house.

Trigger pull
Over the years I have owned this gun it has been modified a bit. I remember the factory trigger was one long, creepy, stacky pull, with a slight but obvious hitch right before it let off. It was an easy fix if you are a bit of a smithy or a shop full of them if you have no mechanical abilities.
Range
I had thrown a cheap scope on this rifle but even without it, the factory sights seemed pretty accurate, and I like the fact that I can shoot multiple rounds without having to constantly chamber the next round. Also the bolt stays open on the last shot, which is a nice touch.
Pros
Cons
Tube loading. While it holds 14 rounds, a magazine-fed Marlin is also available.
Few accessories
Final thoughts
I like this gun. It is well-put-together, easy to clean and great to shoot with. The tube loading can be dangerous if the person loading it is not aware that the gun is potentially loaded because you are right in front of the barrel. This gun has history to me, and my father, and someday my son.
Recommendation
Yes, without a doubt.