The Henry Repeating Arms AR7 Survival Rifle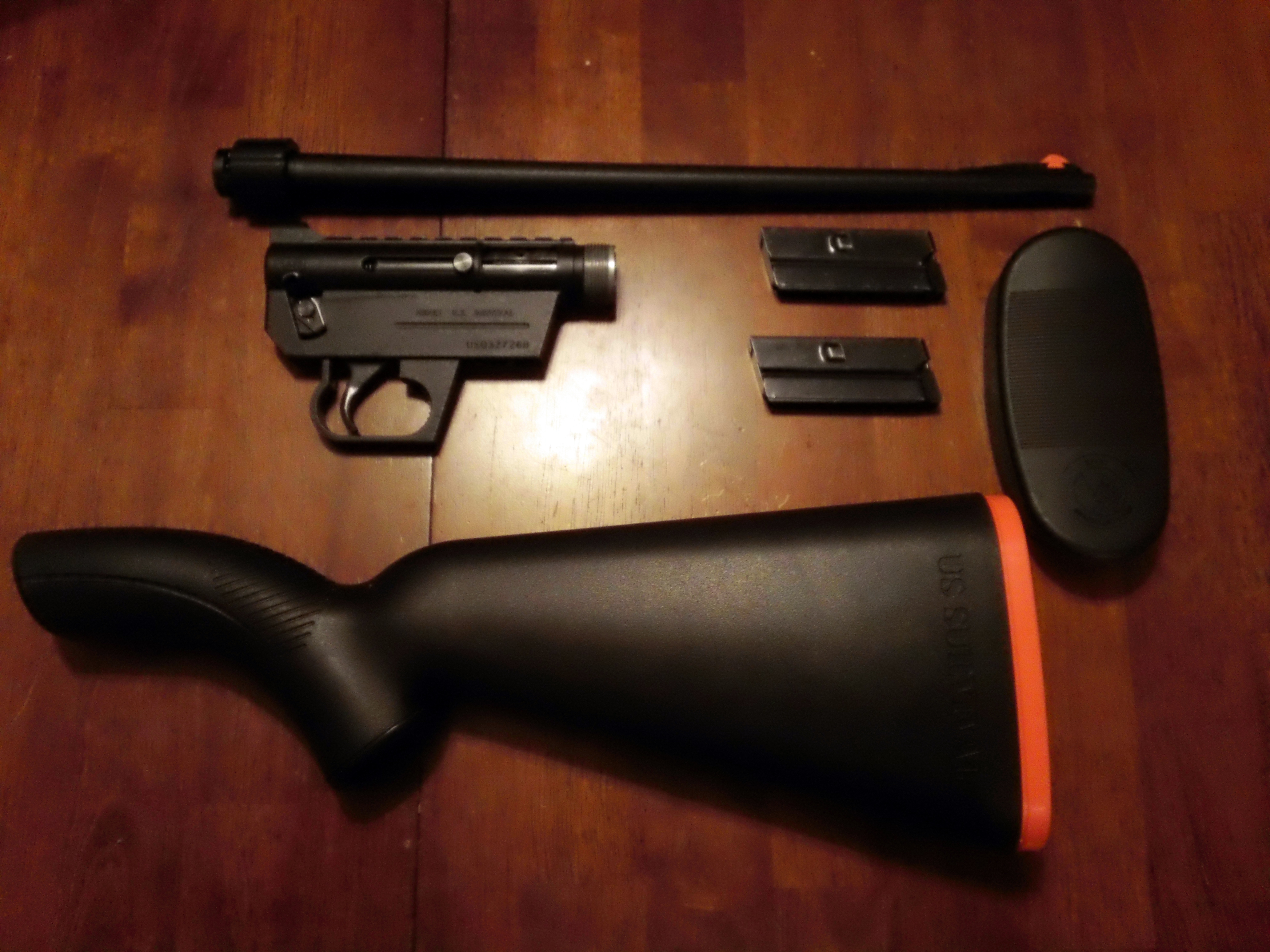 Years ago I owned an AR7. This rifle was widely known as a "Jam-O-Matic", due to its inability to fire and cycle reliably. I remember shot after shot and jam after jam, the frustration and embarrassment I felt while firing it. The magazines were as unreliable as the rifle's function. If you got any fouling in the receiver, it would cease to cycle properly, and bend the next round being loaded. The barrel lug would get chewed up from assembly and dis-assembly, and wouldn't hold a zero. So why did I buy another one? Because now Henry Repeating Arms produces them.
With a company name synonymous with quality, reliability, and being priced right, Henry Repeating Arms has done a fine job re-producing the AR7 (model # H002B) as a reliable survival rifle reborn. They did their home work, identified the problems in the design, and fixed them. The key changes were the addition of a barrel bushing, a great improvement in the design and manufacture of the magazines, and a tighter tolerance in the magazine well. Add those improvements up, and you get a well priced, reliable, and (most importantly) a functioning rifle.
So what's the big deal about this rifle chambered in .22 Long Rifle caliber? Let's take a look at the specifications and features. Weighing only 3.5 lbs., it is 2′ 11″ long. Here's the kicker, it breaks down and stores all of its components in the stock, making it only 16.5″ long! This makes it a great pack rifle, as it's easy to store. But wait, there's more. The ABS plastic stock floats with all the components inside. It also comes with two magazines (8 round capacity each), but can hold three. The barrel (polymer jacketed) and receiver are coated in Teflon, to help resist the elements. To help with aiming, the rifle has peep sights with two different sized apertures. Adjust this for your elevation, and the front sight (blaze orange to aid in target acquisition) for your windage. Forged into the to of the receiver is a 3/8″ dovetail to mount an optic. The charging handle can be recessed for storage, which is also a  nice feature after going into battery. The AR7 comes in black and camouflage (Mossy Oak?), and has a MSRP of $280.00 and $345.
The Henry U.S. Survival rifle looks like a great package, and it is. I decided to give mine a full field test. What I did was run it unlubricated for 200 rounds, and gave it an environmental resistance/reliability test. This included everything from dry dirt and sand, to water submersion, and mud exposure to the receiver, bolt, barrel, and magazines (loaded). The results were both surprising and outstanding. For all the tests I used inexpensive Federal bulk pack .22 LR cartridges. During the non lubricated test, I had a couple of failure to fires. However, after inspecting the ammunition, I realized that the misfires were caused by faulty rounds and not the rifle. After cleaning, this survival rifle was put through the other harsh tests. The first was dry sand and dirt. One failure to fire caused by ammo, otherwise no issues. The AR7 handled water submersion and firing like a champ. Keep in mind that all three of the resistance/reliability test were done without any cleaning between them, as I report the third test. With mud, the action got very gritty. While most rifles will not fire let alone cycle, the Henry AR7 fired every round. However, because of the contaminants throughout the receiver, it would not fully cycle the bolt. Not a problem. The simple solution was to run it as a manual loading rifle. Fire off the round, then pull back on the charging handle to eject the spent cartridge, and push it forward to go into battery. Problem solved.
I had a blast (no pun intended) testing and firing this redesigned and well made rifle. While It may look and feel cheap, The Henry Repeating Arms AR7 U.S. Survival Rifle has proven to be an inexpensive, well made, and functioning compact take down rifle. So, if on your next adventure (or misadventure depending how you look at it), bring it along knowing that you will have reliable AR7 that can handle whatever mother nature throws your way.
Thanks for reading,
-Rhody