Parts list for your 6.5 Creedmoor – Shawn's Assem-Build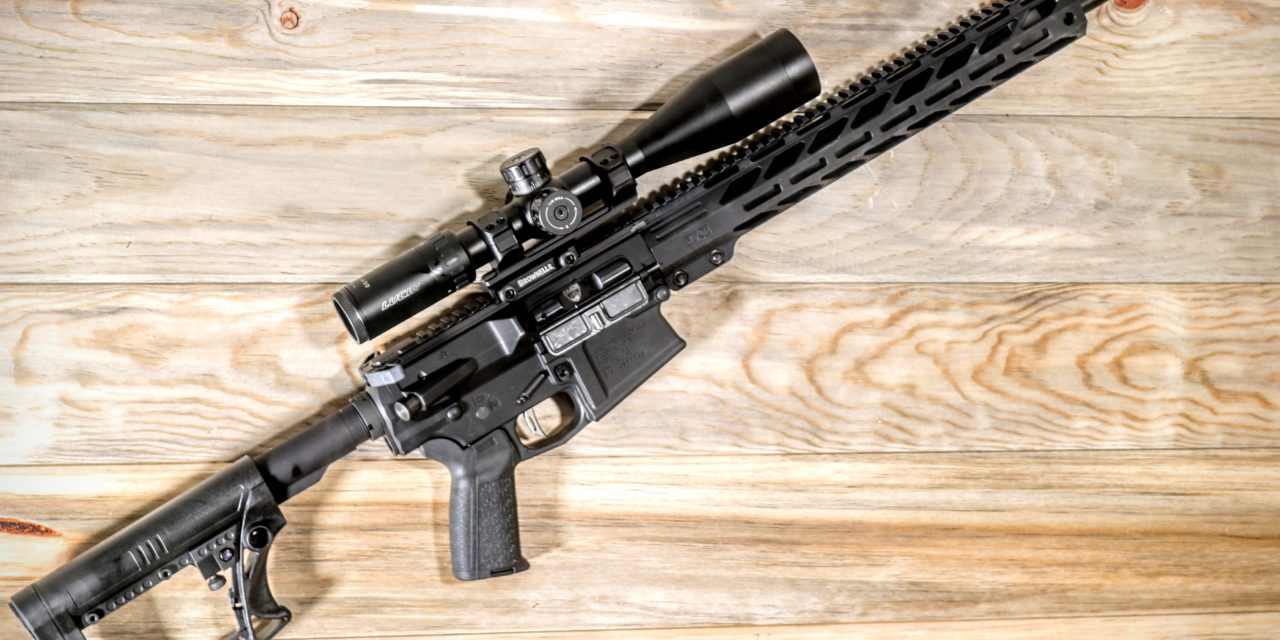 This is not a review. None of these products have been tested yet. This is just a listing of the parts I picked and some reasons why.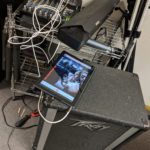 I've been wanting a 6.5 Creedmoor for a while. Now that they are getting pretty popular I decided to build one and jump on the train. I decided to go with an AR-10 base, but I'm sure a bolt action will be in my immediate future. Once I got started, the assem-build didn't take long. I got sidetracked setting up a spare mixer and huge speaker to play DMX on my tablet.
The total cost ended up being $1,664.80 for the rifle and goes up to $2,029.78 with the optic and mount.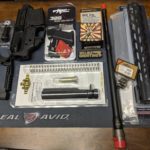 One of the most annoying things about building anything based on the AR-10 is the inconsistency. For AR-15's there is pretty much mil-spec and commercial and as long as you stick with one or the other you are generally ok. For its big brother, you need to figure out if you want AR-10 (Armalite) or LR308 (DPMS) and then there are multiple generations and rail heights.
I knew I was getting the Faxon Firearms 15″ Handguard, so I was able to pick the DPMS Gen 1 to build the rest of the rifle to. I chose an Aero Precision complete upper and Aero Precision stripped lower because they have a great reputation but also because the prices were pretty great on Brownells.
After consulting with the WLS guys, I decided to go with the 20″ Faxon Firearms barrel. They sent out their big gunner profile which has a 1/8 twist. Finished it with an Aero Gas Block and Spikes rifle length gas tube. I opted for a Dead Air Silencer flash hider as I have the QD on my SilencerCo Saker 7.62 can. Makes it easy. Faxon Firearms also provided the Bolt Carrier Group. I have several and knew it was a solid choice. To move it I chose the Radian Weapons Raptor. Another known product that i've used in the past. Price was great too.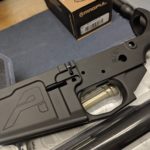 Weight was a concern. I didn't want it to be lightweight but I wanted to be around 10lbs. with the optic. I have some rifles approaching 15lbs. and they are not fun to carry around. Final weight on this with optic is 10.5lbs.
I opted for a Luth-AR carbine buffer tube, spring and a .308 carbine buffer. This is important! A normal length buffer won't let you charge it as there isn't enough room in the carbine tube for the buffer and the BCG. You need the short .308 carbine buffer. Finished off the back end with the Luth-AR Skullation stock. I like those as I can add stuff on if I need, but they are light and solid AND inexpensive.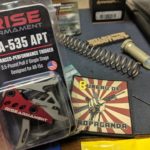 I picked up the trigger from Brownells a while back. RISE Armament was looking for people to use them and because of the relationship with Brownells I was sent a few. I will say, the trigger might need some tinkering as the hammer seems impeded when the trigger is pulled. I'll circle back on this for the full review.
I used the CMMG .308 Lower Parts kit. I've used 5 or 6 of these for AR-15's and they are fine. Color coded envelopes help keep organized. It's not flashy stuff but so far no problems. I chucked the A2 grip and picked up a Magpul MIAD Grip kit. Seems solid. I swapped out the backstrap to the large with a swell. It contains an oil container in the removable bottom.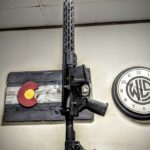 Finished it off with a Brownells cantilever 30mm mount and a Lucid Optics L5. Both are inexpensive and again, I have both so I stuck with something I knew. Cost was a factor in these choices as well.
Assembly was pretty easy. The only things that were really different was the front takedown pin on the lower receiver requires you to push the spring and the detent through the loop. Not hard, just different. Another change is the safety selector detent and spring. They go in from the bottom where the grip attaches instead of under the end plate on the rear of the receiver. Finally the most annoying one. The Aero complete upper has a super long ejection port retaining pin and wouldn't allow me to snug up the handguard. I had to dremel it cut it back a bit.
I'll get it out to the range soon and report back what I like and don't like and any swaps.