Manticore Arms and all things bullpup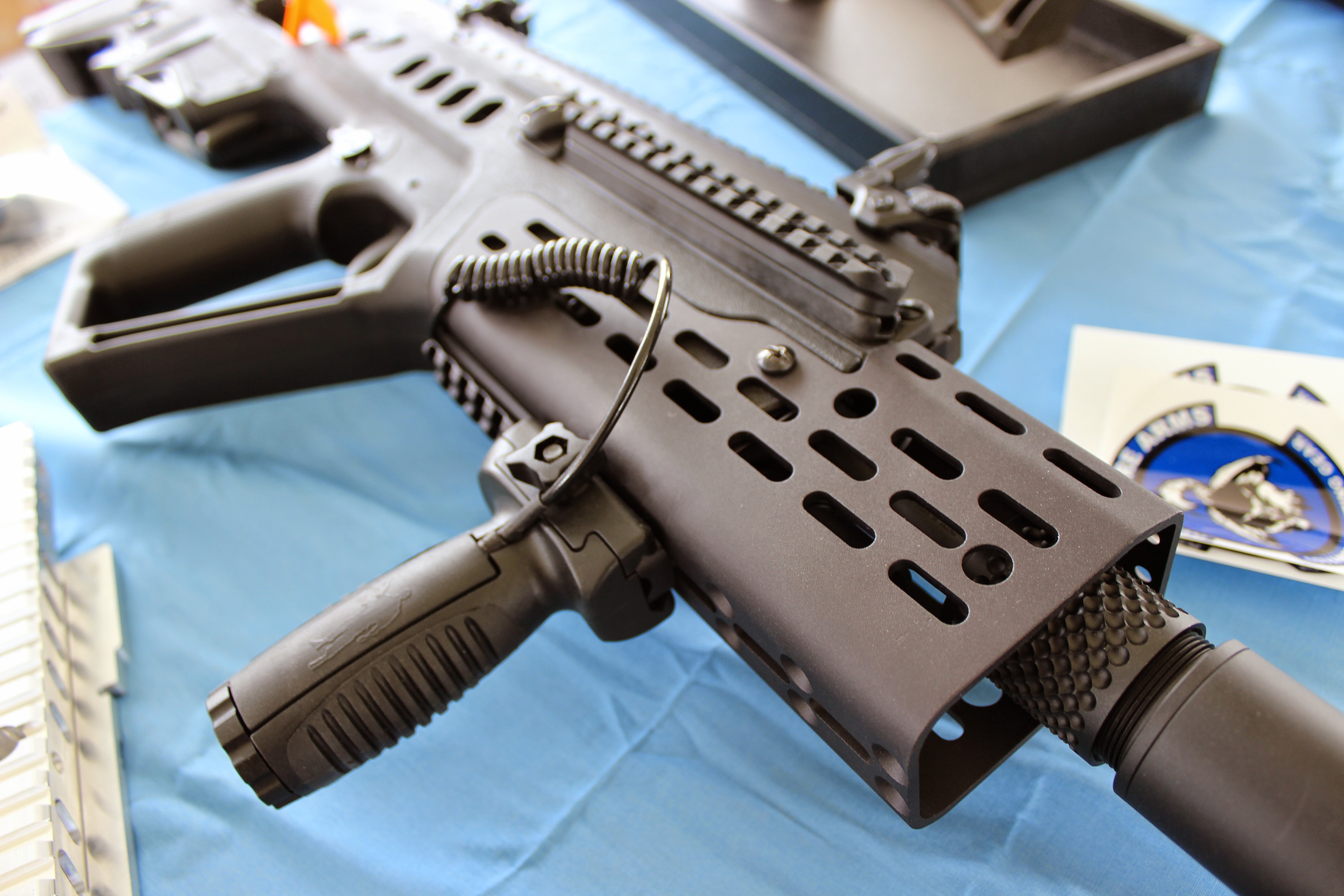 Bullpup Shoot 2014
Late September 2014 and The We Like Shooting team were in Waterman Illinois for the Bullpup shoot put on by Manticore Arms and Ratworx located at the beautiful Aurora Sportsman's club, a facility that was originally built for the 2016 Olympic bid that didn't quite come to fruition.
My wife and I were scheduled to fly out on a Friday afternoon arriving at 5pm Illinois time. From there she was going to Chicago to stay with our friends and I was being picked up by Aaron who had driven in from Michigan.  Logistics that were infallible, until a man that we now begrudgingly refer to as the "reluctant hawaiian" had other plans.
An FAA employee in Chicago had just found out he was reassigned to Hawaii, UGH THE HUMANITY and instead of accepting his lateral movement to the land of endless summer he decided to set the FAA flight control building on fire and slit his own throat.
Don't worry, he failed, but it set about the cancellation of all flights into the state of Illinois. The resulting mayhem found every flight anywhere near booked or cancelled. At that point I was resigned to staying home. Aaron on the other hand, couldn't imagine anything more horrifying than walking around the Bullpup shoot on his own and interacting with companies and people.
I found a flight into Des Moines, which is about 4 hours from Chicago and Aaron said, no problem, that he would pick me up. Keep in mind, he is 5 hours east Chicago, and Des Moines is 4 hours west of Chicago, simple math puts Aarons one way trip at 9 hours with an additional 4 hours to return east to Chicago and back to our hotel.
When we arrived at our hotel it was 3:30AM local time and managed 3 and a half hours of sleep before heading out to the Bullpup Shoot.
Full disclosure, Manticore Arms is a sponsor of the We Like Shooting show and you can rest assured, our opinions in this interview are not biased by that.
Manticore Arms
While there we got to meet up with Sven Jonssen from Manticore Arms to talk about Bullpups, Manticore Arms and the future of both.
It seems that the firearms industry is catching bullpup fever. Sven believes that bullpups are rising in popularity for several reasons. The compact package allows those that can't have or don't want SBR's to have a short overall length with a 16" barrel and the design and function of the bullpup offering reliability and performance of most traditional rifles.
Bullpups were a very tiny sliver of the market years ago, but have really grown over the last few years. Sven believes that as the bullpup platform gets more into the public eye it will become even more popular. With IWI and Kel-Tec putting out some very high profile firearms they are more mainstream than ever.
With that mainstream acceptance we are seeing many more companies make accessories for existing bullpup firearms. AR platform rifles seem to have the market cornered in aftermarket accessories. However with more public interest in the bullpup design, Sven believes and the We Like Shooting team agrees, that we'll be seeing even more companies making bolt on accessories and products year over year as the bullpup market expands. American ingenuity has seemed to play a big part in the popularity of bullpups as well.
New products from Manticore Arms
The Team and I were able to see some of the new products that Manticore Arms released at the Bullpup shoot. Starting with a new rubber Tavor curved butt pad. The original buttpad was an angular design. This new curved buttpad has a more natural ergonomic curve that eliminates an inch from the length of pull and fits the shoulder much better. From what I felt it was much more natural.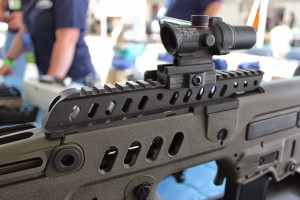 We also took a look at the Overwatch medium rail. Sporting 21 picatinny slots it raises the optic a half an inch and makes it possible to use optics that are usually made for AR style rifles. Their ambi safety levers are also a nice upgrade.
One of their nicest upgrades is the Arclight XTL handguard system. I really like this modification. It changes the way you grip the Tavor, allows you to mount a light underneath the barrel and honestly makes it ridiculously cool looking. They sell a light that fits the Arclight system as well. There is a nice pressure switch for the light that fits naturally into the handguard allowing a solid and natural activation of the light. All of these modifications are easy for the average gun owner to complete. We were able to watch Tim from the Military Arms Channel install a butt pad in seconds (after he found his missing screw in the tall Illinois grass).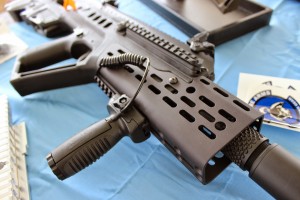 We looked at another Tavor that had the Overwatch full length rail, that raises the sight plane but also gives you a full length picatinny rail for iron sights, optics or whatever accessories you require. It looks great really adds some great functionality. This second Tavor had another Arclight forend that allowed for a suppressor and even a recessed light.
One of the coolest things Aaron and I had the chance to both see and use was a joint project between Ratworx and Manticore Arms and is the integral suppressor. Using a Manticore commander length rail, which is enclosed towards the end, a suppressor core fits right inside the end of the forend. This allows a the enclosed suppressor core to keep a sleek looking profile that makes this rifle look like it is from a sci-fi movie. In fact, I suspect we see this in sci-fi flicks shortly.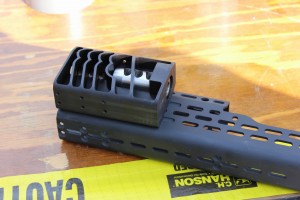 After shooting it we were really impressed. It worked great and was hearing safe with either subsonic and supersonic ammo, with the sound of the round hitting the steel plate target resonating a louder decibel than the firing of the gun.
Right now, this works with the 9mm Tavor conversion and even after thousands of rounds it  was hot to the touch but not enough to sear your flesh.
So what's next? Sven believes we'll see more American made bullpups and a much larger market for the accessories made for them.
If you haven't' checked out Sven and Manticore Arms, go check them out, we've heard nothing but great things about their customer service and their products are really blazing some new paths in this emerging market.