Kel-Tec PLR-16 Review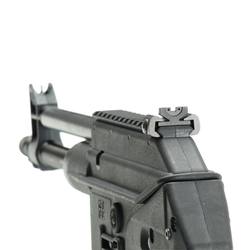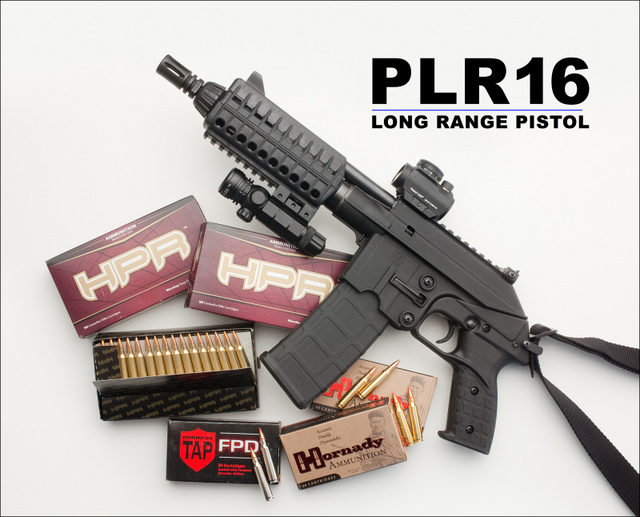 Initial impressions
Bigger in real life. I ordered the gun sight unseen, expecting something I could just slip on my hip and walk down the street with. No. This thing was heavy, massive, and beautiful. Out of the box I was in love. The gun itself is too heavy to shoot like a conventional pistol and the fore-grip is needed as the barrel heats up in no time flat. It shoots .223 or 5.56×45 mm Nato rounds.
On day one I slipped in the 10-round factory magazine, charged it, released the safety and pulled the trigger only to find the bullet did not chamber correctly. I found the 10-round magazine provided by Kel-Tec did not chamber the cartridge into the chamber sufficiently. I had to really slam the bolt to get it into battery. However, being the guy who needs the most rounds at the dance, I picked up an AR-15 30-round magazine when I initially purchased the PLR-16. There were no further misfeeds. It shot like a dream, if you dream in thunderclaps. Every shot out of the gun would turn heads down range as anyone standing to either side would not only hear the blast from this gun, but feel it.
While the semi-automatic shots fell near my target the gun had quit a bit of recoil to it with each shot, which surprised me because of the weight of the gun.
The gun feels almost like a toy with a majority of the parts you touch besides the charging handle is polymer.
Trigger pull
The trigger pull itself was smooth (once the change of the magazines) and I never felt that there was too much tension or distance.
Range
At the range I felt the accuracy was negated if I were to go semi-automatic (rapidly firing). With a slower fire rate, an easy adjustment can be made.
Pros
•       Easy to strip and clean
•       Fun to shoot
•       Looks
•       Plenty of accessories available
Cons
•       Cheap feeling
•       No accessories provided
•       Factory clip magazine not functioning
•       Heavy and unbalanced
Final thoughts
In the end this gun was good for one thing, showing off and having fun with, it is not a bed side pistol, it is not a a carry weapon.
Recommendation
Yes, but knowing what it is for and its limitations.