Badger M-22 gun stocks for the Marlin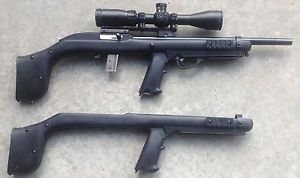 Gun stocks for the Marlin
So recently I had a chance to take out the The Badger M-22 which claims to be the worlds first center-balanced, aftermarket rifle stock made that combines the versatility and control of a handgun with the accuracy and muzzle velocity of a rifle.
The Badger M-22 gun stock, created Gary Morris of Southern Illinois, is in my opinion an amazing product. It was made to be used exclusively for Marlin .22LR rifles. The stock was designed for quick and easy installation. We were able to assemble it and disassemble it in under five minutes. The only tools required where two screwdrivers, one flathead and the other philips. I did find that you can tweak the action a bit by adjusting the trigger linkage. The linkage itself is a bar that attaches to your trigger group and runs the length of the stock with a bend that sets up your action in your rifle. The bar showed no sign of wear or softening even though I adjusted it through several different length rifles.
Like I said they fit most Marlin .22 caliber rifles including Model 60, Model 70 Papoose and the Model 795, I was even able to fit it to my Marlin 75 a shorter version of the model 60.
The cost is competitively priced between 99.00 to 115.00 range.
The stock itself's durability is amazing. We drove over it with a Chevy 2500 HD pickup truck and all the welds held on the stock with minimal damage. The stock is made of high quality ABS plastic and is injection molded for uniformity.
You can also purchase an scope mount converting your weaver rail to picatinny, for an additional 20.00.  But the Badger M-22 comes with picatinny rails on the side that will support the addition of several aftermarket accessories including laser sight, a tactical light, or what ever your you want to stick on your rails, also and added bonus it includes a compartment in the butt of the stock for storage.
You can get it in several colors from black, pink, and green camouflage.
Once you have installed the Badger M-22 you will find your Marlin going from a forward heavy rifle to a center-balanced bullpup.
While its has an unconventional look it has a comfortable feel with its pistol grip and ergonomic butt-stock.
I put a ton of rounds downrange using this and would recommend anyone in the market for updated an old rifle, looking to make heads turn at the range, or someone who just in the market for a quality product to try this out.