"Plight Of The Living Med" IFAK by Chinook Medical Gear Inc.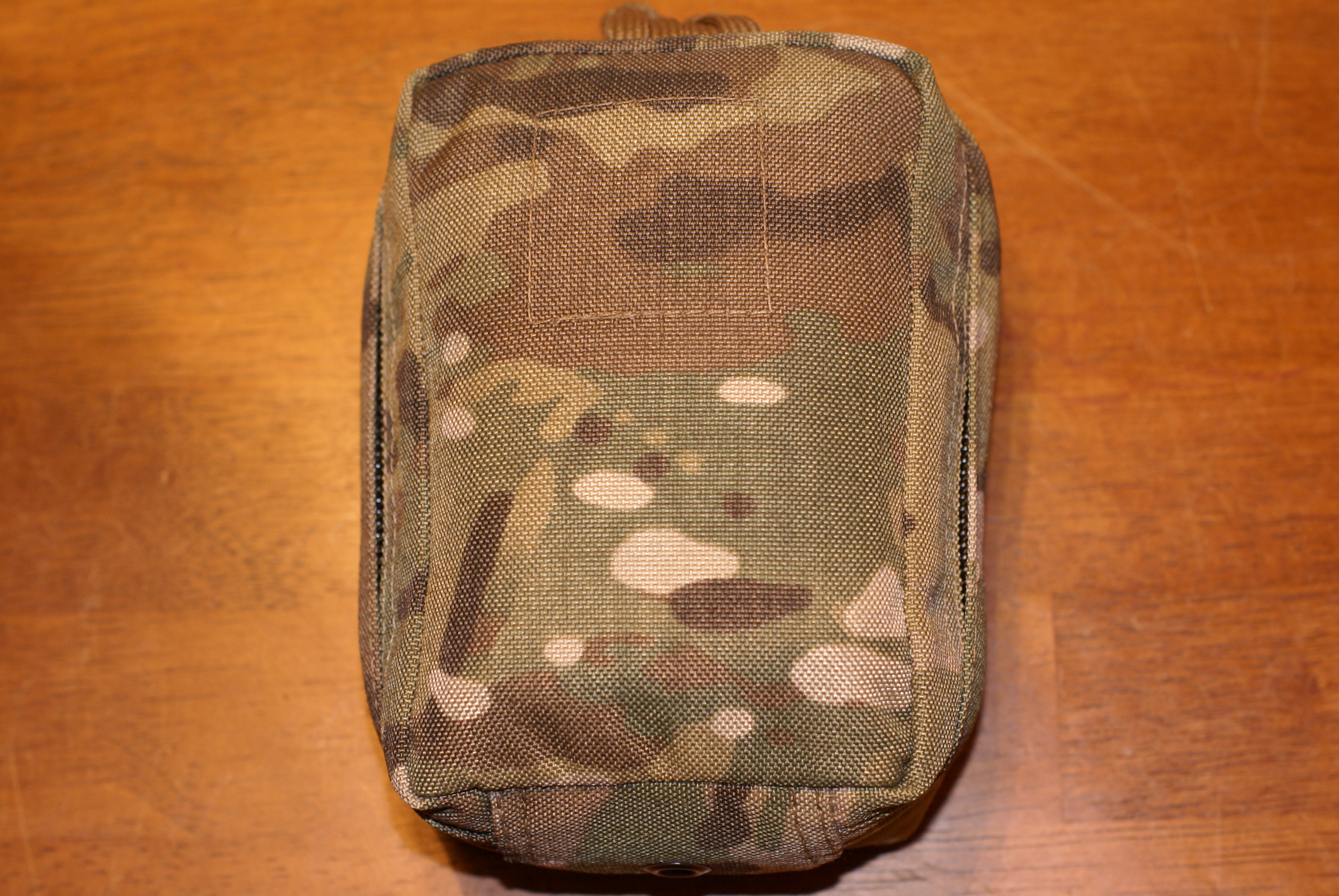 When "prepping" for an emergency or other situation, what comes to mind? Food, water, shelter? Gear such as firearms, knives, tools? If you selected any of these items, you are correct. However, one of the most overlooked item that I consider an absolute necessity is a quality individual first aid kit (IFAK). Whether you are in need of a mass casualty incident kit or something smaller that will cover most of the common everyday needs, Chinook Medical Gear Inc. has a kit for you as they provide custom medical solutions for the harshest environments on earth.
The product that I am sharing with you in this article is their "Plight Of The Living Med" IFAK. This particular product is the perfect example of a fully stocked general purpose kit that is designed not only for the Zombie Apocalypse, but also for every day needs and can treat everything from a skinned knee to a gunshot wound. It lists for $62.99 and I was amazed at not only the quantity, but the types of components they provided. To give you an idea as to why I was amazed, all of the included supplies are also used in their military and law enforcement kits. The pouch is also military grade. This means that this isn't just some average kit for the weekend warrior. This quality product is ready for regular use and hard miles.
Let's start with the pouch. It measures approx. 6.5″ x 5″ x 3.5″, and the entire kit weighs in at about 1.5 lbs. The kit in this article is in Multi-Cam, and is also available in ACU, coyote brown, and OD green. The features include; 500-1,000 Denier Cordura construction (depending on color), YKK zippers, zipper cover to aid in weather resistance, thick zipper pulls, PALS webbing with MOLLE attachments, drain grommet, dual stitched and reinforced seams, three elastic containment loops, and is of a clam shell design.
The contents of the kit include wound care, medications, instruments, and more. Chinook Medical Gear Inc. has raised the bar in terms of paying attention to detail; both in the design and the included contents of this IFAK. I particularly like the contents list that comes packed in the kit that also lists the first (earliest) expiration date for the kit's contents (yes, medical supplies do expire), and a lot number for the kit itself so that the customer may be contacted should the need arise (item recall, or other component issue). While this insert may seem to be a minor detail, it saves time checking for the first item to expire, and gives you a handy list to replenish the contents. In a previous conversation that I had with them, we talked about the ease of resupplying the kit without having to purchase the full refill. They offer a large number of supplies that can be purchased individually, and mini-kits are in the works that will offer small quantities of some of the most used items such as gloves, bandaids, medications, ect. I'm hoping to order the items I've used through their website soon. So, what's included as far as supplies go in the "Plight Of The Living Med" IFAK? So much, that I'm still amazed that it all fit in the pouch. Here's the list directly from the manufacturer:
Container
1 TMK-CUF Bag

Severe Bleeding
1  Bloodstopper Dressing
1  Black SWAT-T Tourniquet
1  Primed Compressed Gauze

Personal Protection
2  Nitrile Gloves, Large
1  CPR Res-Cue Key Face Shield
1  Space Blanket

Immobilization
1  Elastic Bandage, 3″ x 4.5yd

Instruments
1  EMT Shears, 5.5″
1  Tweezer

Burn & Blister Care
3  Water Jel, 3.5 g packets
3  Moleskin, 3″

Medications
3  Triple Antibiotic Ointment, .9g
3  Hydrocortisone 1% Creme, .9g
6  Aspirin
6  Ibuprofen
6  Diphen
6  Diamode

Wound Care
2  Suture Strips, .25″ x 4″, 10 strips ea.
2  Sterile Gauze Pads, 4″ x 4″
4  Alcohol Prep Pads
3  Povidone Iodine Prep Pads
5  Knuckle Bandaids
10  Bandaids
Now that you've seen what the kit contains, how useful is it? I can tell you that through my experience, this is a perfect companion for a range bag, bug out/in bag, camping, survival, hunting, home, office, vehicle, and anywhere else where you may need to treat from a headache to a penetrating trauma. This IFAK is kept in my truck, so I always have it with me when I'm on the go, down range, or hunting. So far, I have used at least one dose of each medication and a number of bandaids, prep pads, antibiotic and burn ointments, hydrocortisone cream, the compressed gauze, and the gloves. All of these items were used in about a three-month period after the photos were taken. I have found that this IFAK is especially useful for a family, making it more than just an Individual First Aid Kit. As a whole, Chinook Medical Gear Inc. is a great company. Quality products at excellent prices and great customer service. I'm glad to have had the opportunity to share this IFAK and my experiences with you, because lets face it….. a quality medical kit is often overlooked until you need it. Given the amount of supply I have already used, I can say that the "Plight Of The Living Med" IFAK is well worth the price of $62.99, and that this kit is the best commercially available kit (and over-all value) for the philosophy of use. That POU being general need or purpose, which is what most of us actually need. I do want to mention a couple of their other products before the end of this article.  The first being their Minimalist Pak. If the quantity of the items or price of the "Plight" IFAK seems to be a little overkill, I would highly recommend this product. The cost is low at $23.95, and weighs in at about 9 oz. If you're just looking for wound care, try the Wound Pak. This kit includes a lot of supply for the affordable price of $16.95, and weighs 7 oz. To see more of the great and affordable options, check out the adventure/travel kits, or the Personal Aid Kits (PAK) that they offer. In development is a kit specifically designed for hunters. This company has something for everyone (including custom kits), and I wouldn't hesitate to recommend them to anyone looking for medical supply. I would like to end this article with some information about Chinook Medical Gear Inc.:
Mission

The mission of Chinook Medical Gear is to be the leading single-source provider of high quality medical products suited to organizations and individuals that operate in austere environments.

Principles for Success:
– Customization to better satisfy client applications
– Exceptional customer service
– Ethical business practices
– Empowered staff
– Culture of Respect, passion and innovative excellence

What We Do

Since 1992, Chinook Medical Gear, Inc. has been providing custom medical solutions for the harshest environments on earth. We specialize in supporting government agencies, military units, private military contractors, corporations, outfitters and individuals with the latest technology in medical containers, modules, supplies, and kits. Our line of products includes the Gamow Bag (portable hyperbaric chamber), pulse oximeters, oxygen systems, survival gear, insect protection, evacuation and transport equipment, and the latest in trauma, intubation, and resuscitation supplies. We also generate custom quotes for any medical-related items.

A veteran-owned small business, Chinook is committed to becoming the leading single source provider of products suited to any emergency medical situation.

The Team

Administration
Carl Darnell – President & Owner
Jessica Denison – Chief Operating Officer
Matt Pagano – Director of Finance
Vindred Martinez – Accounting & HR Manager
Sales
Anne Brennan – Director of Sales & Marketing
Peggy Leighton – Military Account Manager, Clinical Specialist
Chuck Bolin – Law Enforcement, Federal & Local Government Account Manager
Linda McWhorter – Customer Service Representative/Sales Support Lead
Diane Zahorodny – Marketing Coordinator

Operations
Michael Davenport – Vice President of Procurement
Corey Chavez – Director of Warehouse Operations & Logistics
Joel Cameron – Customer Logistics Manager
Kyle Hofmann – Inventory Control Manager
Sam Redman – Production Manager
Colton Kemperer – Inventory Control Specialist
Daniel Peterson – Kitting Lead
Russ Crossland – Shipping Lead
Product Development
Ben Crowder – Product Development Manager
Garett Dickinson – Product Development Coordinator
As always, thanks for reading!
-Rhody