MTM Survivor Dry Box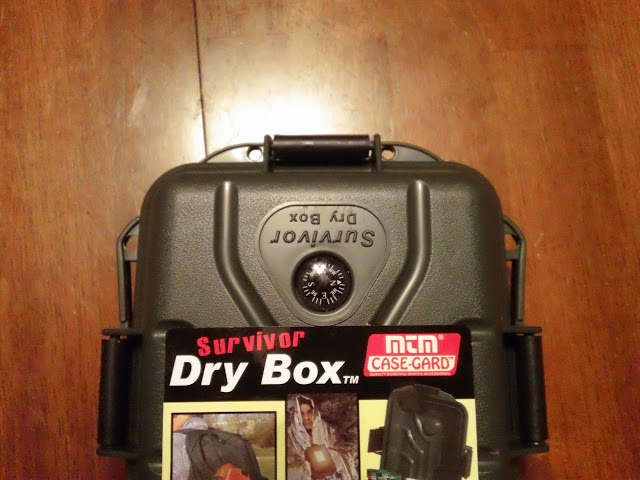 When you pack gear for any outdoor trip, the containers you use can become a hindrance. Some of the things to consider are weight, container exterior and interior dimensions, water resistance, and ruggedness. I use to think with an old school approach; use an ammo can. .30 – .50 caliber size. Great storage, and water resistance, but with some drawbacks. They're heavy and bulky to carry. They also rust, and offer little in regards to tie down options. With MTM Case Gard Survivor Dry Boxes, you can have what I believe to be the perfect option for rugged compact storage options.
The Survivor Dry Boxes are made of light weight polymer, and come in two different sizes. The smaller one of the two measures: 9.8″ X 6.8″ X 3″ on the exterior, with internal dimensions of 8.2″ X 5″ X 2.6″. The larger one measures: 9.8″ X 6.8″ X 4.8″ with interior dimensions of 8.2″ X 5″ X 4.4″. The features built-in are great additions to any storage or transport container. They have multiple tie down points, with the ability to be locked for security. With a combination of three rugged latches and an O ring, they are highly water-resistant. The hinged lid has a compass built-in to it, and the base has a highly reflective decal for use as a signaling mirror. They also have lugs and groves, allowing them to be securely stacked regardless of size. Both are available in a high visibility orange, and forest green.
So what's the philosophy of use (P.O.U.)?  I use them for; ammo storage and transport, survival kit container, as a cleaning kit container (no more leaked CLP in my range bag), for protecting valuables and electronics when kayaking or hunting, and for having a "glove compartment" on an ATV or jon boat. There are probably a thousand more uses that I haven't considered yet, so use your imagination. Let's face it, there's always a need for a quality item such as this.
These containers have just become my new top choices for light weight, compact, and reliably rugged transport and storage options. The price wasn't bad, either. The smaller dry box was $11.50, and the larger on was $12.50 (pricing may vary). How's that for an affordable price?
Thanks for reading,
-Rhody