Henry Survival Kit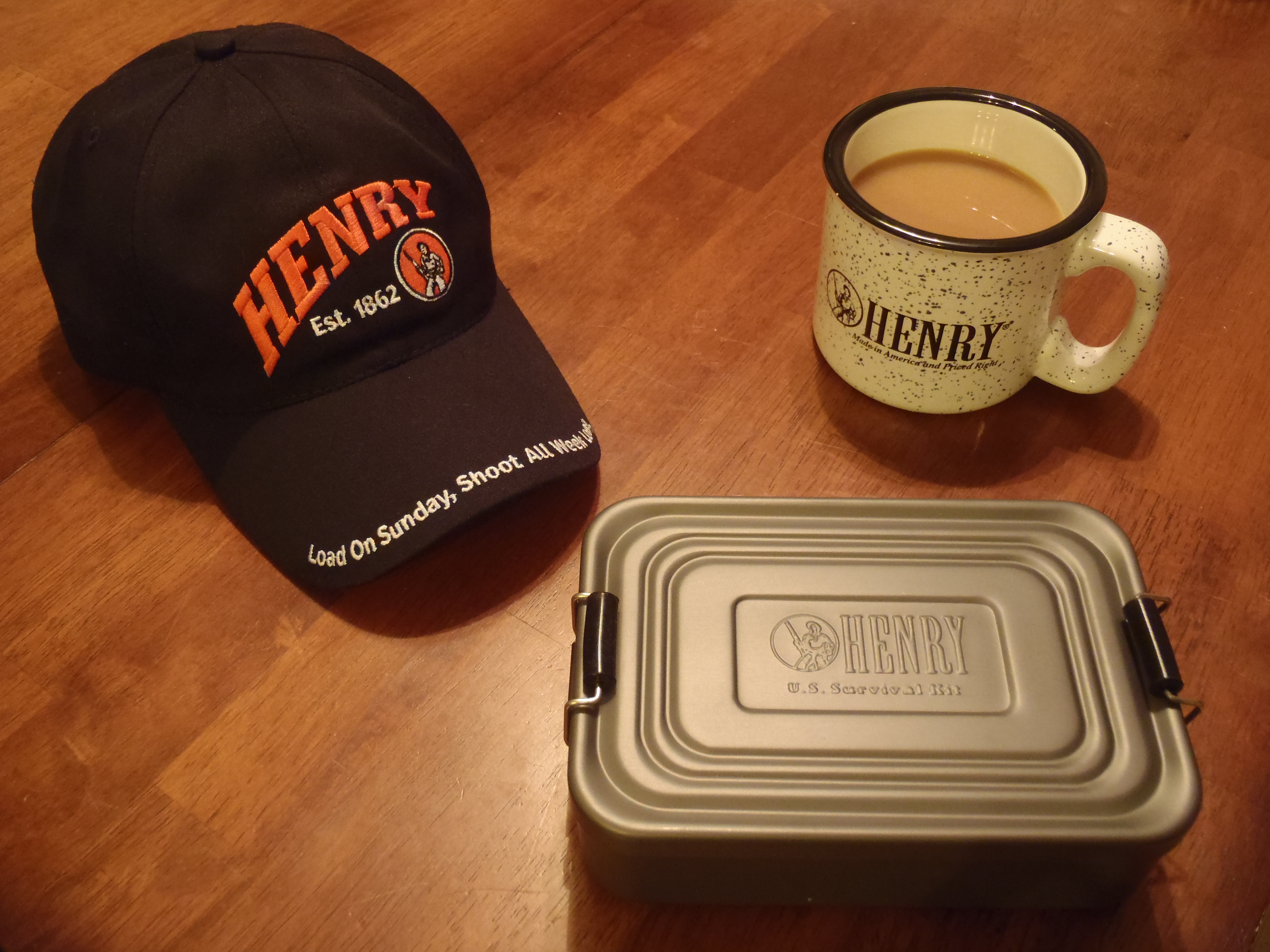 Of all of the ready-made survival kits that I have encountered, many of them have fallen short of my requirements and expectations. I require certain items that I deem necessary for basic survival, and expect quality in the components that make up the kit. I recently had the opportunity to review the Henry Repeating Arms Co. survival kit (HSK001).
This kit has many of the attributes that I expect in a well thought out and assembled kit. It's small in size, being about 7.3″ x 4.6″ x 2.3″ (including clasps) and weighing about a pound. While other kits come in a non reusable or resealable container, Henry's kit container is a hard anodized aluminum that is resealable with two clasps and has a waterproofing silicone gasket in the lid.
While looking at the contents, I noticed that they have a lot of items in this compact kit. Here's a list of what's included:
Basic Survival Instruction Sheet
Aloksak Water Tight Bag
Personal Use Fly Rod Combo
Mini Map Compass
Mini Rescue Flash Signal Mirror
Beeswax Tea Light Survival Candle
Tinder Quick (10)
Type 1A Utility Cord (20 ft)
Photon Micro Light
Sewing Kit
Spiral Wire Survival Saw
1 ft flexible latex tubing
Trauma Bandage and Gauze Roll
Adventurer Compact Repair Tape
Adventurer Compact Fire Starter
Rapid Rescue Survival Whistle
Snare Wire (20 ft)
Adventure All Weather Matches (10)
Utica Kutmaster Mini Multi Tool
Flat Coffee Filter
Water Bag
MicroPur Water Tablets (05)
12 Hour Light Stick
Space Survival Blanket
Compact Signal Panel
Silica Gel
Fresnel Lens Fire Starter
Derma Safe Razor Knife
So why the Henry survival kit above others?  The components are from a mil-spec distributor, which does ensure quality over others. The container is reusable and waterproof. It's compact size fits in my glove box, under the seat in my truck, and also fits in a back pack with ease. If you're wearing cargo pants or shorts, it fits in the pocket perfectly. Another key factor is the light weight, which is a lot lighter than carrying around a small ammo can survival kit. The price for this Henry product is $99.95, and this may turn away some from considering this kit.
Before you exit this post or decide that I'm out of my mind to spend that much for the purchase of this item, please keep reading. While the price seems high, keep in mind that this is the best manufactured kit that I've seen to date. The quality is definitely there, and this compact kit makes it easy to pack and carry anywhere. Here's the thing….. you may be thinking to your self; I can put together this for this price, or that for that price. While some readers may be checking prices right now to see how much it would cost them to make a comparable kit, save yourself the time. Consider this; any kit regardless of price is worth every penny if it will successfully sustain you in a survival situation. I understand that there's always something you would add to a kit, but for what it is from Henry… I would pack it and be confident that I'm good to go.