Danner Tachyon Hot – Lightweight and sassy!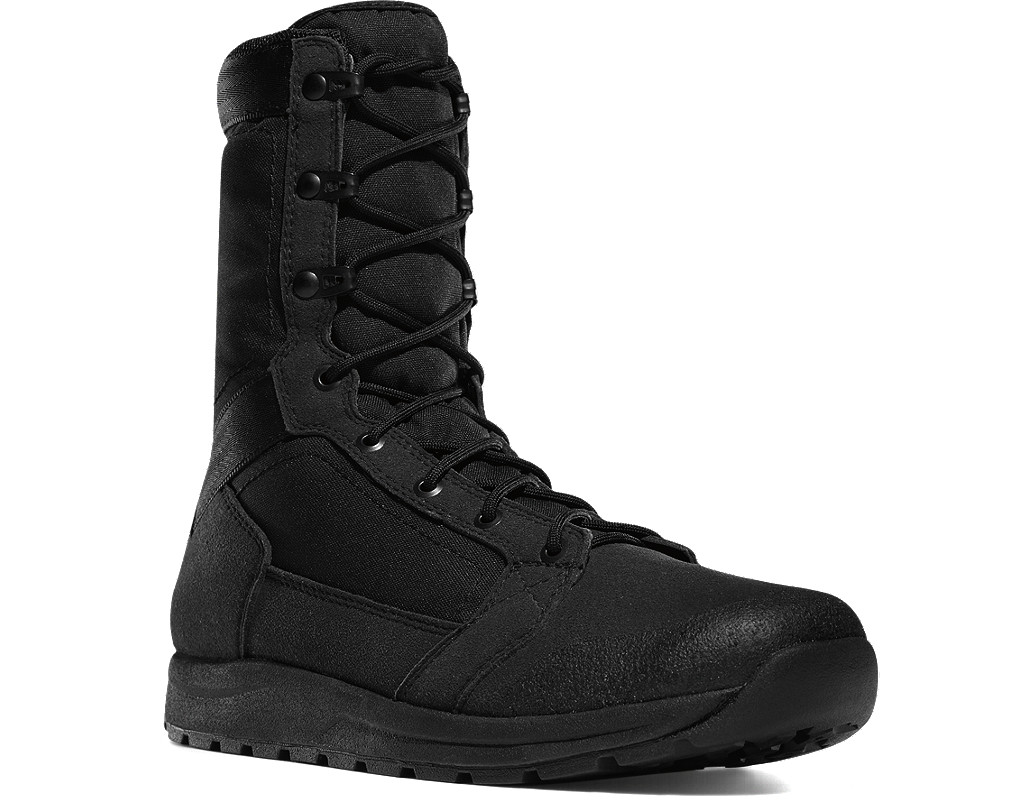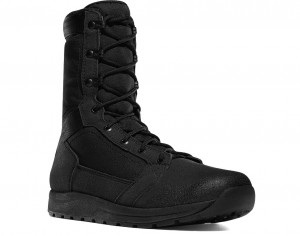 Lightweight Tactical Boots
Four or five years ago I purchased a pair of black leather Rocky's. They had aggressive tread, they were water proof, and they were heavy like a pair of bricks. The aggressive tread and waterproof lining meant that they were nearly perfect for the cold wet snowy conditions we experience in Montana eight months out of the year. The problem, though, was that they were worthless in the shop, or in the summer time. The waterproof lining that kept me warm and dry in the snow kept my feet soggy and hot everywhere else. After a few years of having two or three pairs of shoes and one pair of boots to wear depending on my situation, the Rocky's began to fall apart. I took this as a sign that it was time to find a new pair of boots. After talking to a few friends and family members, I'd decided on two brands; Rocky, and Danner. Rather than waterproof, I wanted something breathable, something that I could wear in the shop all day comfortably, something that would be breathable, something that would dry quickly if it got wet, and finally, something that weighed less than 5lbs per boot. About the time I started looking, I got a phone call from We Like Shooting media contact, Aaron. He had procured a pair of boots from Danner. He wore them once and they didn't fit him quite right, and he wanted me to give them a go. Enter the Danner Tachyon Hots.
Danner's Tachyon Hot features an 8" high 100% synthetic upper with a real rubber sole. The inner soles of the boots are made of an open celled polyurethane which provides awesome airflow. The boots weigh a mere 26oz. That weight is less than some of the shoes I own. The boot's upper is a canvas material with stiff suede like material as a trim. It's reminiscent of the old jungle combat boots. The toe is not reinforced, though it is very stiff. Once or twice I've dropped a piece of barstock on my feet. it's nearly crippling  on the days I'm unlucky enough to have warn Chuck Taylor's. On normal days, when I wear my Danners, the toe caps protect my feet, and I haven't experienced any pain as a result. As a result of these boots being synthetic, they are machine washable.
When I first pulled the boots out of the box, I will admit that I was skeptical. The portion of the boot between ankle and shin is extremely thin. The material feels slightly thicker than the canvas tent you went camping in last summer. After a few months of wearing these boots, I must say they're absolutely fantastic! They're incredibly comfortable. 10+ hour days on a concrete floor doesn't get to my back and feet like it does in any of my other footwear. The ventilation means I don't have swamp foot at the end of a long day. The boots' tread does a great job of providing traction on ice, oily concrete, and loose gravel. Wearing these boots out and about, I've walked through a fair number of puddles and streams. Despite the ventilation, the boots are slow to get wet on the inside. Taking a few steps through a stream is fine; standing stationary for a few seconds will soak them. I've worn these boots in 100 degree weather (about as hot as it gets here in Montana) and been very comfortable. It's not surprising that the boots perform as advertised in hot weather, so I'll shift to something more interesting.
The two things we have a surplus of in northwestern Montana are overcast days, and cold. Winter lasts six or eight months out of the year with other three seasons only making cameo appearances. This was not the intended terrain for these boots. Weeks of temperatures in the negative teens, piles and piles of snow, a couple hours of daylight, and an occasional glimpses of the sun. These boots are so comfortable that I wear them every day. I've worn them while hunting in 20 degree rain, I've worn them on days that hit -12 degrees accompanied by several feet of snow. On the really cold days (less than zero degrees), I can tell I'm wearing vented boots. My feet are cold. Those are the days I try to stay inside or wear something else. On the cold days (0-30 degrees) these boots are cool. Not cold, mind you, but cool. If I'm not paying attention, I'll forget what I'm wearing. Occasionally I'll catch a breeze and be reminded, but for the most part they're fine. Anything above 30 degrees is t-shirt weather (okay, light sweater or long sleeved T's) and these boots are great. The biggest concern in cold weather with these boots is snow. A little snow will stick to the boots. The longer the snow is on the boots, the longer it has to melt. Soon it attracts more snow, which also melts, and soon your feet are soaked. Thankfully, for me at least, my feet have stayed warm even when drenched. A quick walk back to the house or truck and twenty minutes in front of the heater, the boots are dry again, and I'm ready to head back out into the snow for a couple hours. These boots do surprisingly well in the snow!
I can't say these boots are perfect, because I admittedly have limited experience. If you're doing something constantly in a wet and/or cold environment, these boots are not for you. However, for anyone looking for a comfortable pair of boots they can wear working, shopping, and hiking, these things kick serious tail. The comfort, breathability, and light weight make for something I really enjoy wearing. When I eventually wear these things out (I'm sure it'll happen eventually), I'll definitely be looking to find another pair, or whatever Danner has in the light weight department. At about $120 a pair, I could probably even afford to pick up a backup pair in case I get mugged.
This slideshow requires JavaScript.