CMC Drop In Trigger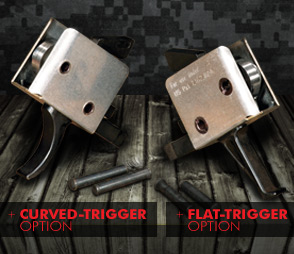 Chip McCormick has been around since 1986 when he introduced the Shooting Star line of magazines for the 1911 platform. Over the years CMC has manufactured numerous parts for the 1911 pistol, and AR rifle. When I saw that a line of AR triggers were being produced under the CMC name, I jumped at the chance to try one. The CMC trigger comes in a rather novel self contained cartridge. Rather than having three major pieces like a typical GI trigger, the CMC wraps those pieces in a stamped stainless shell and rivets them in place. This means that there's far less room for the trigger to wiggle or move. The shell fits snugly into a mil-spec forged lower. There's no way to take the trigger apart, and there's no way to adjust it, however, for me, that's really not a concern. The trigger I received is a 3.5lb Tactical Curved Single Stage Drop In kit. It came with the trigger unit, two oversized pins, and a pair of Jesus clips to prevent the pins from walking out.
When it arrived I immediately sat down and installed it.
I am very impressed with this trigger. With five pulls on a scale, each pull read 3.75lbs, making this a very consistent pull. The trigger has no pretravel. The break is very clean and smooth. Over travel is nearly nonexistent, though it is there. The trigger travels maybe .050". The reset is both easily felt and heard, making it very easy to confirm that the trigger is ready to be squeezed again. After about 1000 rounds through the rifle with the CMC trigger installed, there were zero trigger related failures, and the trigger's pull has not increased an ounce. I'm extremely impressed with the trigger.
Compared to the Timney and Geissele triggers I have experience with, I'd say the CMC is every bit their equal. I love this trigger as much as I love McCormick's Shooting Stars. The fact that these things are made 100% in Texas helps, too. This is my new go-to trigger, though I may choose to try their flat trigger offering at some point.