The Caldwell AR Mag Charger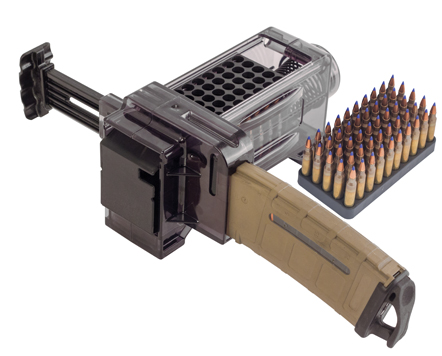 Almost 3,750 of you have watched our Caldwell AR mag Charger video we posted from SHOT 2014, and we finally have one of our own to use and evaluate. For those of you unfamiliar with it, the Caldwell AR Mag Charger enables you to load 50 rounds of .223, 5.56 or .204 into magazines in as little as 15 SECONDS! The Mag Charger is designed for the user to dump a 50 round box of ammo, tips up and aligned, into the tray. Next you insert an AR magazine, and pump the spring actuated handle back and forth, loading five rounds at a time, until the mag is full. The Mag Charger will accept any AR style magazine from an old Colt 20 rounder to a Beta mag. 
The Caldwell AR Mag Charger is available from your favorite retailer or you can order directly from Caldwell.
Check out our video of the Caldwell AR Mag Charger in action here: