Timberline Tactical ECS-3 Knife Review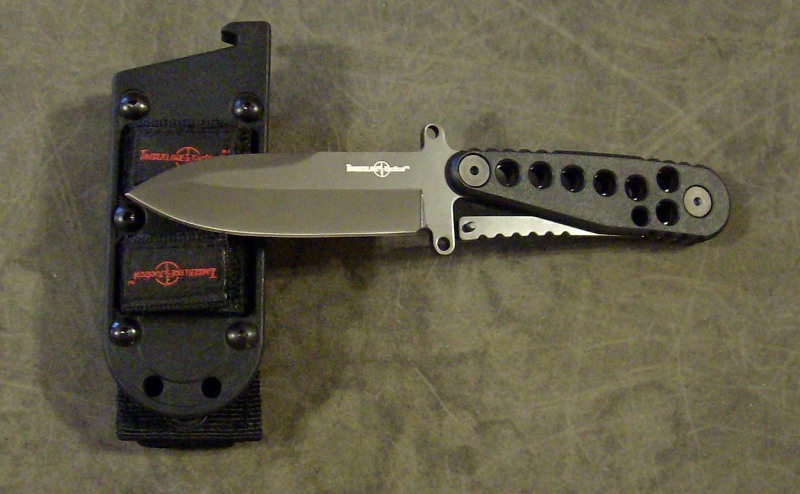 This Timberline Tactical ECS-3 knife, Model 1870 with a Spear Point Blade has been my go-to knife for the last week or so, and I could definitely get used to having it around. Brian Fellhoelter designed it.  He is especially known for his folders, but does craft a fixed blade from time to time.  Timberline Tactical distributes this knife.
This knife has a full tang, made of AUS-8 metal, which is a softer metal — good for those who are really hard on their knives.  The blade is coated with Charcoal Titanium, which is not only a strong element, but also resists corrosion, including from seawater.  (The sailor in me loves that fact!)  The knife I have is a combo blade, a straight edge with serrations near the handle. It has a full length of 8.3 inches with the blade measuring 3.8 inches alone.  The knife with the MOLLE rig and sheath weighs a total of 9.5 ounces.  It is well balanced, with the tipping point just at the top of the handle.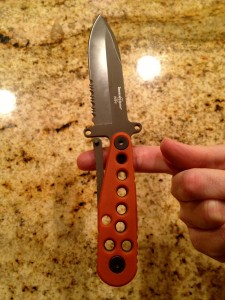 The knife comes with two carry rigs, one with a clip, and one with a MOLLE strap.  These will give the user a lot of options to attach the sheath, which is hard ABS plastic. This plastic is very impact resistant, but is only moderately resistant to chemicals.  To be fair, Brian said the next version would use an improved plastic to increase chemical resistance of the sheath.
When you are looking at a sheath for a knife, you want something that will hold the knife securely, reliably, without interfering with your access.  The reason Brian designed this knife is that he had been a river guide, and decided to design the perfect knife for life out on the river. If you think about it, that is exactly what makes this a great option for tactical uses. When assembled and attached, the sheath is so secure, the weakest link will be the material the wearer attached the carry rig to. (If you weave it into MOLLE system webbing, it is not going anywhere, if you attach it to a denim belt loop — you might deserve to lose it.)
One great feature I had not seen is the new USERS, which stands for "Ultimate Secure Easy Release System." Developed by Brian, he has a patent pending on this new technology for ensuring the knife remains in the sheath under any circumstance and yet can be retrieved in seconds. I showed this knife to a few friends, all knife lovers, and they liked this idea, but with caution. The worry was that over time, the strain on the joint where the lock release meets the full tang would eventually cause the metal to fail.  With very little real movement needed to unlock the knife from the sheath, I am not sure if this is a real concern or not.  Still, the price point for this knife is set at a level if it only lasted 10 years, you could easily afford another.
The handle has two sets of scales, one in tactical black, and one in blaze orange – depending on your preference.  They are held on with two Allen screws on each side and are easy to swap out.  The appropriate Allen wrench is included in the box.
I did carry this around for a few days over the last couple of weeks. I even put it through a battery of tests including slicing rope, cutting branches, chopping potatoes, opening containers, and sawing branches. After all the "projects" I used this knife on, I can imagine how it would function out in the field.  The serrations were sharp and performed well, I easily cut through half-inch rope, nylon straps, and with some effort, a 1-inch branch from a bush in my yard. I used the straight-edge portion of the blade to cut fruit, potatoes, and slice cardboard. This is where I found a slight problem: Out of the box, the knife is not as sharp as you would expect from a brand new blade. I am going to sharpen it well and continue to use it, as that is the only negative thing I can say about it. Once the blade is up to my standards, I will use the heck out of it!
I can see this knife used by military, police, campers, and survivalists. It is too big for an Every Day Carry (EDC) knife, for that I prefer folders. I could easily see it attached to a bug-out bag, to a MOLLE bag, etc.  This will be a trusted companion; you won't lose it – no matter where your adventures take you.
Oh, can you guess what the acronym ECS stands for?  Brian Fellhoelter says, "Easy Condiment Spreader."  So, you know I had to test that too, it worked like a charm.