Elite Tactical Systems magazines – SHOT Show 2016
GearDisclosure.com: This is not a review, just a product that caught our eye. Inclusion in this video does not represent a product opinion from WLS.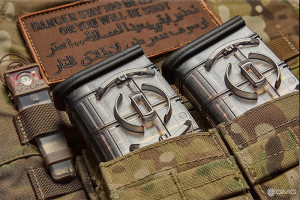 Keepin' it gangsta, we caught up with the guys from Elite Tactical Systems and tried to break their magazines at a busy social function. I thought they might try to throw hands, but they weren't feelin' it.
Nice bunch of guys making some different magazines. Savage has covered them before here and here and was happy with them. Their magazines are durable, impact resistant, clear and some have a coupling system built in.
There are a ton of magazines out there and the testing is pretty standard. Honestly, check the feed in several different guns, drop it from 10 feet or so. Try to drop it directly on the feed lips and see how they hold up. Test those cases in hot and cold temperatures, etc. The ridiculous stuff is the guys I see shooting magazines then testing them. Who gives a shit? It is purely based on where it gets hit, does it sever the spring? This is a dumb test. Stop doing it. It proves nothing.
Wait where was I, oh yeah, ETS mags cost $16.99 and 21.99 for their Glock mags and AR mags run 17.99 to 19.99. We need to pick some more of these up!