Kelli Sampsel – Sponsored Shooter Announcement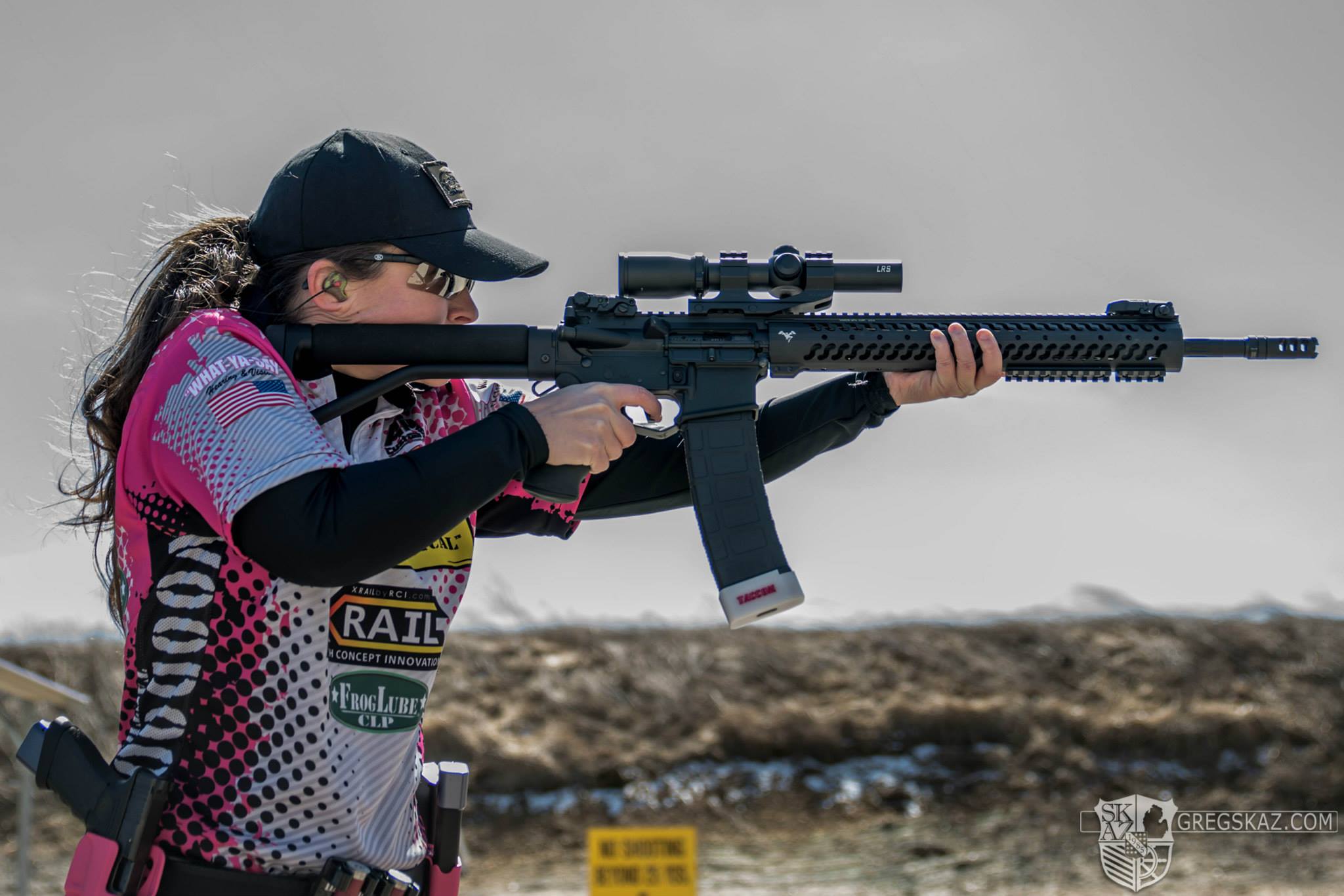 I'm super happy to announce that We Like Shooting is sponsoring our first competition shooter, Kelli Sampsel.
We had Kelli on our show for episode 70 and it was really great talking with her. We met her in person quite a few times at SHOT Show 2015 and immediately knew she was exactly the type of person we were looking for.
Having only shot competitively since 2010 and 3 gunning since 2012, I am very much still an amateur. I am still using the first pistol I ever owned, a Glock 34, and the shotgun I received for my birthday a few years ago, an FNH SLP. I've been blessed to travel beyond my home state to shoot in some awesome matches. Competing is only a small part of being in the shooting community and I genuinely enjoyed using my gift of gab and "notoriety" to support the amazing companies that have befriended me and helped me along the way. My coolest title to date is winning the Ladies National Subgun Championship last year during the Knob Creek Machine Gun Shoot in Kentucky. Those ladies are fierce Subgun owners, and I won having never fired the weapon before the buzzer went off. My sponsors are some of the best friends and supporters I have; Voodoo Tactical, Xrail by RCI, Froglube, Lantac USA, Patriot Cases, Taccom , Benchmade Knives, Fail Zero, Deltac Concepts and new for this year, Motor City Gun Works and Proof Research. I'm excited to compete this season and share my stories with the We Like Shooting audience.
She's a class act and really fit in with the gang. She'll represent our logo well.
When asked why she agreed to let We Like Shooting on her jersey, she said – "I'm choosing to wear the logo of We Like Shooting because Jeremy the Giant threatened to grind my bones to make his bread if I didn't. So if by wearing the logo on my jersey I can live another day to spread the goodness of my dimple, I'll do it!". No seriously, she said that.
You can listen to her on the We Like Shooting show episode 70 below or find her on social media – Instagram or Facebook
Editors note: We Like Shooting will eventually be sponsoring multiple shooters, male and female, to support the shooting sports and competitors that we believe in. If you would like any information or have a suggestion please contact us.